Valsad/Mumbai, March 13, 2018: The biggest issue faced by dairy farmers today is the access to their own funds as the nearest bank branch or ATM is located several kilometres away. Vasudhara Dairy has sought to address this pain point by joining hands with IDFC Foundation and IDFC Bank to bring financial inclusion to over 1000 unbanked villages in the tribal districts of Gujarat and Maharashtra, using financial inclusion devices or interoperable micro-ATMs. The financial inclusion device or interoperable micro-ATM is a digital innovation by IDFC Bank that has helped build access to banking services and convenience even in the most remote locations in our country. This initiative will enable thousands of farmers to now access financial services in their villages. Farmers in these unbanked locations are compelled to travel five to ten kilometres to reach a traditional ATM or bank branch.
The financial inclusion device or micro ATM comprises a tab, a biometric reader and a thermal printer. Dairy farmers residing in the village and holding an account in any bank, can now avail of all basic inclusion services, including deposits and withdrawals, fund transfer, remittances and bill payments, in their village; thus saving them significant time and money spent in travelling long distances to the nearest banking facility. Farmers can also open accounts on these devices, using Aadhaar-enabled biometric authentication in just 4 minutes.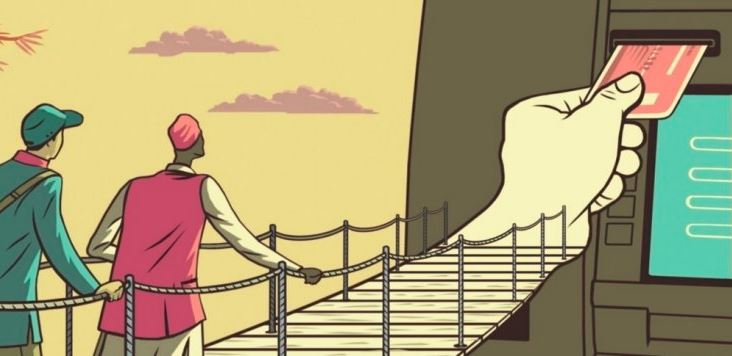 Speaking on the occasion, Dr. NS Rajan, Group CHRO, Group CMO and CEO of IDFC Foundation said, "Financial inclusion is key to improving the quality of life in rural India. Within the rural landscape, the dairy sector is an area which provides livelihood to millions of marginal, small and landless farmers. Many of them are excluded from the financial mainstream. Thus, we have identified it as an area of large scale social intervention."
"It is a privilege to work with Vasudhara on realising its dream of creating financial inclusion for dairy farmers. Vasudhara is perhaps the first dairy cooperative to envision a project of this scale, under the able leadership of Mr. Vashi who saw inclusion as a possibility in these villages, This transformative programme will result in deployment of financial inclusion devices at milk collection centres in every village, visited by dairy farmers on a daily basis. These devices offer convenience as they enable cash outs and all basic transactions. For many beneficiaries, it is also their first brush with digital payments. It also promotes a spirit of entrepreneurship as the financial inclusion devices are operated by village residents. This model has huge potential for scale up due to its efficiency and cost effectiveness," Dr. Rajan added.
Established in 1973, Vasudhara Dairy is the District Cooperative of Valsad and serves the tribal districts of Valsad, Navsari and Dangs. The dairy procures a significant 800,000 litres of milk a day. Vasudhara Dairy has been continuously working towards improving the quality of life of dairy farmers. Its efforts in bringing financial inclusion to the locations it serves, is one more significant step in this direction.
Vasudhara Dairy's initiative in the 1000 villages ties in with IDFC Foundation's flagship programmes on Financial Inclusion and Dairy Development (Shwetdhara), which aim to enhance rural livelihoods on a national scale.