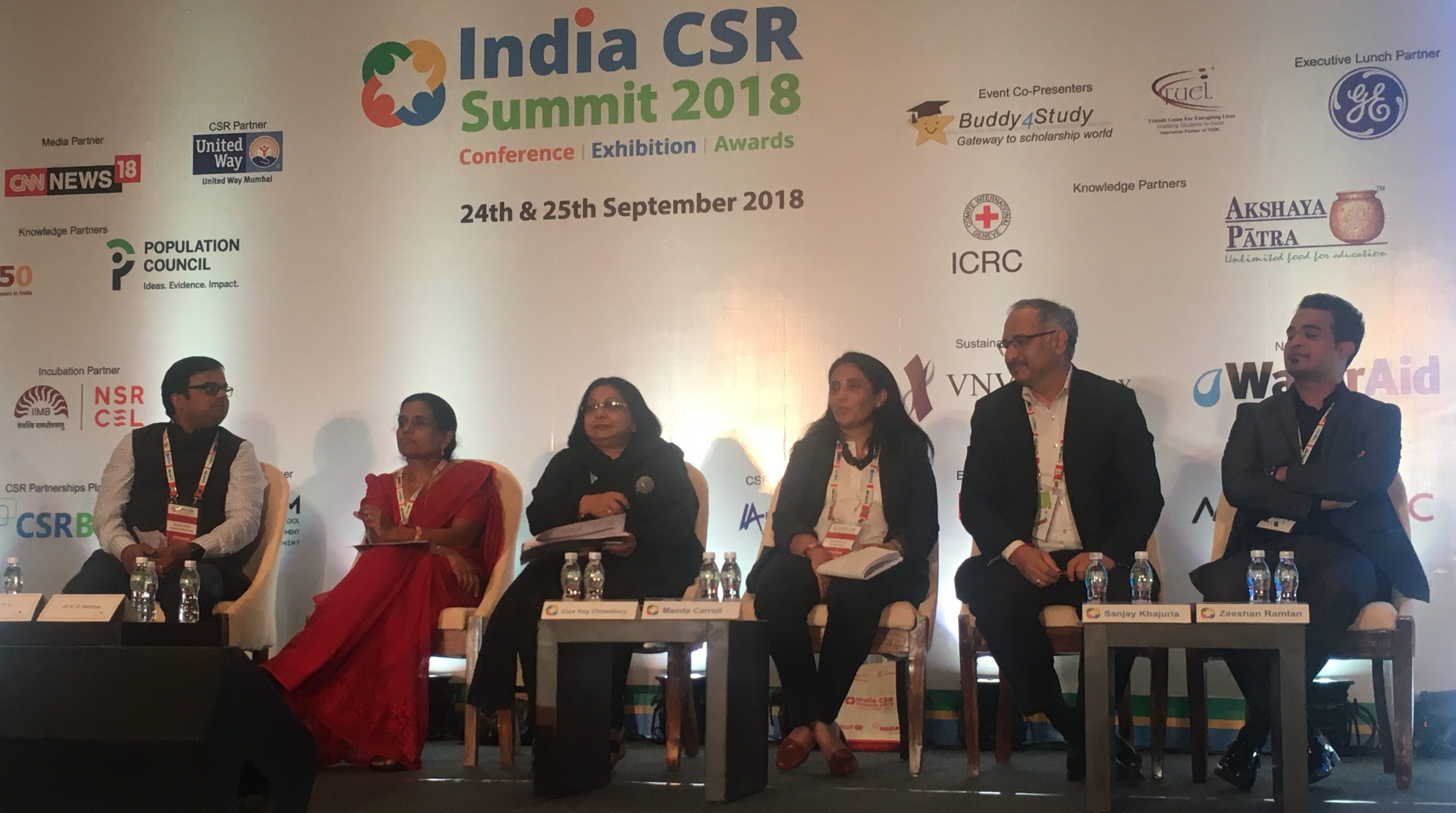 New Delhi, September 26, 2018: CSR heads, policy makers and experts from various non-governmental and research organisations highlighted the need for quality research and evidence in order to align CSR investments with developmental requirements at the India CSR Summit 2018.
The event, held in New Delhi between September 24 and 25, 2018, opened with the launch of the India CSR Outlook Report 2018 in the presence of Anant Kumar Hedge, Union Minister of State for Skill Development and Entrepreneurship. The Report showed a growth of 49 percent in CSR investments, showing a 25 percent increase in the number of projects and an increase in actual spend from six to eight percent over the FY 2016-17. The Summit focused on the role the private sector can play in catalysing development, and the need for impact-driven CSR initiatives.
Speaking at the event, the Union Minister, Shri Anant Kumar Hedge, stressed the need of skill development. "We need to be more honest and accountable as skill development is the need of the hour in every sector today," he said. As Dr. K.G. Santhya, Senior Associate, Population Council highlighted in the panel on 'Investing in Adolescents – Evidence from the Ground', there is an urgent need to invest in comprehensive skilling programmes. According to the UDAYA study implemented by the Population Council, only around one in 10 unmarried adolescents aged 15-19 years have received any vocational training, despite over 80 percent of them aspiring to it.
This is especially worrying, given that with over two hundred and fifty three million adolescents, India is host to every fifth adolescent in the world. These adolescents constitute India's much-quoted 'demographic dividend,' but face many setbacks. Further, 25 percent of India's adolescents live in Uttar Pradesh and Bihar, States that face some of the biggest development challenges, yet receive some of the lowest investments through CSR.
Speaking on the occasion, Abhijeet Sinha, India Manager, USLP HUL, emphasised the need for an in-depth understanding of beneficiaries' situation, based on rigorous research, to develop impactful programmes responsive to local geographies. Dipa Nag Chowdhury, Deputy Director, MacArthur Foundation, stressed on the importance of evidence-backed investments to ensure that interventions reach the most vulnerable groups.
For effective interventions, donors and government bodies alike need to develop a thorough understanding of where to allocate scarce resources. Dr. Niranjan Saggurti, India Country Director, Population Council, reinforced the significance of quality evidence for improving the impact of CSR programmes. He said, "CSR investments need to be more strategic, keeping in mind the larger developmental agenda, for which it is important to ask bold questions and generate quality evidence to offer effective solutions."
The Summit closed with an interactive session on Corporate-NGO partnerships, and the path to facilitating sustainable development through CSR spend.