Viacom 18 Mantra for Communities: Prosperity Though Cleanliness         
An iconic and household brand, Viacom 18 Media Pvt. Ltd, founded in November 2007, is one of India's fastest growing entertainment networks. It reaches more than 100 million people every day on the digital, social, and mobile platforms. Not satisfied in resting on its laurels, Viacom 18 wants to enrich the life of every Indian through sustained innovation and thought leadership. Using the very same media tool that propelled it to the top of the entertainment ladder to bring about social change, Viacom 18 through its CSR initiatives has been bringing awareness for a cleaner India and making the world a better place. Let us find out more from a conversation between Sonia Huria, Head, Communications and CSR, Viacom 18 and CSR Mandate's Atula Imchen.
Being a Media & Entertainment conglomerate, Viacom 18 has plenty of opportunities to highlight and bring about social awareness through its various streams. What drives Viacom 18 CSR initiatives? Which are the areas you are focusing on to implement these initiatives? Have you been able to capitalise on this strength?
 We at Viacom18 are essentially great storytellers, and we take pride in having something for everyone. While we looked at our core strengths, we realised that media as a tool can bring about the greatest change, at scale, especially because we have the power to influence habits and shape minds. We have been doing this with our compelling content in films, digital and broadcast.
Interestingly, we have always been a very socially conscious organisation. MTV Junkyard Project attempts to mobilise the youth and action on ground cleanliness through clean-up drives based on music and art. Our flagship kids' channel Nick runs a worldwide campaign called Together For Good– an initiative that promotes the concept of working together to make the world a better place. At a pan-network level, we adopted a documentary last year called Daughters of Mother India– a film that explored the effect of the Nirbhaya incident on the collective psyche of our nation. We had showcased this on all channels (except kids channels for obvious reasons) on a weekend primetime.
Prime Minister Narendra Modi's Swachh Bharat Abhiyan has seen a number of corporates aligning with the cause. Share with us at length the special project undertaken by Viacom 18 in this area. What were the criteria that you looked into when selecting the various areas under this project?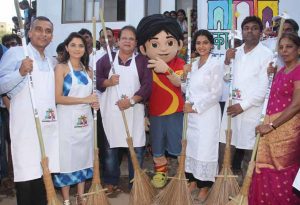 Our latest initiative – Chakachak Mumbai is very close to my heart. When Viacom18 started on this journey of bringing about social change in health and sanitation, we decided that in keeping with our PM's call for a Swachh Bharat, we would work towards realising the dream of a clean India. And cleanliness not only in its physical sense but also as a psychological attitude. We have divided this initiative into two campaigns- one that has The concept of hygiene exists both in the physical and psychological worlds. The moment you start thinking clean, you act to be clean. Our CSR campaign revolves around two tentpoles: on-ground interventions and behavioral change communication on-ground interventions where we are renovating and reconstructing toilets in urban slums (over 200 toilets across four slum clusters in Andheri East, Mumbai) and  the   second   campaign which is focused on behavioral change communication. Our Behaviour Change Communication (BCC) campaign is also distinctly divided into one that focuses on talking to the inhabitants of the communities where we have intervened and the other which addresses cleanliness as a state of mind– focusing on a more evolved audience.
As I view it, the concept of hygiene exists both in the physical and psychological worlds. The moment you start thinking clean, you act to be clean. Our CSR campaign revolves around two tentpoles: on-ground interventions and behavioral change communication.
We wanted to get into urban wash and hence Mumbai was the most logical choice. We partnered with Samhita Social Ventures to conduct a community needs assessment study across multiple communities in the western suburbs and finally zeroed in on four clusters in Andheri East. These clusters are quite varied and challenging in their topographical and socio-economic layout and hence, though difficult, it could turn out to be both a gratifying and learning experience for us.
How many people are covered under this project, 'Chakachak Mumbai'? Is the follow-up a part of the project? Are there measured results you can share?
I am excited to say that in one year, over 200  toilets  have  been  constructed and ~10,000 families with 4-5 members per household have benefitted across four communities. I am excited to say that we are just getting started! We are in the process of undertaking a project impact research and can share our findings once we complete the study.
A recent report showed that the drought prevalent in most parts of Maharashtra poses a major setback to Swachh Bharat Abhiyan. An example of Ekurke's (in Osmbanabad district) success story inspired many when in 2013, this village built 350 toilets in a short span of one-and-a-half months to end the shame of having to defecate in the open. Now the same villagers are out defecating in the open fields due to shortage of water. Has Viacom 18 come up with a back-up plan should such a situation arise at the areas covered under this project?
The existing toilets had no provision for running water to begin with. We installed overhead water tanks per block, built a comprehensive water distribution system and overhauled the sewage lines to ensure water availability and flow while decreasing water loss.
We are working with various stakeholders– Padma Shri Jockin Arputham, BMC, our facilitation partner Samhita and the local government officials to explore other sustainable avenues of water availability and dissemination.
Viacom18 also roped in the young gen for a recent initiative taken by Nickelodeon's Together For Good. Tell us about this event and the reason for its launch.
The idea behind Nickelodeon's Together For Good initiative was simple – To make a difference anywhere and anytime with the help of Spark a Change Foundation. But what was different about this was that this change was equally balanced on micro and macro levels with the help of 150 children who kickstarted the campaign.
This change could be a simple one like changing something at home or at school to initiatives like collecting waste matter at the Carter Road Promenade in Bandra, Mumbai, and with the help of a reckoned artist, it was turned into a beautiful art installation.
Besides, we are taking this initiative a notch higher and promoting it on digital platforms on nickindia.com/TFG. The page will help kids with simple but actionable steps that can be used for both personal and environmental cleanliness.
What are the other social initiatives taken up by Comedy Central  and MTV, two other well-loved brands of Viacom 18?
Comedy Central did something simple yet heartwarming called 'Spread the Cheer' last Christmas. The aim of this initiative is to ensure as many smiles as possible on the joyous occasion of Christmas through random acts of kindness and reaching out to the less fortunate. This activity was adopted  by numerous NGOs, Hospitals, Drug Rehabilitation Centers and Jails in Mumbai, Delhi and Bangalore.
On the other hand, MTV did something funky and colourful aligned to their brand. The Junkyard project went all out even on social media with the slogan "Dunk that Junk" with the core value of trashing waste into a bin and not at random places. Parle products, who had partnered with MTV on this one, tied up with 300 colleges across India and roped in youth to transform dumping grounds into beautiful graffiti art projects and utility areas. An extended initiative was to give dump trucks a makeover. The trucks sported colourful graffiti, disseminating "Dunk that Junk" in the most colourful and attractive manner.
The junkyard project turned out to be a large scale one with Shahrukh Khan, Farhan Akhtar, Varun Dhawan, Sonam Kapoor and many others who extended their support to this  campaign. It also received massive participation from digital natives through user generated videos and has garnered overwhelming 1million+ interactions.
Are you tying up with other groups and organizations in fulfilling your social responsibility?
 The thing about being a joint venture (JV) is that the spirit of partnership is ingrained into our soul. For Chakachak Mumbai, we work with multiple agencies and individuals like Samhita Social Ventures, Mahila Milan, Padma Shri and Ramon Magsaysay award winner Jockin Arputham, et al.
Thankfully, we also have quite a few celebrities like Mahesh Kothare, Urmila Kanetkar and Sonali Kulkarni and celebrity NickToon Shiva supporting our campaign and using their audience connect to  amplify our BCC campaign.