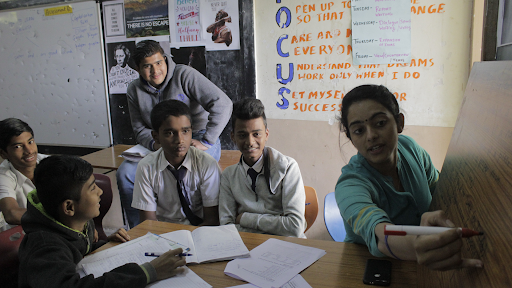 Pune: iTeach Schools is a registered NGO working since 2015 to build a community of transformational schools in Pune. They provide free English medium secondary Education to students from under-resourced communities in the city, support them to and through college and help them make a destiny of their choice. They recently conducted virtual TED-Ed Talks to celebrate Daan Utsav. The event focused on enhancing awareness about the lack of access to secondary education in India and how iTeach is creating a community of transformational schools to enable students from under-resourced communities to create a destiny of choice. Through the event, iTeach Schools created a platform to voice stories of courage, growth, and resilience from the ground. 
Senior leadership from iTeach Schools, teachers, and student alumni gave talks to share first-hand experiences from the ground.
The event highlighted some of the best practices in education that iTeach Schools has adopted over the years. This transformational work was exemplified through the talks of two speakers – Sana Qureshi and Abhishek Patil who are iTeach School alumni currently studying at FLAME University. 
Neha Vaidya, the COO of iTeach Schools gave a comparative analysis of Grade X results (2020) of iTeach schools and Pune Municipal Corporation schools. The data showed how the pass percentage of schools has risen throughout the city, owing to the new method of evaluation. However, students were glaring at a significant loss of learning due to the pandemic. Despite the positive trend, the statistics might show, Neha talked about how important it was to expose students to reality and tell them "This Too Shall Pass" instead of "All is Well". 
Sweta Sarkar, Co-founder, and Senior Manager, iTeach Schools spoke about using the approach of restorative justice in schools instead of isolation behaviours. She discussed how to create restorative and rehabilitative spaces within schools to replace punishment or negative reinforcements. 
Bhavya Malhotra, Lead Teacher at iTeach SVT (Swargeeya Vitthal Tupe Smart Learning EMSS), shared her experience of starting the academic year without any delay in the online mode in 2020. She designed the iTeach Online model which is a combination of various platforms like Zoom, and Google classroom to conduct online classes. She also trained other teachers from Pune Municipal cCorporation, Teach for India, Bombay Municipal Corporation, and Akansha Foundation to impact over 4000+ students. 
Anumita Das, a Lead Teacher at iTeach RSM (Rajarshi Shahu Maharaj EMSS) discussed her own journey of starting as a B.Ed intern at iTeach Schools and growing to lead a team of science teachers. 
Sana Qureshi, an iTeach alumni currently pursuing an undergraduate degree in liberal arts at FLAME university shared her journey to a college where the fee was more than 10 times her family income. 
Abhishek Patil, also an iTeach alumni, is pursuing an undergraduate degree in Liberal Education from FLAME University. He shared his journey of breaking stereotypes and gaining confidence in what people often called a "feminine" voice. He also talked about overcoming his own biases and embracing differences. 
The event was open to an exclusive audience composed of Corporates and individuals who had supported iTeach Schools, and representatives from the media.