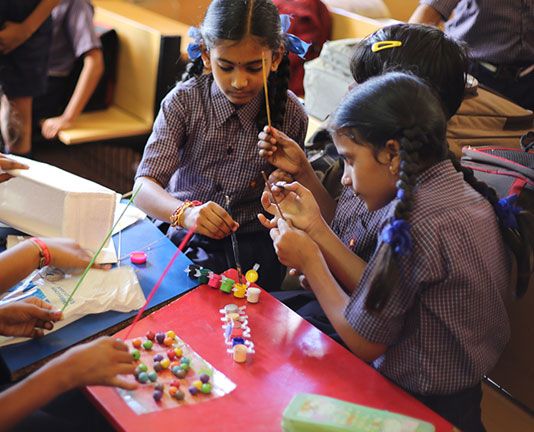 Mumbai: JSW Foundation, the social development arm of JSW Group, is implementing various formal and informal academic interventions to ensure inclusive and equitable access to quality education for more than 14 lakh children across Maharashtra. To achieve this goal, JSW Foundation has launched two holistic programmes in the State:
ASPIRE Adolescent Student's programme to implement formal academic interventions
Project Smartshala project for informal interventions
Commenting on JSW Foundation's focus to provide the underprivileged students equitable access to education, Tanvi Jindal Shete, Managing Trustee of the Jindal Education Trust, said, "Equitable access to quality education is a critical need of the hour for enabling our younger generation to reach their potential as human beings and contributing members of our society. In order to achieve such a holistic development of our school children, it is important that we assign equal importance to formal and informal education. This is the main goal behind developing and launching these two academic programmes. While these programmes will address the access problem in quality education, we are also ensuring that these efforts are sustainable in the long term through community ownership of these programmes. The world is changing rapidly and it is essential that the teaching techniques today align with the learning outcomes for the future." 
Smartshala Initiative for Formal Educational Intervention 
For formal education intervention, JSW Foundation has partnered with Sampark Foundation and the Govt. of Maharashtra to launch Project Smartshala. This is a four-year project that is expected to benefit more than 14 lakh children from Grade I to III.  It is implemented in Raigad, Palghar, Nagpur, Thane, Pune and Ratnagiri districts of Maharashtra. This Project is developed with a goal to make formal education, specifically Mathematics and English interesting and effective for underprivileged children during the early stages of their lives. As part of the implementation plan, around more than 14,000 primary government schools have been equipped with teaching/learning materials including a sound box, board games and other tools to help teachers leverage technology in their classroom teaching and learning process. Over 28000 teachers across multiple schools will be trained to use the Smartshala App.
Aspire Programme for Informal Educational Intervention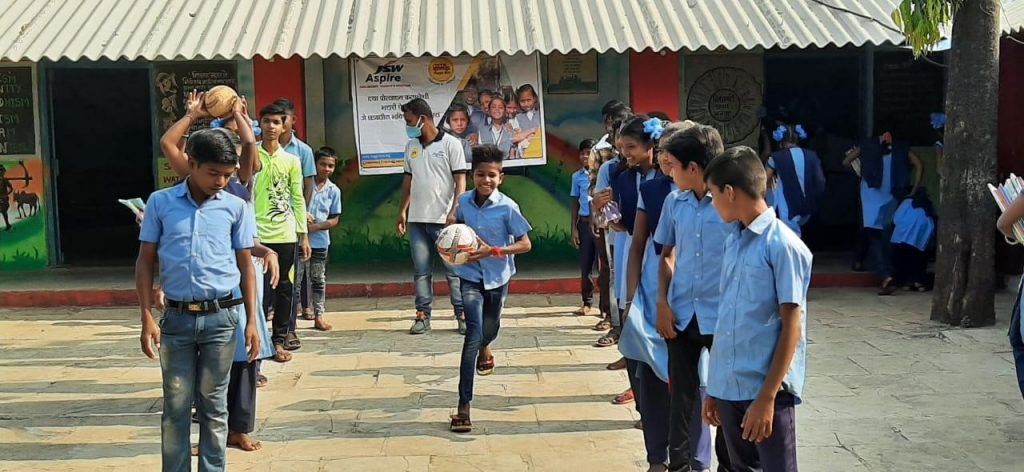 ASPIRE, Adolescent School Programme to Inspire, Relate, and Enrich, is part of the informal education interventions launched by JSW Foundation. It is being implemented for students from Std VI to Std VIII through JSW's strategic collaboration with Magic Bus India Foundation. This programme is implemented across 77 schools in Dolvi, Vasind, Kalmeshwar, Palghar and Salav with a target of positively impacting 8107 students by March 2026.  So far more than 8107 students have benefited from this programme across these districts in Maharashtra. The Aspire Adolescent Student's Programme has been developed to enable adolescents from underprivileged households to complete their formal education but more importantly, to help them develop skills to concentrate, participate and engage in school activities with increased perceived self-efficacy and resilience. It promotes physical activity through sessions, camps, tournaments and events that help develop teamwork, communication and problem-solving skills. Through this programme, JSW Foundation engages with parents, schools, government officials, and School Management Committees through orientations, community connect events, home visits and parent sessions to ensure they provide appropriate opportunities and support to the children participating in the programme and over a period of time there is complete community ownership of the programme. Around 46 Community Learning Centres have been set up across Maharashtra where close to 21,014 (LSs) and 23,156 (CLCs) sessions have been conducted for the participating students.