KFC India brought to Maharashtra – it's add HOPE™programme, an initiative that aims to fight hunger in the country. On December 7, 2016, KFC presented a cheque for INR 43.61 Lakh to support meals for 1900 children in Aarambh, ARUN among others NGOs in Pune and Mumbai for a year in partnership with Responsenet – India Food Angels Network (IFAN) organisation.
Rahul Shinde, Managing Director, KFC India said, "We are a food company and it's our privilege and responsibility to address the issue of hunger where millions of children go hungry for days without a proper meal. 1 in 4 children in India is malnourished and consequently, face greater obstacles to reaching their fullest potential. Through add HOPE™, we want the children of our country to be given access to nutritious and balanced meals in order to grow and learn, so they can be their best selves."
Angela Nar, Programs Vice President, Responsenet Feeding Programs said, "We share a common vision of eliminating hunger with add HOPE™. We are confident that this partnership will help address the hunger challenge successfully and make a meaningful difference."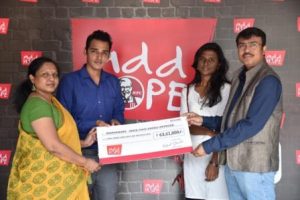 Launched in May this year, add HOPE™ is KFC's long term commitment to fighting hunger in the country. add HOPE™raises funds to provide meals to India's underprivileged children through beneficiaries like World Food Program (WFP) and India FoodBankingNetwork (IFBN) and Responsenet associated feeding programmes nationally. Together with these organisations, KFC aims to provide 20 million meals to underprivileged children by 2020.
Through add HOPE™consumers can feed a hungry child by adding Rs.5 to their bill, each time they visit a KFC store. KFC employees in the 300+ restaurants around the country will also support local communities through volunteerism.