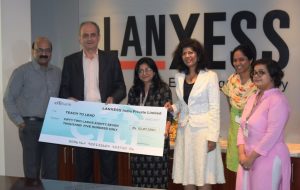 Thane, March, 2017: LANXESS India Private Limited, a subsidiary of leading global specialty chemicals company LANXESS, renewed its commitment towards quality education by fulfilling its promise of aiding Teach For India (TFI) in their quest to support fellows volunteering to educate underprivileged children in municipal schools. LANXESS India contributed an amount of INR 52,87,500 to the organisation as part of its five year commitment to support the not-for-profit organisation's efforts towards providing quality education to children. The Company has committed a sum of EUR 75000 (approx. INR 53 lakhs) per year for Corporate Social Responsibility projects in India for the period 2014 – 2018.
Dr. Jacques Perez, Managing Director and Country Representative, LANXESS India Pvt. Ltd. handed over the cheque to Dimple Gujral, CFO, Teach for India (TFI) at LANXESS House in Thane. LANXESS has been contributing to TFI since 2010, starting with a sum of EUR 50,000 per year. It has supported over 65 TFI fellows (trained teachers on a 2 year full-time paid commitment) and around 2000 students directly so far. This contribution works as a support for the fellows who volunteer to teach the kids at the municipal schools since they generally give up their jobs to fulfill these social commitments.
Speaking on this occasion, Dr. Perez, said, "We, as responsible corporate citizens, believe that quality education is among the necessary building blocks for any progressive economy and therefore, it becomes all the more imperative for us to ensure that we support such initiatives in order to play our part judiciously and constructively. We believe in the vision of Teach for India and it complements our corporate social responsibility framework."
On behalf of TFI, Gujral said, "We are thankful to LANXESS for their continued support and encouragement in our earnest endeavor of improving children's lives through education. Our fellows are striving every day to bring out the best in every child and handholding them on the path to a bright future. The support from corporates like LANXESS gives us confidence to sail forward in this journey."
LANXESS believes in empowering education and has taken many initiatives in India, in the areas of education, skills training and preserving cultural heritage. It has previously contributed to NGOs, technical institutions and schools to support education in every region that it operates in.
Teach for India is a nationwide NGO, that aims to eliminate inequity in education in India. Through its Fellowship program, TFI recruits qualified college graduates and working professionals to serve as full-time teachers in low-income schools for two years. Fellows work to bridge the educational gaps that their students face, by using innovative methods in classroom.