New Delhi, April 24, 2018: National Commission for Protection of Child Rights (NCPCR), South Delhi Municipal Corporation (SDMC), Delhi Commission for Protection of Child Rights (DCPCR), Department of Women & Child Development (DWCD) and PVR Nest, have come together for building Pink Toilets around PVR complexes, where PVR Nest is the maintenance partner for the same.
The partnership involves building and maintaining three pink toilet compounds around PVR complexes at Vikaspuri, Saket and Vasant Vihar. The toilet compound at Saket was inaugurated on 24th April, 2018.
This is a significant innovative step towards creation of a hygienic public restroom for women and adolescent girls. The pink toilet is equipped with a sanitary napkin vending machine, incinerator facility and has a breastfeeding area as well. This initiative to build toilets specifically for women and children, can address their health and hygiene concerns as well as support the Swachh Bharat Abhiyan.
Optimistic about the outcome of Pink Toilets mission, Kamaljeet Sehrawat, Mayor SDMC said, "Aligned with Hon'ble Prime Minister Mr. Narendra Modi's vision, we are determined to improve the sanitation and hygiene in national capital and we are taking all possible steps for the same. With increasing women and girls footfall in the capital city every day, it is vital to ensure that accessing hygienic toilets with sanitary napkins and facilities for their safe disposal is not a challenge. We are confident that together with organizations such as NCPCR, DCPCR, DWCD and PVR Nest, we will achieve our goal."
Suti Kacker, Chairperson, NCPCR said, "With the current momentum addressing toilet infrastructure and cleanliness drive in India, it is crucial to provide clean toilet spaces for improving hygiene and health conditions for women and adolescent girls. Such an initiative will not only provide privacy and facility to dispose off through incinerators which is highly needed, but shall also end the practice of open defecation leading to better safety of women and girls." She congratulated Rupa Kapoor, Member of NCPCR for this initiative, and expressed her gratitude to all the collaborating partners for joining hands for this cause.
Echoing the sentiment to address the need of earmarked toilets, Ramesh Negi, Chairperson, DCPCR said, "DCPCR is actively and effectively monitoring prevention of Sexual Abuse, and Child trafficking. Having such toilets will go a long way in preventing such evils.
Ms. Deepa Menon, Senior Vice President – CSR, PVR Ltd said, "We are proud to be associated with NCPCR, SDMC, DCPCR and DWCD as a partner in this initiative. We would like to laud them for considering a sanitation issue beyond just providing infrastructure. Maintenance of toilets and generating awareness among adolescents, their families and communities are equally important components, which will help in long term sustainability of the programme and contribute to the behaviour change aspect of the Swachh Bharat campaign. Initiatives like these highlight how socially responsible organisations are willing to walk the extra mile to address gaps that exist in the sanitation infrastructure."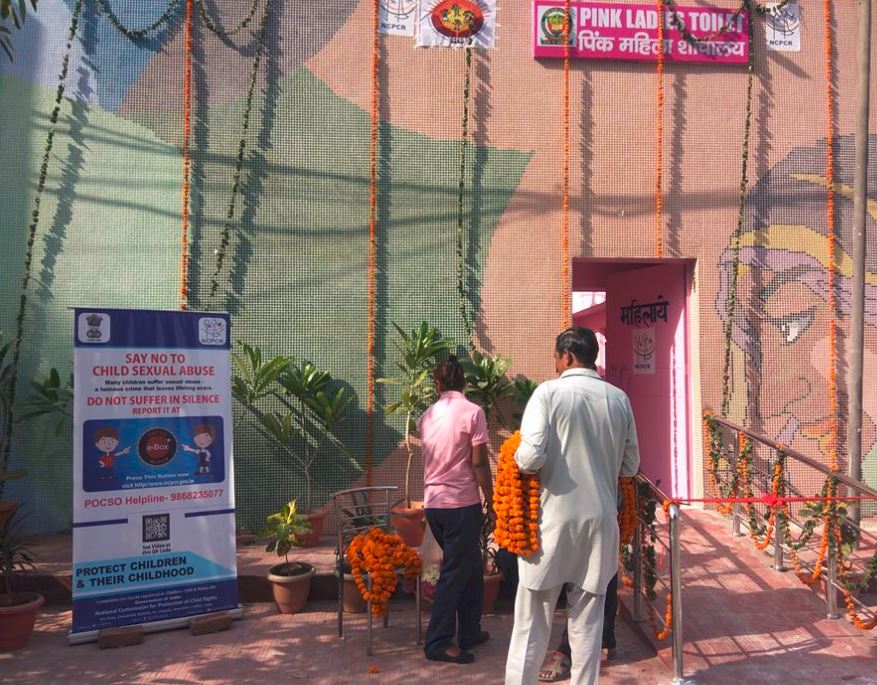 A pink toilet exclusively for women and adolescent girls also provides sanitary napkins and incinerators will be an extraordinary initiative and a model to emulate. While SDMC was responsible for infrastructural construction/fabrication and re-construction (in case of existing ones) of the toilets and manage the utilities required such as sanitary napkins vending machine, incinerators, tissue papers, hand wash facilities and the feedback mechanism, NCPCR is the concept partner. NCPCR provided its collaborative assistance to endorse and support the initiative. DCPCR and DWCD are the knowledge partners who are responsible to reach to disadvantaged surroundings and communities through Anganwaadis. PVR Nest will be maintaining these critical public spaces for an entire year through their own resources.
In its endeavour to focus on initiatives that offer hygienic and healthy environment specially for adolescent girls in Delhi, Pink Toilet is addressing specific barriers women and adolescent girls face in using existing toilet facilities. This first of its kind partnership also aims to engage and educate communities through such initiatives where additional facilities offer not only a clean but safer environment.
Last year, on International Day for the Girl Child on October 12, NCPCR and South Delhi Municipal Corporation inaugurated its first Pink Toilet in the city's Vikaspuri area.