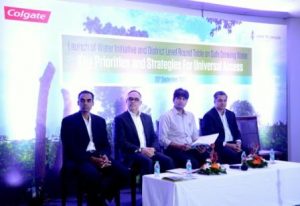 Amravati, September 20, 2017: Colgate-Palmolive (India) Limited, the market leader in oral care, in partnership with non-profit organisation, Water For People India Trust, launched its Amravati Water initiative in the Amravati District of Maharashtra. This programme is an expansion of Colgate's partnership with Water For People, after their successful collaboration in Bihar and West Bengal, since 2013. This programme will support availability and accessibility of water, awareness towards hygiene and sanitation (WASH programme), and other initiatives such as water conservation and rainwater harvesting.
Amravati District faces extreme water scarcity and challenges in accessing potable water for daily living. The Amravati Water Programme will begin by focusing on talukas, such as Nandgaon, Khandeshwar, Chikaldhara and Dharni, where water-related issues are acute. The programme will cover five gram panchayats (15 villages) in the first year, with a projected cumulative coverage of 10 to 12 gram panchayats (36 villages) over a period of three years.
The emphasis will be on ensuring access to safe drinking water and testing innovative, low cost technologies towards provision of safe drinking water. The programme will engage local communities for construction and rehabilitation of water facilities, operations and maintenance of community water schemes, and working together with the State and local government to provide a sustainable model for easy access to portable water and water for sanitation. In schools, the programme will focus on water for sanitation, safe drinking water and hygiene promotion.
Speaking at the inauguration ceremony, Mr.Issam Bachaalani, Managing Director at Colgate-Palmolive (India) Limited, said, "We are happy to launch the programme in Amravati, in partnership with Water For People, after the successful implementation of our water initiatives in Bihar and West Bengal. At Colgate, we believe in contributing to the communities where we live and work to help co-create a sustainable environment that enables all of us to live healthy, safe, and empowered lives. This water programme in Amravati is our small, but meaningful step to enable availability of clean water, and we will continue to strive towards building a future that everyone can smile about."
Also present at the inauguration ceremony were dignitaries Mr. Abhijit Bangar, IAS, District Collector, Amravati; Ms. Meena Narula, Managing Trustee, Water For People India Trust; Mr. Shashank Deshpande, Senior Advisor, Water For People; Dr. Kiran Kulkarni, CEO, Zilla Parishad, Amravati District; Mr. Pravin Khatne, Deputy Director GSDA, Amravati District; Ms. Uma Aslekar, SeniorScientist, ACWADAM; Dr.(Ms.) Bakul Rao, IIT Mumbai; Mr. Anand Godke, Water, Sanitation and Hygiene Officer, UNICEF Mumbai; and several other members from Amravati.
Besides a successful partnership in India, Water For People and Colgate-Palmolive Company have an on-going partnership in the Latin American countries of Peru and Guatemala.