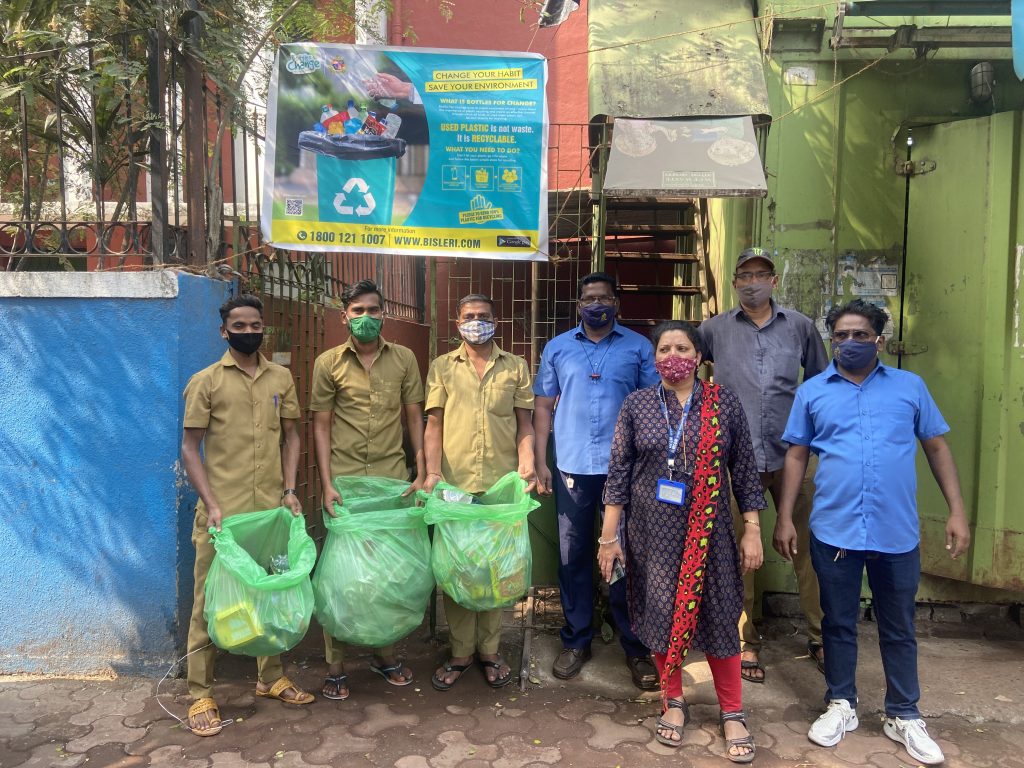 Mumbai: Bottles for Change – an initiative under Bisleri Trust recently partnered with the Municipal Corporation of Greater Mumbai's (MCGM) G North Ward to arrange a plastic collection drive from housing societies, chowkis, corporates and theatres spread over four days. Bottles for Change, a model designed under Bisleri Trust aims at creating a circular economy to end the plastic pollution menace in India. The fundamental objective of this model is to create awareness about not treating plastic as waste. Post use plastic is not waste, it's a recyclable resource. Instead of putting it in a waste bin, segregate, clean, and send it for recycling directly from your doorstep.
In a four-day activity, Bottles for Change collaborated with G North Ward and Sangam Pratishthan for the plastic collection drive and successfully collected 650 kgs of clean and dry used plastic for recycling. The team reached up to 50 to 60 societies and 500-600 individuals in the area. Also, the team together efficaciously conducted 16 awareness sessions and over 52 per cent of the stakeholders have enrolled with the Bottles for Change mobile application. The staff of the Solid Waste Management of the G North Ward were given a presentation to have a better understanding of the functioning of the model – Bottles for Change. The entire BMC staff including the junior officers, labourers, sub-engineers, field marshals, mukadams, and assistant engineers participated in the drive on the field along with the team.
This model is easy to implement if one can clean the plastic after use, keep them separate in bags and give these clean plastic bags to their housekeeper who comes to the doorstep every day. The housekeeper can get in touch with the Green Agents/NGOs associated with Bottles for Change or his nearest kabadiwala to sell the clean plastic for a better value. The kabadiwala send this plastic to the Recycler to form various useful products. There are various types of plastic that are segregated and then recycled to make useful products. The recycler converts MLP wrappers (Multi-layered Plastic) into MLP sheets to build products like car parts, garbage bins, benches, backpacks and many more. The HDP (High-Definition Plastic) gets converted to paver blocks and granules to produce various utility items. The PET bottles are crushed into flakes to create products like T-shirts, bags, outdoor furniture and many more. Thus, forming a circular economy chain. This model creates value for each of the stakeholders who are part of this chain.
Speaking on this initiative, Anjana Ghosh, Director – Corporate Social Responsibility, Bottles for Change, said, "India recycles 60 per cent plastic that it produces through the existing system which is from waste bin to the dump yard where ragpickers scavenge plastic which is heavy and easy to clean. They then sell them to their local area kabadiwalas who in turn sell them to Recyclers. The remaining 40 per cent lies in dump yard or in the landfills as this plastic are not clean and cannot be sent for recycling. This habit of not cleaning and segregating plastic at the source leads to major plastic pollution which is not just prevalent in India but across the entire globe. Through this initiative, we are constantly educating citizens on the ways in which plastic can be disposed of in the right manner. With this habitual change, we would help to curb plastic pollution. I and my entire team are extremely overwhelmed with the response we have received from the citizens, corporates, schools and colleges in the G North Ward and are grateful to the government authorities for supporting us in this drive." 
Kazi Irfan, Assistant Engineer, SWM Department, G North Ward said, "Bottles for Change" is a great innovative experiment taken up by Bisleri in an endeavour to protect the environment. Hope this movement will gain momentum in a short time through awareness and all households will be the participants of this movement."
The BMC provided Bottles for Change with a collection vehicle for used plastic collection during the drive BMC also provided space at one chowki to Bisleri team for creating awareness programmes, holding joint meetings, etc. The same space can be used in future for setting up permanent banners and IEC materials to build awareness around the initiative. This awareness activity on used plastic collection will be extended beyond the used plastic collection drive as a routine practice in areas of G North Ward.