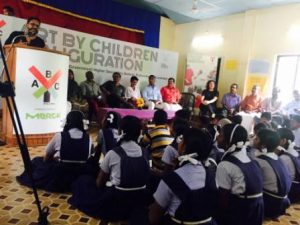 Kochi, November 21, 2016 – Merck, a leading science and technology company, in partnership with Kochi Biennale Foundation, today announced the launch of "Art By Children (ABC) Outreach" programme powered by Merck. Supported by the Department of General Education, Govt of Kerala, the initiative was inaugurated by Master Anujath Sindhu Vinaylal, who received the Rashtrapati Puraskar 2016, conferred by the Ministry of Women and Child Development, from Hon'ble President of India on Children's Day at Rashtrapati Bhavan.
Talking about the initiative, Anand Nambiar, MD, Merck India said, "Art enhances creativity, which is crucial for innovation and adaptation. Our purpose in this outreach programme is to spread the message of healthy living through the medium of art, while inspiring creative thinking. Children are inspired to visualise a healthy future and teachers are engaged in discussions on health living. We are confident that the talented team under the guidance of Riyas Komu and Manu Jose will give impetus to a new vision in art education in the country. Through this programme we aim to bring about a new dimension in creative thinking, and in the understanding of healthy living and social values."
This unique initiative is reflective of Merck's social responsibility efforts where promotion of culture falls under its strategic activities in corporate responsibility.
Riyas Komu, Director of Programmes, Kochi Muziris Biennale: "For the thousands of children that visit the Biennale, it had already become a window to the world of contemporary art. Going forward, the Kochi Biennale Foundation envisions a major role to play in the changing paradigm of art education in India that will involve art educators, children, teachers, and institutions as well."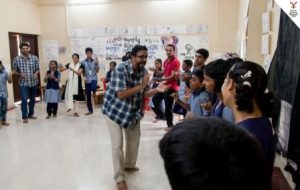 The ABC outreach powered by Merck launched in November 2016 will continue until March 2017. Innovative workshops run by visual artists and theatre experts who specialise in children's programming will engage children in an exciting new model of learning and expression. Children will be encouraged to create art around the theme of healthy living.
Teacher training sessions will cover topics from sensitivity, health, gender and identity, to using art and theatre as a means to instil habits for a healthy living and high social values. Merck supported parent workshops will also be conducted in interested schools where experts will address the parents on child health and development.
The ABC Outreach powered by Merck initiative will also initiate India's first bi-annual art exhibition dedicated to work by kids at the Children's Pavilion at the Kochi Muziris Biennale beginning 12th December 2016 – March 2017. The Pavilion will showcase the artistic talents of the youngest members of the society at a professional global platform.
Through this endeavour Merck aims to encourage a step in the right direction towards developing the cognitive skills of young students, which in turn promotes the social and emotional strengths that can lead to academic achievement, positive behaviour and healthy relationships.