MetLife Foundation to impact close to 4000 ultra-poor families in Mandu, Churchu and Dadi blocks in Jharkhand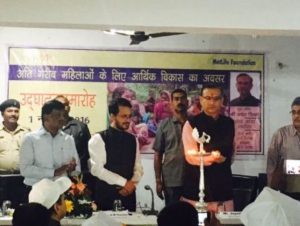 Mumbai, November 1, 2016 – MetLife Foundation and Trickle Up, an international non-governmental organization (NGO), kicked-off its innovative economic and social empowerment programme, Graduation Approach, at an event in Jharkhand on November 1, 2016. The programme was launched by Mr. Jayant Sinha, Honourable Minister of State for Civil Aviation, Government of India. Other dignitaries present on the occasion included Mr. Paritosh Upadhyay, IFS, Chief Executive, Jharkhand State Livelihood Promotion Society, Mr. Krishna Thacker, Director–Financial Empowerment Asia, MetLife Foundation and Mr.Amalendu Sen, Asia Regional Representative of Trickle Up.
Graduation Approach is aimed at helping ultra-poor families move out of poverty in a sustainable and time-bound manner and further integrate them into the formal financial system. As a roll-out of the programme, 20 Gram Panchayats have been identified across Mandu, Churchu and Dadi blocks in Jharkhand in addition to Manoharpur Block of West Singhbum District and Maheshpur Block of Pakur District. Under the three-year long initiative, women from ultra-poor households will be identified and organized into Self-Help Groups (SHGs) to promote women solidarity and empowerment. The alliance partners will provide coaching for skill development and work closely with the participants on their individual project. They will gradually be equipped with the required grants and further integrated into the financial system to enable them to gain access to government programs and benefit from its financial support schemes.
MetLife Foundation awarded a three-year grant of U.S. $1.1 million to Trickle Up to help more than 100,000 households in Eastern India to overcome extreme poverty. The Graduation Approach initiative will also contribute in strengthening one of the world's largest governmental economic development agencies, India's National Rural Livelihoods Mission, in providing financial education as well as skills and connections to formal institutions who they are not typically able to reach. Going forward, the initiative will cover Odisha and West Bengal to engage more than 100,000 rural households in consumption support, savings and credit activities, livelihood planning, skill training, asset transfer, regular coaching, individualized support and credit linkage with formal financial institutions.
The initiative will also provide significant support to the efforts for tribal development by the Government under the tribal sub-plan. The project will be implemented in alliance with 'Life Education and Development Support' (LEADS) in the selected blocks including Mandu in Ramgarh and Churchu & Dadi blocks in Hazaribagh, Jharkhand.
MetLife Foundation's $200 million commitment to financial inclusion will support millions of the world's poor with access to the financial knowledge and quality products and services they need to build financial security and better lives.