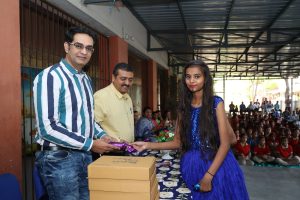 New Delhi: In a bid to enhance the accessibility of technology to deprived school kids, Mobex India's unique initiative aims to give back to society by empowering students studying in government schools in Ahmedabad, Gujarat. Considering the importance of education for our future generations, Mobex India distributed refurbished Tablets with the help of an NGO working towards uplifting facilities in government schools.
On 24th March, Kankaria Municipal School No. 6 in Ahmedabad, Gujarat conducted an Annual Day function based on the theme of Swachh Bharat. Students performed street acts, dance performances, and many other activities based on saving the environment, in which they demonstrated the use of segregating household waste, plastic waste and eWaste.
Mobex is continuously contributing towards the environment with the vision of ESG (Environment, Social, and Governance). Through this initiative, the brand is trying to create awareness among young minds to use refurbished gadgets.
"At Mobex, we believe in creating a better world, not just for our customers but for everyone around us. We are excited to launch this drive of gifting Refurbished Tablets that will help us contribute to the cause of child empowerment and assist the schools in creating an eLibrary for the kids. We hope that each Tablet given to these children shall make a positive impact on their lives and academics," said Krunal Shah, Founder of Mobex India.
eWaste accounts for up to 70 per cent of toxic landfills. Refurbished phones potentially save them from being discarded in a landfill, helping reduce the amount of waste generated by this industry. Such an initiative by Mobex India is a reflection of the brand's commitment to social responsibility and environmental sustainability. Mobex India is not only promoting a circular economy but also reducing electronic waste and its impact on the environment.