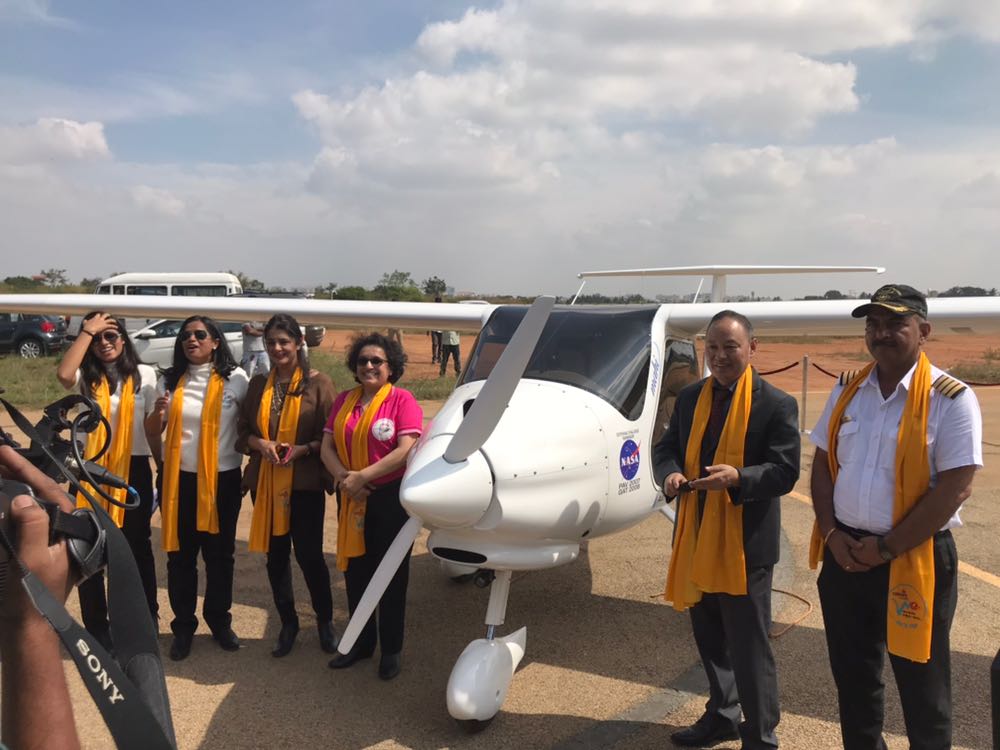 Bengaluru, Jakkur Aerodrome, November 29, 2017: This is stuff made for the movies. Is there anything more liberating than flight? Does the sky have borders, boundaries, glass ceilings? Join us in cheering a woman who will soon take on the unthinkable. For India. For the daughters of India. For you and me. The earth we walk on, the skies we aspire to take to.
In a powerful statement of strength to its cause to champion women and give them flight, Social Access Communications in collaboration with Ministry of Women and Child Development, Govt of India, and India's leading premium Hindi entertainment channel, COLORS, proudly launches 'WE! Women Empower.' An initiative By, Of and For the Girls and Women of India, to attempt a first-of-its-kind, never before done, circumnavigation the globe in a microlight, by a mother-daughter duo.
The feat, already termed as an extraordinary attempt of exemplary courage, mental agility and one-of-its-kind aerosport adventure, will attempt a world record. It will fly across 21 countries, taking the message of women empowerment, while spearheading a unique crowd-funding campaign for the `WE! Udaan Scholarship' to champion, enable and empower underprivileged Indian girls across India who want to fly.
Commending the extraordinary expedition and extending her whole-hearted support, Hon'ble Minister for Women and Child Development, Govt of India, Maneka Sanjay Gandhi in a congratulatory message on the launch event said, "Flight is one of the best symbols of liberation and I am happy to say that Indian women have demonstrated that there is no glass ceiling in the sky time and time again. As many as 11 percent of our pilots are women, while a country like the US has only three percent. In the Indian Air Force, our girls are already accepted in the cockpit. Endurance flying requires presence of mind, quick decision making, mental strength and impeccable communication – all of which are qualities that would stand our daughters in good stead as they take on the challenges of life."
Expressing India's forward march towards empowering women, Ms Gandhi further added, "As our Prime Minister's Udaan programme gets underway, several smaller towns will get air connectivity, opening up opportunities to young girls. How many of them have dreams of flying? Yet, how many of them can afford to get a flying license? I am delighted that Capt Audrey Maben, a gifted microlight pilot and India's first microlight flying instructor, who is also a mother of three, has decided to undertake this brave mission of circumnavigating our beautiful planet in a tiny planet to raise funds for the training of underprivileged girls in aviation. Not only that, she will be accompanied by her 19 year old daughter Amy, as the mission's eyes and ears and social media correspondent – a first ever mother-daughter team. She will not only create a world record and put Indian women on the world map yet again, she also sets an example of genuine empowerment of our daughters everywhere. I urge all of India to fly with Capt. Audrey and with Amy, to cheer them on and contribute generously to the "WE!Udaan Scholarship Fund."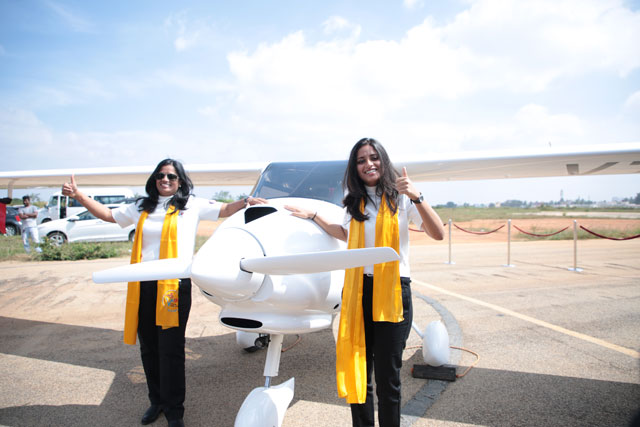 Till date no woman pilot has ever flown in a microlight around the world. Mysuru based and India's first female microlight flying instructor, teacher and mother, Capt. Audrey Deepika Maben and her 19-year-old daughter, Amy Mehta will attempt the enviable and perilous journey on February 18 next year. With the country cheering her daredevil spirit to circumnavigate the earth, they will raise awareness for the scholarship fund and achieve the highest flying honour for Indian women. A first on many fronts for India.
Waving a green flag to Capt Audrey Maben and Amy Mehta's brave endeavour, Raj Nayak, COO – Viacom18 said, "COLORS is extremely proud to be partnering with such an innovative, courageous and empowering cause. This is going to be such a great accomplishment for us, and even a greater feat for women everywhere. It is so humbling to see these two women defy all rules and limitations to achieve the unthinkable. This association between COLORS and WE! is an effort to shape and mould discussions around inspiring and motivating women to come out of their boundaries and show the world what they are capable of. While we spread this message through our platform, I urge more and more women to break the shackles and spread their wings to fly. A big thank you to Beti Bachao, Beti Padhao movement and the Ministry of Women and Child Development for having lent their support to this initiative as I strongly believe that together we will be able to enhance the lives of our women."
Attempting an act way beyond her peers have ever dreamt, Capt. Audrey Maben took to the skies as a young NCC Cadet at the age of 15. Winning a national competition, the All India Best Girl Glider Pilot in 1993-94, she decided to pursue gliding by enrolling into the IIT Kanpur Gliding Centre and thereafter obtained her first Glider Pilots License. She then went on to obtain a Microlight Pilots License and set a national flying record by participating in the Air Race India 2003. Besides being the only woman to fly as pilot-in-command during the race, she covered a distance of 2400 kms in five days from Bangalore to Nagpur and back – Solo –  in a microlight; a feat established by The Aeroclub of India and listed in the Limca Book of Records. In 2007, Audrey went on to become the country's first woman flight instructor.
A student of Baldwin Girls High School (1991) and Jyoti Nivas College (1996), Audrey set up `I Can,' a school for alternative holistic education in 2008, while continuing to pursue her passion as an aerosports professional, flying her own microlight plane as a hobby pilot.
Poised to take on the unexpected, an excited Capt. Audrey Maben shared, "To me flying has spelt nothing but freedom. It is pure joy to be airborne. Getting an opportunity to see the world and become one with it is an elevated state of freedom. This mission will give wings to many more girls like me who dreamt of flying every day. All dreams can come true. I have been blessed to live my dream," she added.
Present on the occasion to launch `WE!' at Jakkur Aerodrome, Bengaluru, Hon'ble Minister of Youth Empowerment and Sports, Govt of Karnataka, Pramod Madhwaraj, congratulated the initiative and wished Capt. Audrey Maben and Amy success towards completing the world record. "I am happy to extend my support to this commendable expedition which shines the torch on empowering young Indian women across India and salute their strength to achieve the impossible. It is a shining example, one that will truly give our women the mental and financial resources to achieve their dream of flying."
Fronting the endeavour to put more women in flight and extending support to `WE! President, lndian Women's Pilots Association (IWPA) & International Women Professionals in Aviation & Aerospace, Governor – India Section World 99s – Mrs. Harpreet A. De. Singh, also said, "Indian Women Pilots Association (IWPA) supports the wonderful initiative of 'WE' in its objective of encouraging women in the field of aviation, which includes aerosports and adventure. We are firm believers and promoters of women empowerment, and wish this initiative and Capt. Audrey Maben all the very best."