National: MRG World, one of the leading affordable developers has come forward in extending the much-needed support to their construction workers during these challenging pandemic times. The developer has made sure the site workers are following all the SOPs and guidelines extended by government, the workforce is also appropriately trained to mitigate any crisis situation and not let panic prevail.  The Group is also encouraging them to get vaccinated and providing the needed medical support.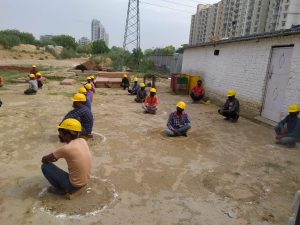 With the second wave leading to curfews and mini-lockdowns, the real estate sector cannot, at any cost, put a halt on their under-construction projects, and in order to achieve that, the developers must ensure the labourers' health and safety are being efficiently monitored. Elaborating on the group's efforts, Vikas Garg, Deputy Managing Director, MRG World said, "We are taking all the safety and precautionary measures at our construction sites. Our workforce is already trained and equipped since the first lockdown last year to carry out the work smoothly and also ensure distancing guidelines are being followed. We have also taken it as our duty to keep a medical team available at the beck and call for our labourers. Medical camps are also planned at intervals for the whole workforce to monitor their health and well-being."
Even during the pre-COVID times, MRG World has always been known for supporting their labour workforce with frequent health check-up camps, ration donation drives, other philanthropic activities, and will continue to do so.