March 23rd, 2017, Mumbai: Nilkamal, a household brand and leading manufacturer of furniture products in India, has collaborated with Wello, a US-based social venture, to launch a revolutionary new product – Nilkamal-Wello Water Wheel. The Water Wheel is an innovative patented product designed to simplify and increase water availability in India's rural villages.
Over one billion women and girls spend many hours, every day, hauling heavy loads of water to their homes. The practice of head loading can cause chronic back, neck, and eye pain, the curvature of the spine, and can lead to death during childbirth. The UN recommends 20 litres of water per person per day but because of the challenges associated with water collection, most rural consumers have access to less than 5 litres per day. The time, physical and health burdens of water collection combine to trap entire families in a vicious cycle of poverty.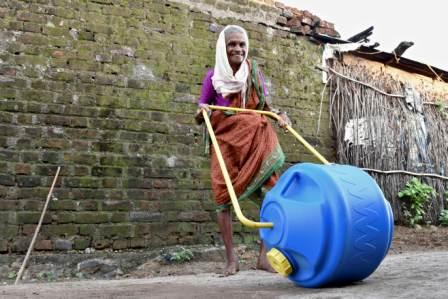 The Nilkamal-Wello Water Wheel is a drum that carries 50 litres of water and can be easily rolled to transport the water over long distances. It is durable, easy to use and saves time and effort. This can help women and young girls allocate their time for other productive activities. By combining American technology with Nilkamal's expertise in manufacturing and widespread pan-India distribution network, they aim to serve the market of over 250 million rural consumers across India making it easier for households everywhere to have access to safe water.
The Water Wheel is the flagship product of Nilkamal's new line of 'Social Impact' solutions; products designed to uplift and improve the infrastructure of rural India. Other products in the category include ultra low-flow toilets, school desks, and waste disposal bins. Nilkamal plans to deploy these products across the country at an affordable price, through its extensive distribution network.