Tata Steel Impacting Lives in Jharkhand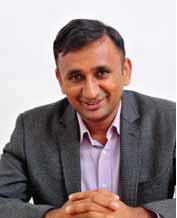 Tata Steel has, over the years, been actively involved in the overall development of Scheduled Caste (SC) and Scheduled Tribe (ST) communities through its social outreach programmes across all segments that include sustainable livelihoods, healthcare  services, education  and  training, youth empowerment, preservation of ethnicity and culture of indigenous communities, among others. SC/ST constitutes a considerable percentage of the population in the State of  Jharkhand. One of   the   ways   to  improve the socio-economic development of the State is through expanding the reach, depth and diversity of education programmes. The literacy rate in Jharkhand as per Census 2011 is 67.63 percent as compared to the national average of 74 percent.
Through focused interventions in education in its operational areas in Jharkhand, Tata Steel aims at not only addressing the educational needs of different age and gender groups by increasing access to education but also improve quality of education.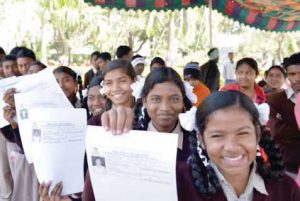 Camp School is one such initiative which aims to mainstream girls who have dropped out of formal education by introducing them to an eleven month residential school education programme. The company runs two Camp Schools – one at Pipla Centre, Jamshedpur block in East Singhbhum district and the other at Noamundi in West Singhbhum district of Jharkhand. In the last ten years, more than 1,900 drop-out girls have been mainstreamed into formal education through the efforts of Tata Steel in Jamshedpur and Noamundi.
The mid- day meal kitchen, in partnership with Government of Jharkhand and ISKCON Food Relief Foundation, is supplying mid-day meals daily to nearly 71,000 students, of which more than 35 percent belong to SC/ST communities across government schools in and around Jamshedpur. Tata Steel provides   infrastructure   support  to schools and colleges across all locations by constructing school buildings and boundary walls and providing drinking water and toilet facilities as well as benches and desks. In peri-urban Jamshedpur, 137 schools and colleges have been provided drinking water facilities. A total of 57,900 students are being benefitted of which 63 percent belong to SC/ST communities.
The company support youth to undergo various skill development programmes through expert organisations. In the last five years, the company has provided employability training in trades like construction, automobiles, motor driving, welding, computer hardware and software, etc., to over 11000 youth, out of which about 3700 youth have found employment. The company also support SC/ST girls in nursing training
Tata Steel has been strengthening government schools through school libraries and children activity centres. The company has initiated this programme in 30 villages of Noamundi, in partnership with Eklavya, Bhopal. The programme aims at improving the quality of education in government schools through quality books and activity-based classroom learning.
Education still remains a distant dream for a number of poverty-stricken tribes. Aakanksha, an ambitious project of Tata Steel's Tribal Cultural Society is making this distant dream come true for children of Particularly Vulnerable Tribal Groups (PVTGs) in Jharkhand. Launched in 2012, the project aims to impart education to children of the Paharia, Sabars and Bihors, identified as Particularly Vulnerable Tribal Groups (PVTGs) in residential schools. In  FY15, 234  tribal  children  were  enrolled  in seven residential  schools  like St. Robert School for Boys and Girls in Hazaribagh district of Jharkhand.
The provision of fellowship opportunities for meritorious students, belonging to the SC/ST communities has been an important part of Tata Steel's endeavour in the field of education. On an average, every year, more than 3000 meritorious SC/ST students have been benefitted by Jyoti Fellowship and Moodie Fellowship programmes.
From Brick Kiln to School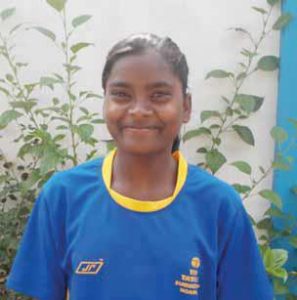 From   loading   bricks   onto   trucks   to  getting  enrolled  in  a  school  and  exhibiting her  sporting  skills,  Jyotini  has  indeed  made a positive start. She owes this new beginning to a TSRDS- run camp school in Noamundi.Jyotini Go (13), a native of West Singhbhum's Lakhansai village, is a bundle of energy. Swiftness comes to her naturally – even in normal conversations. As talks turn towards her favourite topic – sports, she becomes very excited and her speech   becomes   very   fast. Her hand gestures and foot movements become bolder. The sixth-grader, who is regularly selected for district-level school tournaments, worked in a brick kiln a few years back.
"I was born in a brick kiln where my parents worked," shares Jyotini, who was completely unlettered before joining the camp school in 2012-13. "Like them, my life, too, would have been limited to those stifling confines. But destiny willed otherwise. I ended up coming to the camp school."
And the change was palpable. From a life full of abuses, struggles and hardships, she moved to a life full of love, care and affection. "Backbreaking brick loads were replaced by easy-to- carry shoulder bags. Instead of starting my day with handia (poor man's liquor), I now have a glassful of milk. I do not go to bed on an empty stomach anymore, which was quite common in the past," recollects Jyotini, now a Class VI student at Kasturba Gandhi Balika Vidyalaya (KGBV).
Post-admission, Jyotini was given special attention by the camp school teachers as she had never been to school. "Our main challenge was readying a completely illiterate girl for formal education. So, apart from books and classroom teaching, we incorporated a lot of interactive study materials to fastrack the learning process," says Sambari Pareya, Warden, Noamundi Camp School. For her all-round development, the teachers encouraged her to play sports and participate in extra-curricular activities. It all paid off. Jyotini is now a confident girl who wants to continue with her sporting activities. She is also pretty confident about her career choice, 'someone big' in police services. Great going Jyotini!
Tata Steel has stepped in to create capabilities through scholarships, coaching and training programmes. The company has also rolled out a special and ambitious  project  'Tata  Steel   Scholars' giving wings to the dreams of SC/ST students aspiring for professional education. 83 students have been identified and supported to pursue higher studies from premier institutes like Xavier Institute of Management in Bhubaneshwar and Jabalpur as well as IIT Mumbai, BIT Mesra, BIT Sindri,  ISM Dhanbad, NIT Jamshedpur etc.
The company support youth to undergo various skill development programmes through expert organisations. The company offers skill development programmes at Tata Steel Skill Development Society (TSSDS)-managed institutes, namely, TSSDS Private ITI at Tamar, near Ranchi, Tata Steel Technical Institute (TSTI) at Burma Mines, Jamshedpur and Hospitality Training Centre at Kolebira in Jharkhand. In the last five years, the company has provided employability training in trades like construction, automobiles, motor driving, welding, computer hardware and software, etc., to over 11000 youth, out of which about 3700 youth have found employment. The company also support SC/ST girls in nursing training.
Sports as an integral part of education is a key focus area for Tata Steel. To identify and nurture talent among SC/ST communities, the company organized several   sports   tournaments  and conducted training camps. Tata Steel took the lead to organize a joint Tata Group tournament involving Tata Motors, Tata Power and Tinplate for athletics and football. In FY16, the football tournament witnessed participation of 1,760 teams with 28,000 tribal youth.
To develop leadership skills among youth and to inculcate values in them, Tata Steel conducts Moral Re-Armament (MRA) Camps. Both rural and urban youth, predominantly from the SC/ST communities are trained on moral values. So far, more than 1,500 youth from Jharkhand have attended MRA workshops through residential camps.
Thousand Schools Project
NRBC Centre: Ray of hope for those living on the  edge
Another innovative project by Tata Steel to bring school dropouts and children who have never been to school into the mainstream is the Thousand Schools Project. It has reached out to hundreds of such children by enrolling them in government schools. Courses to bridge this education gap are offered at RBC and NRBC centres which are set up in different locations at Danagadi, Sukinda, Harichandanpur, Joda, Koira and Kutra blocks of Odisha.
Everyday Saria Sahara, a nine year old girl from Saharasahi in Managobindapur village of Jajapur district, gets ready for class at the NRBC (Non-Residential Bridge Course) centre in the morning. She freshens up, wears a clean frock, combs her hair and ties it neatly with a rubber band and rushes to the centre. Six months ago, Saria's life was completely different. Along with other children in her village, Saria would be forced to beg all day long.
"I feel good there (NRBC centre). We read, have fun and enjoy. Sir says we will be sent to school. I never imagined that I would study someday. I did not know if school was for me," says Saria. She will be enrolled in Class III or IV in the nearest government school as soon as she completes the bridge course at the NRBC centre.
Presently, 71 children are attending classes at the Saharasahi NRBC centre of which 40 belong to Sahara community, 27 belong to Munda community, and the rest four are from scheduled castes. The centre was established in December 2015 and is a major component of the Thousand Schools Project being implemented by Tata Steel in six blocks of Odisha. Since then, 24 students from the centre have been mainstreamed by  enrolling them in the nearest government  schools.  By  April  2016, a total of 53 NRBC centres have been established in different locations at Danagadi, Sukinda, Harichandanpur, Joda and Koira blocks. At present, a total of 1341 children are enrolled in these centres and 469 of them have been admitted in government schools so far. Children studying at NRBC centre, Saharasahi, Managobindapur village of Jajpur district Apart from studies, officials of the project also taught them about cleanliness and hygiene, which has brought a significant change in the lives of the children and their families. Years of uncut and unwashed hair, uncut nails, soiled clothes, and lack of dental hygiene have had a profound effect on the children. When Rajashri Rana took charge as a teacher of the centre, she decided to cut their hair and nails herself, with the help of a village youth. She also highlighted the importance of taking a bath every day and washing their clothes regularly. She says, "I have seen these children transform. I regularly monitor whether they follow the cleanliness habits I have tried to instill in them or not. They had been living a nomadic life, going from place to place along with their parents, begging for survival. Bus stands, railway stations, markets and temple gates are where they have spent most of their life. Living in a permanent home, and going to school was beyond their imagination. They finally set up base at Managobindapur and this colony came to be known as Saharasahi."
"The NRBC centre has transformed the destiny of the kids, which was looming towards a dark future," says Sangram Biswal, a villager who has been a witness of the change since the inception of the centre at Saharasahi. He went on to say that, "These children did not have any identity or even proper names. The children  here   have   all   kinds of unconventional names, for example, 'Maaza' as the boy likes this particular fruit juice a lot; another boy is named 'China' since he has straight, silky black hair like the Chinese or yet, a boy with the name 'Foreign' due to his very fair skin. When Maaza, Chinese and Foreign were enrolled at the NRBC Centre, the teachers, with the consent of their parents, renamed them appropriately. Maaza is now Rohan, China,  Sidhu  and Foreign is now known as Amit,  and so on."
Today, while their parents are at the industrial area in Kalinganagar for work, these children attend classes at the centre. NRBC is a major component of the Thousand Schools Project, which is being run by Tata Steel through ASPIRE, one of its partner NGOs. The aim of setting up NRBC centres at different locations is to bring the dropouts and students who have never been to school, to the centre and give them basic education as per their age. After the basic training, they are enrolled into government schools. Thus, it works like a bridge that connects these children to the conventional road of education.
Apart from NRBC, two other major components of the projects are RBC (Residential Bridge Course) Centre and LEP (Learning Enrichment Programme) class. The Thousand Schools Project aims to ensure all children between 6-14 years in school, address learning deficits of children in primary grades, improve school governance by strengthening School Management Committees (SMCs) and increasing the role of PRIs, youth groups and women's groups in education in the village and improve government teachers' skills to deal with first generation learners. Biren Ramesh Bhuta is Chief, CSR, Tata Steel.