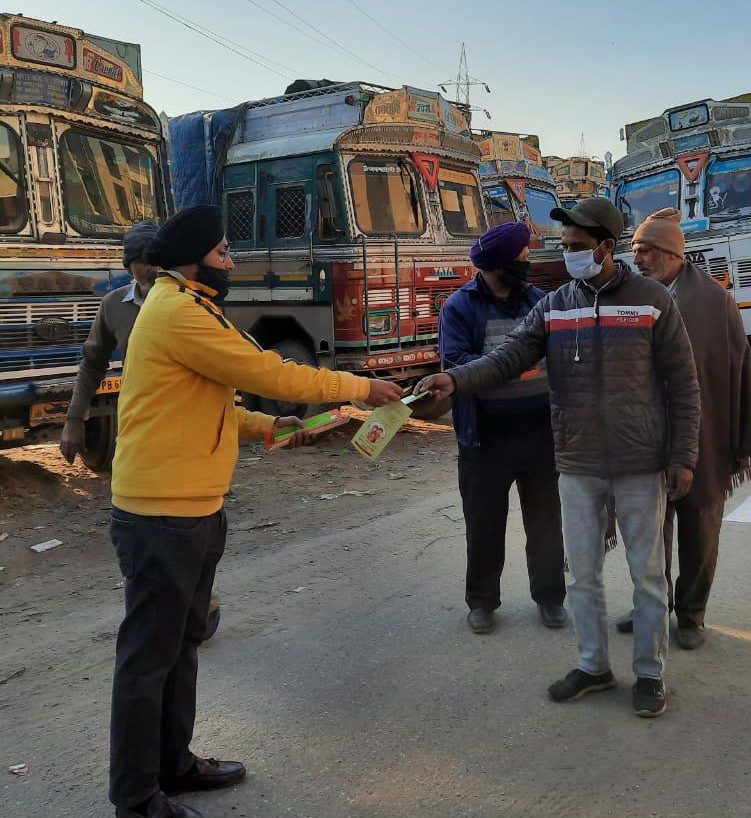 Punjab, January 5, 2021: Ambuja Cement Foundation (ACF) partners with Pernod Ricard India Foundation (PRIF), the non-profit subsidiary of Pernod Ricard India Ltd, to address primary healthcare needs and promote responsible behaviour for road safety among truck drivers in Derabassi, Punjab.
Truck drivers have very challenging jobs and often put their own health at risk. They suffer from multiple health problems due to long hours of travelling and inadequate rest hours. The nature of their work, exposure to pollution and lack of nutritious food puts them at risk of contracting non-communicable diseases. Hypertension, diabetes, lung infections and liver cirrhosis are also very prevalent due to the high levels of pollution, physical inactivity, tobacco and alcohol use. India has the largest number of people living with HIV and more than two million are migrants. They are known to have such health issues due to continuous travel, loneliness and being away from their families. Truckers have an extremely high prevalence of STI but are often ignored as a likely cohort of such diseases.
To address this issue, ACF has come together with Pernod Ricard Foundation to inculcate responsible behaviour change on preventive healthcare and substance abuse and to generate awareness on road safety to reduce road accidents.
The project duration will be for three years and occur in three phases targeting about 3500 rural truckers and allied population in the Derabassi area. Structured intervention is expected to reduce the prevalence of STI, reduce cases of road accidents and change knowledge, attitudes and practices of the truckers in regard to health and responsible consumption. For impact sustenance, the programme will also develop a truckers committee which would include members from the trucker's union, local community-based organisation and members from the local government department.
The engagement plan will involve setting up a vision care centre, counselling area for those struggling with alcohol and substance abuse, organizing road safety weeks along with sensitisation by the RTO Department, creating peer-led support groups, capacity building of migrant groups to ensure ownership of the programme amongst other initiatives.
Sharing the objectives of the project, Pearl Tiwari, Director and CEO of Ambuja Cement Foundation, said, "The project has been introduced to address primary healthcare and safety needs of the target population by starting a healthcare centre, creating awareness on road safety through effective IEC materials and ensuring behavioural change communication to address HIV and STI. We are delighted to partner with Pernod Ricard Foundation who will be rendering their support over the next three years to ensure maximum awareness."
Sunil Duggal, VP – Corporate Affairs and Sustainability & Responsibility, PRIF said, "We believe that our support to communities has the power to unleash the next wave of growth and development for the country. We are grateful to the truck drivers' community, which has ensured that India's supply chain and services remain robust through all challenging times, often at the cost of their own well-being. Through this programme, we reaffirm our commitment to Leaving No Trucker Behind by providing quality primary healthcare and promoting road safety with them."