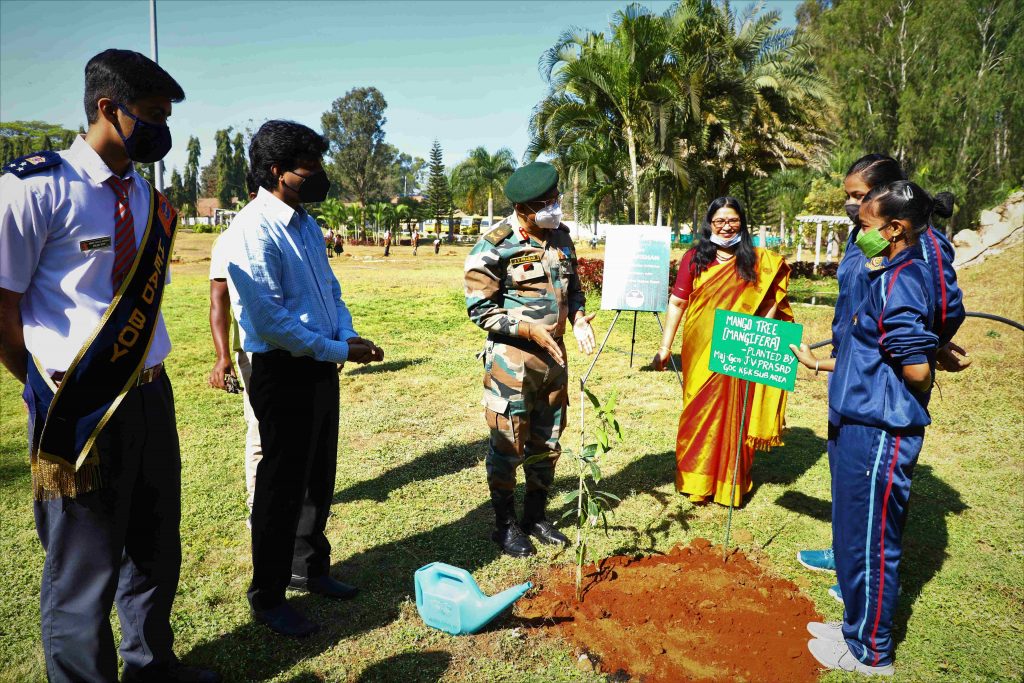 Bangalore: To contribute towards environmental sustenance, Pernod Ricard India has announced Project Sanrakshan, in partnership with Reforest India, to plant saplings in Airforce and Army units, as well as the Army Public School in Bangalore. The initiative is yet another step in its efforts towards fulfilling the environmental responsibility to conserve natural resources that are under threat from unchecked infrastructure development. The employees of Pernod Ricard India in association with the Armed Forces have planted over 1300 native, flowering, and fruit-bearing trees selected for seamless integration into the regional biosphere. These trees are between 1 to 1.5 years old with a height of 4-6 feet, ensuring a 90 per cent survival rate. 
The tree plantation drive at The Army Public School was led by Major General J V Prasad, General Officer Commanding, Karnataka & Kerala Sub Area and Brigadier Kanwar Amarjeet, Deputy General Officer Commanding, Headquarters Karnataka and Kerala. The event was attended by around 60 officers, students, along with Pernod Ricard employees from the region.
Commenting on the plantation drive, Major General J V Prasad, General Officer Commanding, Karnataka and Kerala Sub Area said, "Preserving the country's ecosystem is crucial for the Indian Armed Forces which will help in conserving the environment. The decrease in foliage cover can disrupt other local flora and fauna in the region for decades to come, often leading to disastrous consequences. Pernod Ricard India is setting an example for corporations and is taking proactive measures to preserve the environment. These newly planted trees will enrich the surrounding areas with a bounty of fruits and flowers and have been selected to not interfere with the local biosphere. Our aim with this collaboration is to sensitise people about the environment and contribute to the fight against climate change."
Speaking about Project Sanrakshan, Sashidhar Vempala, Head Sustainability & CSR at Pernod Ricard India and Director at Pernod Ricard India Foundation said, "We believe in being a 'Business for Nature' and work towards restoring and rejuvenating degraded and deforested land in our watersheds to conserve India's rich Biodiversity in key landscapes.  This programme is our continued effort towards nurturing our biodiversity working with all stakeholders to foster an environmentally conscious community."
Pernod Ricard India is a socially responsible corporation with a strong belief in strengthening corporate citizenship by tackling social, economic, and environmental sustainability in all key states. The company prioritizes responsible drinking, education, sanitation, primary healthcare, and youth employment, with a strong emphasis on long-term environmental conservation activities. Besides, it has completed large-scale integrated Water Resource Management projects across the country. These Sustainability and Responsibility commitments by Pernod Ricard India seek to holistically address the ecological and conservation aspects that are aligned with the United Nations Sustainability Development Goals.