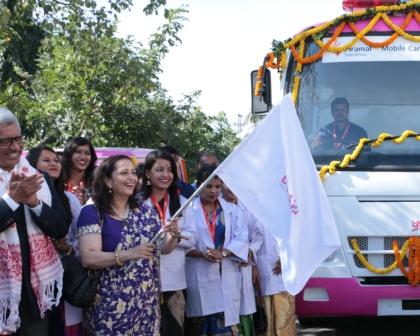 Guwahati Assam, November 13, 2017: Piramal Swasthya, an initiative under the aegis of Piramal Foundation (the philanthropic arm of the Piramal Group), today announced the launch of its community-based cancer screening programme – Detect Early, Save Her/Him (D.E.S.H), to detect cancer early and thereby reduce mortality. It is expected to reduce the impact of the cancer burden in Assam through early detection of Oral, Breast and Cervical Cancers in rural areas.
Dr. Swati Piramal, Vice Chairperson, Piramal Group, who has been closely involved in the project, inaugurated D.E.S.H in Guwahati by flagging off a state-of-the-art Mobile Cancer Screening Unit.
Cancer is one of the leading causes of mortality and morbidity worldwide. In India, the cancer burden is high and is projected to increase over one-and-a-half times in the next twenty years. Within India, Assam has the highest proportional mortality ratio due to cancer. Kamrup is the district with the fourth highest incidence of cancer-afflicted persons in India, according to the population-based Cancer Registry Report (2012-14). States in the North Eastern region, due to a multitude of reasons, have few, effective cancer screening programmes and very few cancer care centres.
For this reason, this programme was launched in Kamrup. Its components include creating community awareness, screening for cancer through mobile cancer screening units, mobility for the patients detected positive to a treatment centre, tracking and follow-ups. Equipped with cutting edge equipment (including a mammography unit) and staffed by doctors, nurses and radiographers, the Mobile Cancer Screening Unit will screen the local population for oral, breast and cervical cancer every Monday to Thursday. On Fridays and Saturdays, another vehicle will be used to ferry those who have screened positive, to Guwahati's Dr. B. Borooah Cancer Institute.
 Unique Features:
Community-based mobile cancer screening unit
Counselling session for those who have been detected positive
Provision of transport for these patients to Dr. B. Borooah Cancer Institute.
Safe and secure Electronic Medical Record for every patient with a unique beneficiary ID for monitoring and tracking
Referral and follow-up of positive patients, thereby ensuring complete end-to-end cover
Patients to be enrolled with the existing Atal Amrit Yojana insurance programme
Speaking about the initiative, Dr. Swati Piramal, Vice-Chairperson, Piramal Group, said, "Piramal Swasthya aims to transform India's health ecosystem through high impact solutions, partnerships and thought leadership. Cancer awareness and screening is of utmost importance as it ensures early detection, thereby increasing the chances of survival and reduction in treatment costs. The North Eastern States of India are reported to have the highest incidence of cancer, with Kamrup district being ranked the fourth highest. There are very few cancer care centres or programmes in Assam to cater to such patients. The difficult climatic conditions, coupled with poor infrastructure, leads to reporting of only advanced cases with a higher morbidity and mortality. Piramal Swasthya has realised the need for such a programme in Assam to prevent, screen, diagnose and treat Oral, Breast and Cervical cancers in rural areas. We believe that it will have a significant impact in helping to reduce cancer-related mortality in Assam. After successful implementation in Kamrup, we can scale it across the State and the rest of the North Eastern region as well."