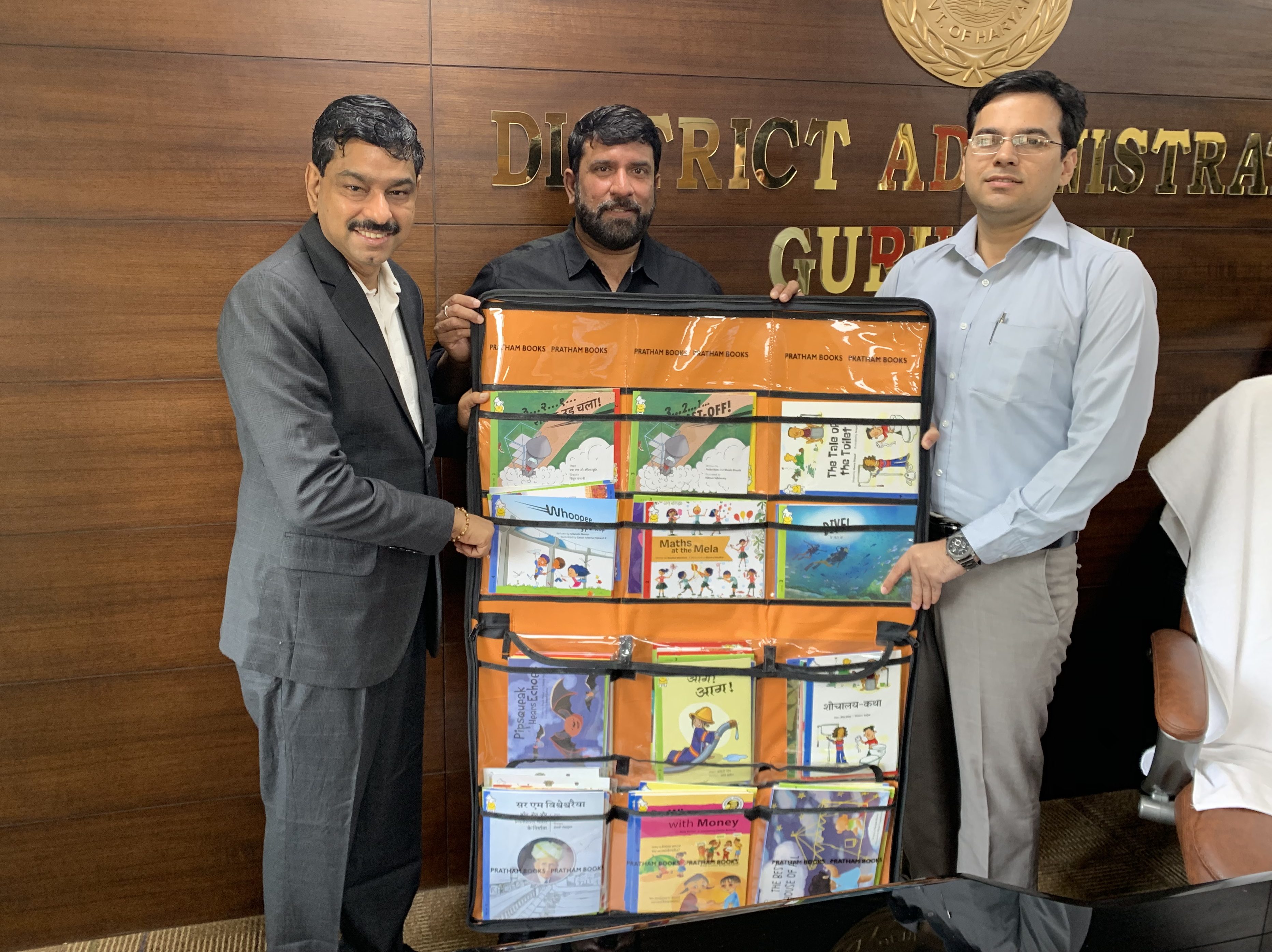 Gurugram, June 21, 2019: Pratham Books Foundation, in partnership with Cisco, announced their support to over 100 government schools across the district of Gurugram with mobile STEM (Science, Technology, Engineering, Math) Libraries. Each library kit would include more than 100 books in both English and Hindi language providing young minds with an experiential learning platform and to encourage an avid reading habit amongst children.
To landmark the announcement, Harish Krishnan, Managing Director, Public Affairs & Strategic Engagements, Cisco, handed over a library kit to Amit Khatri, Deputy Commissioner, Gurugram, in the presence of Himanshu Giri, CEO, Pratham Books.
Pratham Books is non-profit publisher creating engaging storybooks in multiple languages and formats to help children discover the joy of reading – in languages they can understand, set in locations they can recognise, featuring characters with whom they can identify, and telling stories that capture their attention and fuel their imagination. As part of the partnership with Cisco, they have developed 85 unique titles over a time span of three years, in nine different Indian languages. Some of the books include – Math at the Mela which provides an introduction to skip counting, Password Please provides an introduction to cybersecurity, explaining the importance of passwords to keep data safe and Who Drives the Driverless Car? explains the concept of navigation done by computers to drive a car.
 Amit Khatri, Deputy Commissioner, Gurugram
"Stimulating and carefully curated content plays a pivotal role in shaping the minds of young children. As we move towards a digital era, such books rouse great interest among younger students, thereby shaping their future choices. Making these books available in local languages will further increase the chances of wide adoption. I am confident these libraries will add to our efforts to make our students more capable and competent."
Harish Krishnan, Managing Director, Cisco India
"Through this partnership with Pratham, we wish to fill classrooms with colourful illustrations, localised content in Indian languages, and exposure to simple concepts that are important in a digital era. This is aligned with our commitment to positively impacting 50 million beneficiaries in India by 2025, and will help children overcome the barriers to reading and become lifelong learners."
Himanshu Giri, CEO, Pratham Books
"At Pratham Books, we are committed to the idea of 'a book in every child's hand'. Recognising the immense reading deficit among India's children, Cisco has partnered with us to develop a range of multilingual STEM-themed storybooks that will help build much-needed STEM literacy among children. Libraries in a hundred primary schools in Gurugram will help thousands of children benefit from reading, learning, and exploring the world around them."