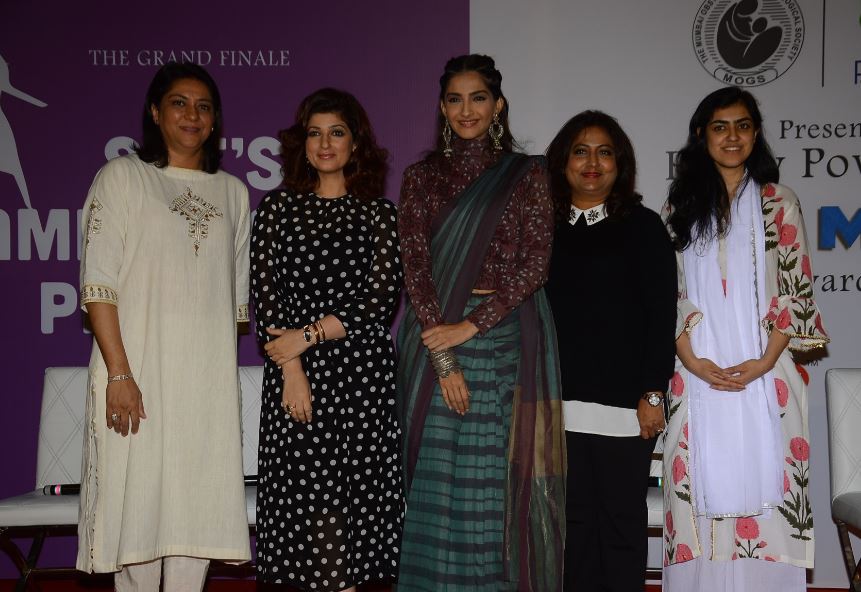 Mumbai, January 25, 2018: PVR Nest, the CSR arm of PVR Ltd., India's largest film exhibition company and Mumbai Obstetrics &Gynaecological Society (MOGS), celebrated the completion of their 'She's Ambassador' programme and its yearlong achievements. The campaign had sought to strategically emphasise on promoting quality healthcare inclusive of education and safe practices amongst young girls, enabling them to build resilient communities, ensuring a life of dignity for all.
As a part of its efforts to equip adolescent girls to face the challenges and complexities of modern times, She's Ambassador travelled to 50 BMC schools imparting practical skills and information to 50,000 young girls through an innovative training programme. It included knowledge sessions, new age counselling sessions with multi-sectored influencers, film making workshops and project-based learning on Nutrition & Fitness, Menstrual Health & Hygiene, Communicable & Non-communicable Diseases, Sanitation & Cleanliness, and Mental Health & Well-being,
Aimed at propelling health awareness in low income settings, the programme collaborated with celebrity influencers from the film industry, business, finance, medical and social sectors to engage with children on the health of adolescent India promoting healthy child development through participatory convergence.
Priya Dutt, Twinkle Khanna and Sonam Kapoor graced the occasion as 'Special Guests' while Niharika Bijli hosted the grand finale. In addition to our esteemed partners, IDA – Mumbai Chapter, Red Dot Foundation, Red Stone Films, Principals and students from participating schools were also present at PVR Juhu for the closing ceremony.
While highlighting the achievements of the programme that transformed the lives of young girls in marginalised settings, 10 Health Champions were honoured with 'Pretty Powerful PadMan' awards for their commendable work as health leaders and exemplary role models in their communities.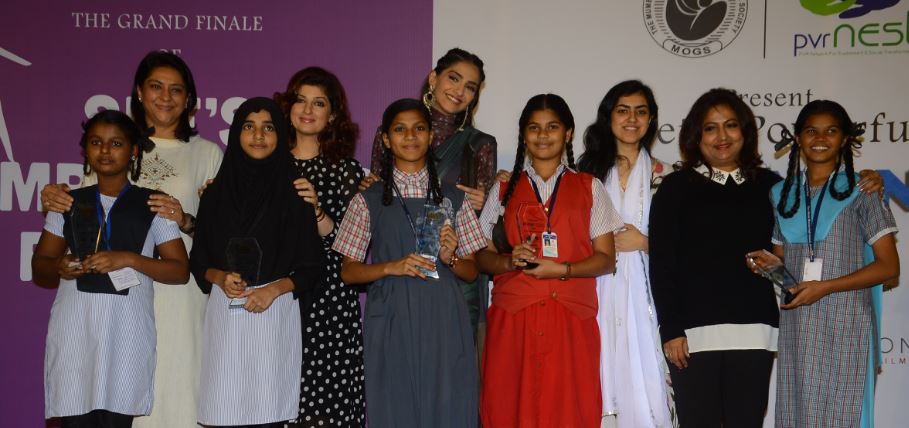 Dr Nandita Palshetkar, Immediate Past President – MOGS and President Elect – FOGSI said, "Education is the only way to progress, and educating a woman will ensure development at the grass root level. Partnering with PVR Nest was ideal for this initiative as it resonated with the concept of their Cine-Art campaign. She's Ambassador's context-sensitive curriculum was delivered over a course of one year to adolescent girls in schools led by peer education model for enhanced reach in terms of scale and impact. The underlying narrative being addressed behind these fun and interactive sessions was to promote women healthcare, hygiene, nutrition and sanitation through engaging mediums and enable them to recognise their potential as health communicators."
"She's Ambassador's programme has come a long way since April last year when it was launched," Priya Dutt recollected. She went on to say that, "Though there is a long way to go, having reached out to these many young women; empowering them with healthy and hygienic practices for a wholesome life is indeed celebratory. The programme educated them on the do's and don'ts, the essentiality of healthy choices and very significantly, introduced them to the world of opportunities presented by living a strong, clean and healthy life."
"Lack of education and awareness is at every step and is a daily reality dealt by countless young girls and women," said Twinkle Khanna. "PVR Nest conceptualised She's Ambassador which aimed at nurturing girls during the early transformative age. It is a collective initiative to improve the lives of the girl child. This programme provides skills, education, peer support and role models they need to succeed in life and be leaders in their communities," she added.
Thinking aloud, Sonam Kapoor said, "When we educate girls about their bodies and its changes, we empower them to not only take care of themselves but also feel more confident in doing so. When we embolden the youth of our communities, we create a positive change for the future. PVR Nest and MOGS' She's Ambassador initiative has not only empowered, but inspired these young girls and made them self-aware, confident; equipping them to take full charge of their own development and become a role model for thousands of others."
Addressing the gathering, Deepa Menon, Senior Vice President – CSR, PVR Ltd. said, "Collective and individual action is a crucial prerequisite for establishing efficient health management machinery in India. She's Ambassador addressed the social stigma, archaic cultural norms and the economic insufficiencies that prevent young girls from making healthy choices. Using art and cinema as a medium for learning, expression, and engagement with health topics, She's Ambassador incorporated adolescent girls as central actors in their own education setting by conducting a series of creative workshops covering health and hygiene resulting in a girl-to-girl health education model. The Programme encouraged the voice and leadership potential of young girls empowering them to inspire change within themselves and their communities."
Also premiered at the event were five short films created by these young Health Ambassadors demonstrating their leadership, unique voice and opinion on the needed change in views and practices for a healthy living.
The programme has operated under the principle that access to socio-economic sustainability increases a girl's confidence, sense of value, and self-worth. While it may be difficult for a girl to single-handedly change some intractable social norms, She's Ambassador has equipped her and many more to spread the message, sharing what she has learned with her friends, mother and daughters someday.