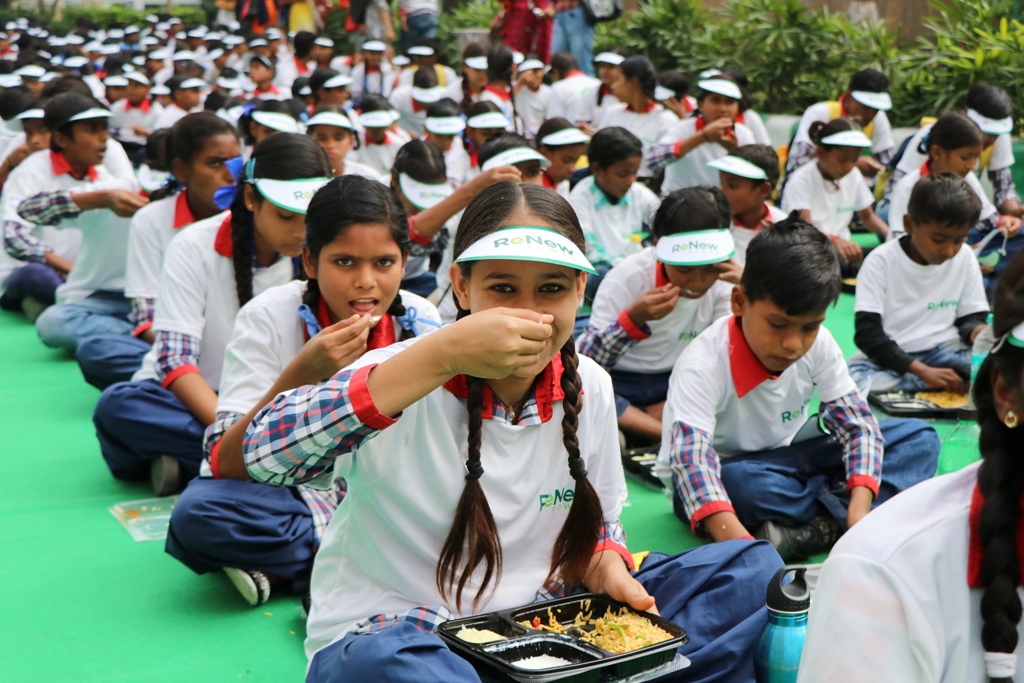 Gurgaon, November 16, 2018: The employees of ReNew Power Limited, India's largest renewable energy IPP in terms of total energy generation capacity*, through an internal donation drive, have successfully collected 20,000 Kgs of rice. The entire amount will be handed over to ReNew's NGO partners who will use this to arrange two lakh meals for people from underprivileged sections.
This is the outcome of an innovative employee-driven initiative at ReNew Power, the Rice Bucket Challenge. Under this, ReNew Power employees, spread across its various project sites pan India, regional offices and the corporate headquarters at Gurugram, participated in a month long drive to voluntarily donate rice to be used for feeding the underprivileged. While the employees contributed 10000 kilos of rice, the ReNew management matched this by contributing an equivalent amount. This is the fourth year of the Rice Bucket Challenge and has seen the highest ever collection, surpassing 14000 kilos collected last year.
The initiative commenced in the first week of October, coinciding with the Joy of Giving Week and received an overwhelming response as employees displayed great enthusiasm and a spirit of "giving back" in donating rice for feeding the less fortunate. In a fitting culmination to this initiative, ReNew Power organised a Children's Day event today, wherein 1000 less privileged kids from Delhi NCR were invited to the corporate office, ReNew Hub. ReNew employees spent time interacting with these children and also fed them a nutritious meal on this occasion.
Vaishali Nigam Sinha, Chief CSR, Communication & Sustainability Officer, ReNew Power, said, "As a responsible corporate, we promote a culture of sensitivity and caring for the community at large, and engage with them regularly, aiming to improve their quality of life. We have been a strong advocate of the UN Sustainable Development Goals, of which achieving food security and improved nutrition is especially relevant for India. The Rice Bucket Challenge is our humble contribution to address this key concern. Over the years it has been a huge success, also resulting in a more engaged workforce." Ms. Sinha further added, "I am also thrilled to host the children at our campus today and gift them a memorable experience on the occasion of Children's Day. It is very satisfying to see our employees spending time with the kids and sharing a wholesome meal with them; this testifies to our spirit of going beyond routine business to make a positive impact in the lives of those who need it most."