As an NGO focused in imparting education for the underprivileged and rural upliftment, Sevalaya is truly committed in improving their lives for their better. Sevalaya's motto, 'Love All, Serve All' is followed in true letter and spirit, as it draws inspiration from three social giants – Mahakavi Bharathiyar, Mahatma Gandhi and Swami Vivekananda.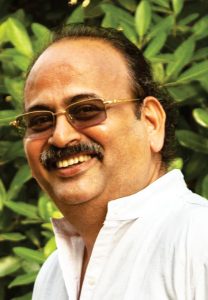 Sevalaya was established in 1988 in Thiruvallur and Kancheepuram districts of Tamil Nadu. What started as a home with just five children in a rented accommodation has extended to us being privileged to work and serve in 40 villages in and around Kasuva village which once had 100 percent child labour. Over a quarter century of operations covering education, shelter for destitute and rural uplift, these villages have reached total school enrollment, as part of the ongoing transformation.
Our varied activities fall under three categories: Education, Rural Development and Homes, each inspired by Mahakavi Bharathiyar, Mahatma Gandhi and Swami Vivekananda.
Sevalaya's Mahatma Gandhi Unit aptly takes care of rural development. The activities fall under various categories, as elucidated below:
Women Empowerment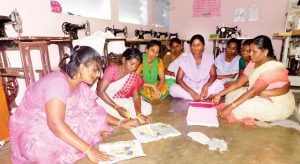 Our focus on women empowerment is multi-faceted. Community colleges impart vocational training for rural unemployed girls as nursing assistants, beauticians, garment stitching and making crafts. Over the past few years, more than 1000 women have been trained in these categories. 78 percent of the women are either gainfully employed or have chosen the entrepreneurial route. The girls who successfully completed their nursing assistant course have a higher rate of employment, which is closer to 100 percent.
Distribution of sewing machines turned saviour for a large number of women in distress, supporting or supplementing livelihood. One group that benefitted from our initiative is the nomadic Irula community. The sewing machines given to the 300 families have proven to be a life saver and a means of livelihood after the epochal floods of 2015 washed away their possessions. Tiruttani, Gummidipoondi, Ponneri, Vadanallur and Chidambaram Taluks were some of the worst hit in Thiruvallur, Kanchipuram and Cuddalore districts during the floods. In addition, to maximise the benefits, they were provided training so that they could learn the intricacies of different styles of garment cutting, stitching, and embroidery work.
Conserving our Rural Environment
In our continued quest to educate the rural communities about the need to conserve the environment not just for their present but most importantly, the future generations, environmental education is imparted to all our students as part of the curriculum. They are taught to segregate degradable and non-degradable wastes for disposal. We have successfully turned our Kasuva campus into a green zone.
Rural Greening Through Seed Balls

Social and environmental awareness is part of every project undertaken by Sevalaya in the rural community. When we taught the children about the seed ball (a clay ball made from red soil, water, and vermicomposting with a seed embedded in it), they were fascinated and went about making thousands of them. Since all the three vital elements (water, clay and organic fertiliser) bind the seed, the process of germination is facilitated and it can sprout anywhere – ditches, shady or arid areas. The children gives the seed balls to their parents who in turn sow or toss them in and around their compounds, with all probability that a tree will sprout, thus helping in building the forest as well as provide greenery in barren and man-made deserts.
"In our continued quest to educate the rural communities about the need to conserve the environment not just for their present but most importantly, the future generations, environmental education is imparted to all our students as part of the curriculum"
Smokeless Bhogi
Bhogi is a tradition of collecting and burning unwanted materials. It is environmentally unsafe. Each year, our students are encouraged to walk around the villages to spread awareness against this habit. Students from four local schools including Sevalaya and New College, Chennai, undertook a 5 km walk around Pakkam and Puliyur villages, spreading the message of smokeless Bhogi. We have been running this seasonal campaign since 1990, with perceivable reduction in this traditional practice.
"India lives in its villages. The country can not be called developed until the last village is developed – Mahatma Gandhi"
900 Bio Mass Stoves to Rural Kitchens

Extending our bid towards reducing carbon footprint in rural Tamil Nadu, we partnered with Shell India Pvt. Ltd to distribute energy-efficient and low smoke bio-mass stoves to 900 rural families around Kasuva village, Thiruvallur district. As part of the Disaster Relief and Rehabilitation initiative of Shell India Pvt. Ltd, post the Chennai floods, these stoves reduce smoke by 80 percent, improve cooking experience and are environment friendly.
Organic Farming
We also encourage organic farming and conduct regular workshops to propagate this within the campus and in nearby villages. In the two acres that have been earmarked for this purpose, the activity of seeding and harvesting is manually done at Kasuva campus and the satellite centres at Thirumalaivaiyavur and Madhuranthakam (Kanchipuramdistrict). Cow dung, panchakavya and vermicompost are used as bio-fertilisers.
Water and Energy Conservation
Born out of a SHELL-NXplorers workshop on energy, Sevalaya NXplorers Club conduct workshops on energy, creating awareness about water and energy conservation in the villages. Between November 2016 to March 2017, Sevalaya students visited two villages and two schools in a 10 km radius. 190 villagers and about 260 students participated in the events. The children enact plays and sing folk songs to convey the importance of water and energy conservation.
Mobile Medical Units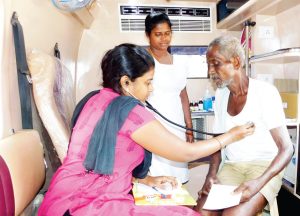 A very large chunk of India's population, about 78 percent, reside in the rural areas; yet only two percent of medical professionals can be found working among this population. While such statistics is disconcerting, we also cannot deny many welfare organisations that have been steadily helping the rural masses by providing as much healthcare as possible. Healthcare is the right of every individual, and we at Sevalaya have been contributing in this most vital aspect of the survival and continuity of our rural community.
Until 1994, Kasuva village did not even have basic medical facilities. The nearest public health centre was about three km away, and it functioned only till noon. To mitigate this, we started a medical centre at Sevalaya, which has now grown into a 12-bedded hospital. Playing the role of a first responder, the Centre provides medical treatment to 16 villages within a three km radius. It also offers treatment to 80 senior citizens who are part of our Old Age Home, to 173 girls and boys who belong to our Children's Home as well as to the 2000+ students who study at our school. The Centre employs a total of 180 staff, 40 of whom reside in the campus. The Centre is also equipped to deal with a target to provide complimentary healthcare to two lakh villagers staying within a ten km radius suffering from various ailments. It also treats patients suffering from dehydration, diabetes and stress. Treatment, including medicines, is offered free of cost.
Our mobile medical van has benefitted 2,800 patients since July 2016 through its 290 visits in the interior villages. Health camps, including 11 physiotherapy camps and eye camps, have benefitted 9451 patients. 1,536 patients have been referred for cataract surgeries and 1,927 patients have been provided free eyeglasses since 2014.
Over the past year, partnerships with corporate institutions and private individuals have led to enhanced reach of medical care in reaching out to the community to provide quality healthcare at their doorstep. Two mobile medial units, with a team of doctors and a couple of nursing assistants, visit 70 rural villages each month in Thiruvallur and Kanchipuram districts. Medicines worth two and a half lakhs rupees are dispensed free to the patients, annually. Regular eye camps are conducted and prognosis is suggested on a case by case basis. Patients requiring surgeries are referred to hospitals that provide them free of cost. Their follow-up care is also complimentary. Physiotherapy camps are conducted from time to time at the villages to alleviate patients who suffer from osteoarthritis, cervical and multiple joint pains.
Water ATM: Clean Drinking Water for Villagers

Adhigathur, a remote village in Thiruvallur district was identified as a test village to provide RO water. Water ATM is a novel concept where the village drinking water, stored in the municipal tank, is cleaned through an RO filtration system and provided to the villages. This eliminates the hardness of the water as well as removes impurities present in it. About 500 families have been provided with a Water ATM Card. They can refill the ATM card at the local panchayat office and draw water based on their needs.
Anti-Alcohol Pledge

Following in the footsteps of one of our inspirations – Gandhiji, who, prior to his departure to London for higher studies in August 1888, made a solemn promise to his mother, Putli Ba, that he will not consume wine, we also took upon ourselves the responsibility of changing the situation around Sevalaya. Many families are affected by the scourge of liquor consumption. In 2015, we organised an event called Putli Ba, in honour of Gandhiji's mother. Every year on 5th August, over 500 boys of Sevalaya School hold their mothers' hands and make a pledge that they will not touch alcohol throughout their life. T-shirts carrying the message: 'I promise that I will never drink alcohol' are also distributed to the students.
Our success in Kasuva village has brought recognition and praise from many parts of the country. They want to replicate our model in their respective areas. Despite the many milestones achieved, we do not want to rest on our laurels yet. There are miles to go; more rural communities need to be reached and developed. Our long time goal is to start a free university that will benefit orphans, the destitute and poor children.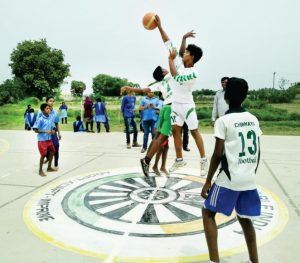 Apart from the above, Sevalaya has also encouraged sports and physical activities like athletics, basketball, volleyball, opening opportunities for children and the youth of different districts for healthy competitions.
Sevalaya also started Thiramaipor (War of Talent) as a joint venture with Rotaract Club of Akash in 2008 to foster and nurture sports talent among rural schools in Thiruvallur district. The weekend sports meet covers eight games, besides track and field events.
While the children, youth and men take part in these competitions, we make sure that the womenfolk are not ignored. During Pongal, the womenfolk in the villages ready themselves for the Rangoli competition. It is friendly yet fiercely competitive. On an average, about 40 villages and 1000 women have been participating each year for the past 17 years. The competition is a joyful display of congeniality and a splash of colours, bringing delight to everyone.
I would like to end with this quote from Mahatma Gandhi: "India lives in its villages. The country can not be called developed until the last village is developed."
V. Muralidharan is Founder & Managing Trustee, Sevalaya