Axis Bank Foundation has identified women as key drivers of economic reforms in rural India. In the process, the Foundation has envisaged that the goal of gender justice will be fulfilled. Water security will form the crux of a bouquet of sustainable livelihood initiatives for farmers in India particularly among the most marginalized communities in some of the poorest districts in the country. ABF has targeted provision of livelihood activities to 2 million households by 2025. The basket of livelihood activities include skill development programs for the differently abled.
Axis Bank Foundation (ABF) is the CSR arm of Axis Bank, the third largest private bank in India. It was formed in 2006 with the aim of giving focus and structure to its philanthropic activities. The Foundation is governed by a Board represented by senior leaders from Axis Bank, industry experts and development sector professionals. An executive trustee and CEO lead a team that owns and implements the Foundation's strategic programmes.
Initially, the Foundation focused its efforts on education and a highway trauma care programme. Over a period of time, the Foundation has developed a strategic programme that aims to enable economic inclusion through livelihood initiatives for rural communities, especially those that were dependent on subsistence agriculture. These initiatives also focus on creating employment for youth and persons with disability through a skilling programme. They are designed to create livelihoods that can cope with and recover from stress and shocks (resilient), are well integrated (equitable opportunities) and address the three key dimensions of economic, societal and environmental well-being (sustainable development).
The Foundation, in the month of September 2017, achieved its goal of creating one million sustainable livelihoods.
ABF has a robust process for programme management. Projects are co-created in consultation with NGOs and communities. Based on in-depth understanding of local issues, ground realities, discussions with NGO partners and the communities, projects are designed to enable creating, strengthening and sustaining livelihoods.
Monitoring and Evaluation indicators are designed to be comprehensive but customised for each project to ensure relevance. Aspects covered include Coverage, Community Mobilisation, Agriculture, Livestock, Non-Farm based Interventions, Income Generation Asset, Watershed Structures, Vocational Training, Financial Inclusion, Health, Arts and Craft, VOCSETs(Victim of Commercial Sexual Exploitation and Trafficking) and Innovations. Impact is assessed through multiple criteria such as increase in income, financial inclusion (through savings and credit solutions), levels of women empowerment, increase in farm output and placements for skill-trained participants, to name a few.
CSR activities have led to greater employee engagement within Axis Bank through engagement of senior leaders providing their voluntary time to support the programmes. ABF has supported livelihood creation through over 20 NGO partners with a footprint across 24 States, impacting the lives of more than one million individuals.
CSR Initiatives: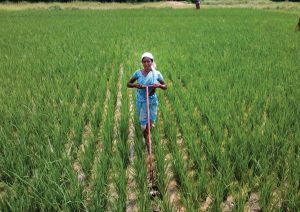 For more than 10 years now, Axis Bank Foundation has been working towards a change that is sustainable and self perpetuating. The goal is to enable communities to envision a different future and igniting their confidence in their own ability to drive change. ABF realises that women play a central role in such social transformation and ensures that women acquire necessary skills to realise their vision through empowerment instead of 'delivering' services and solutions. Based on the extensive work done by its partners on agriculture and water structures, ABF found availability and access to water enables rural population to build and sustain a basket of livelihood activities. Hence, water security is at the crux of a large number of sustainable livelihood initiatives supported by ABF. Skill development was found to be another key area which helps provide employability and entrepreneurial skills to artisans, youth, women and differently-abled people through various courses and training resulting in a wider access to opportunities for the economically excluded. Other themes include afforestation, community building, backward and forward market linkages, credit access, formation of women-focused self-help groups (SHGs), alternative livelihood options for the farmers and inclusion of women in the economic reform of rural India, including victims of commercial sexual exploitation.
"Axis Bank Foundation has been working towards a change that is sustainable and self-perpetuating. The goal is to enable communities to envision a different future and igniting their confidence in their own ability to drive change"
Past and Present Themes Undertaken by ABF:
Financial Inclusion through Gender Mainstreaming
ABF lays great emphasis on women inclusion as a way to improve gender justice and promote women empowerment. This is done by mobilising and organising women collectives focusing on savings and credit to help address their sense of vulnerability and providing assistance to help re-position themselves in their families and community with subsequent forward linkages to other stakeholders. ABF encourages creation of women SHGs as community institutions, training them at individual and enterprise levels on leadership, entrepreneurship, financial management, asset creation, healthcare, women rights and relevant government schemes. Women are supported with opening of personal bank accounts and entrepreneurial women are linked with markets or supply chains. Most women are unskilled workers, farmers and artisans from remote tribal regions. Women are encouraged to undertake savings and inter-lending through SHGs, which are then linked to formal financial institutions for availing credit thus enabling access to credit for production and consumption and saving for future needs.
Watershed Management and Agricultural Productivity
ABF works with some of the most marginal communities inhabiting several of the poorest districts in India. A large part of its work is in the poverty hotspots of central dry lands which are marked by acute water deficiency, high incidence of poverty, low development and high tribal population.
Water plays a pivotal role in the economic development of farmers. Therefore, ABF targets several drought hit areas through NGO partners to carry out interventions related to watershed development and water security working in close proximity with state-run programmes such as MGNREGS and IWMP. Simultaneously, ABF's interventions in water resource development include creation and conservation of various models, viz:
1. Tank irrigation model through renovation of community-managed village tanks
2. Localised low-cost solutions like Doha and Phad models which are gravity-based water structures
3. Community-managed lift irrigation projects
4. Participatory irrigation management to ensure availability of water to all the farmers in the command area.
For enhanced agricultural productivity, ABF provides farmers with improved and responsible farming practices leading to increase agricultural income. One such practice is System of Rice Intensification(SRI),an agro-ecological methodology to reduce consumption of water required to yield rice, improve seed variety, promote organic manure, and aggregate input supply and that of the produce, for better market realisation.
Livestock Enhancement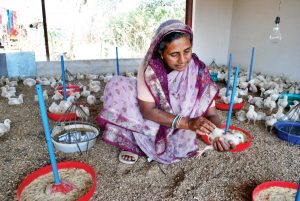 Livestock rearing is an integral part of rural households, providing an alternate source of income to families, besides farming. The objective is to create income generating assets which not only augment farm income but also reduce the uncertainty around its seasonality; thus creating resilient communities. Activities include poultry and duck farming, rearing of goats, pigs and cattle. Dairy development is also undertaken by building the value chain and linking producers with the market. As of March 2017, 57,617 households had been provided with livestock assets under ABF projects. The programme had also equipped pashusakhis (paravets) with adequate training to provide basic veterinarian care to livestock.
Livelihood for the Disabled
The disabled population in India is often disregarded in terms of special skill-based trainings and employment opportunities. Only two percent of People with Disabilities (PwDs) are educated and barely one percent employed. Lack of awareness among parents regarding special schools for PwDs act as a deterrent for them to gain the required skills. Stigma associated with educating a special child is another important area resulting in impeding their growth. ABF supports PwDs by creating opportunities through market-linked trainings and jobs in the organised sector and enabling self-dependency and livelihood opportunities.
Vocational Skill Development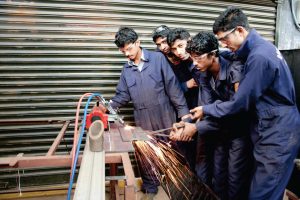 Vocational training programmes are promoted and implemented to increase employability among youth. The programme focuses on school dropouts, unemployed youth, tribal communities and women, with the objective of providing them an opportunity to lead self-sustained and economically independent lives. Individuals are trained on varied subjects including nursing, hotel management, sewing, welding, electricity, beauty, computer hardware and software, health and sanitation, incense sticks-making, candle-making, etc. ABF ensures approximately 60-65 percent placements through strategic linkages with industries and banks and also helps entrepreneurs set up basic infrastructure for a small enterprise.
Future Steps
ABF achieved its target of creating one million sustainable livelihoods in September 2017 and plans to augment the learning congregated on this journey to accomplish its next mission. The Foundation will continue on its path with an extended goal of bringing sustainable livelihoods to two million households in the new mission period that runs till 2025, using a block concentration approach. ABF will also begin to play an intentional role in building the rural livelihoods ecosystem by both serving as a role model and facilitating learning.