Mumbai: Jaslok Hospital & Research Centre in association with RTO kickstart their first campaign of 2017 on road safety on January 11. Every year, road safety week is celebrated from January 11 -17 to educate the masses about road safety measures. This campaign is celebrated with great joy and enthusiasm across India.
Various initiatives like free first aid training for taxi drivers, school teachers and others, free eye check-ups for the RTO staff, no honking campaign, etc were undertaken.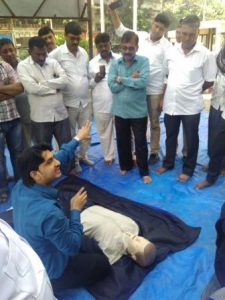 The week long campaign started with first aid training programme conducted by Dr. Sagar Kakad at the Jaslok Hospital & Research Centre auditorium. Mr. Kakad is a leading Instructor for BLS & ACLS from American Heart Association and Head of Emergency Medical Services at Jaslok Hospital & Research Centre.
The first aid training programme was followed by a free eye check-up camp for the RTO office staff and renewal of licence applicants at the RTO office in Tardeo.
While throwing light on the activities, Dr. Tarang also mentioned about the 'No Honking' campaign by Jaslok Hospital along with a group of NSS students at Peddar Road. This campaign was not only for drivers but also for the general public.
Facts
There's one death every 4 minutes due to a road accident in India
Over 1,37,000 people were killed in road accidents in 2013 alone, that is more than the number of people killed in all our wars put together.
16 children die on Indian roads daily.
Drunken driving is one of the leading causes of road fatalities.
Two wheelers account for 25% of total road crash deaths.
377 people die every day, equivalent to a jumbo jet crashing every day.