Jaipur: "You have the wings, now all you have to do is fly," says former badminton player Aparna Popat, a multiple-time medallist at the Commonwealth Games and record-holding national champion. The 45-year-old was a part of the nine-member trailblazing women's team that went on a traveling motorcade to the village of Sursingpura in Sambhar block to experience the work being done on-ground by Rajasthan Royals' philanthropic arm – the Royal Rajasthan Foundation.
The Foundation invited women leaders from various walks of life to join them in a motorcade to this small village situated 55 km from Jaipur, and mark the launch of a specially curated initiative known as the Shakti Drive and celebrate this year's International Women's Day. Along with the highly decorated Popat, the leadership group comprised of India's first MBA-completed Sarpanch (village Soda, Tonk) – Chhavi Rajawat, Ex-Vice President of Bengal State Women's Sports Association and Member of RRF's Advisory Council – Jyoti Kanwer, Head of Diversity Equity Inclusion for APAC at Uber – Ritika Khullar, Founder of Dolce Vee – Komal Hiranandani, Chief Human Resources Officer at Sony Entertainment – Manu Wadhwa, Owner of Urvashi's Retreat and Member of RRF's Advisory Council – Urvashi Singh, Founder of Kitaabo and Member of RRF's Advisory Council – Ira Sisodia, and Founder of Kiku – Karishma Sahani.
The purpose of the drive was to celebrate the women leaders at the grassroots of Rajasthan and provide them with an opportunity to share learnings, and experiences and immerse in meaningful conversations with leading women from various industries. With the Royal Rajasthan Foundation's belief that women have the innate power to lead; especially in economically and socially challenged communities, this Shakti Drive serves as the first step in creating a holistic leadership programmefor women living in rural areas.
"The overarching ambition is to break the cycle of poverty by enabling women to become conscious of their empowerment so that they can live their full potential given the right opportunities. Our mission is not just to reduce barriers that disproportionately impact women such as short-term access to water through rainwater harvesting but also to create long-term solutions such as planting endemic trees, facilitating door-step livelihoods which leads to holistic growth for our women, communities & nation at large. "The idea behind conducting this drive was to bring together women leaders across grassroots, corporates, business, social impact, sport and administration for a co-learning experience in the rural heartland of our home State, Rajasthan," said Ranjit Barthakur, Chairperson, Royal Rajasthan Foundation.
Jyoti Kanwer, who has worked in the field of women's participation in governance and Panchayati Raj institutions, said, "I was amazed at the clarity of thought and grit displayed by the women. They are already aware of what they need to live empowered lives – thus making this event all the more critical as we got to learn from them firsthand; enabling us to co-design a better programme solution."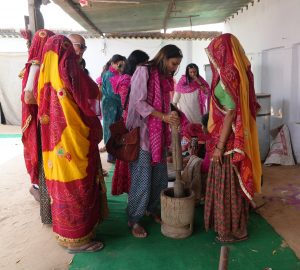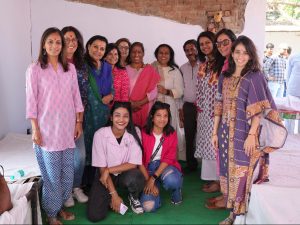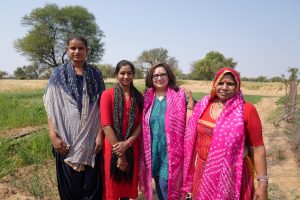 The Shakti Drive saw the guests being hosted at the village by Bhuri Devi, who is one of the grassroots women leaders and part of the Self Help Group (SHG) being trained by the Gram Chetna Kendra (GCK) with support from RRF. These leading women were shown around the village wherein the Foundation has worked towards enabling livelihoods through water harvesting and conservation, tree plantation, as well as providing financial literacy for better fiscal management.
The biggest takeaway from the drive was the vision boarding exercise that took place between the two sets of women – with the objective of eventually creating a curriculum for a leadership programme that will assist several young women from Sambhar block to take up ownership of both theirs and their families' overall progression in the society, and consequently lead empowered lives. While Chhavi Rajawat presented her vision of women-led community development through multi-stakeholder collaboration, Jyoti Devi wanted to learn how to ride a two-wheeler so she could take her daughter to school 10 km away. This leadership programme will be launched by the Foundation this year after an in-depth programme designing process.
While the Shakti Drive was an eye-opener for some, for others – it brought them closer to where they want to be – in the heartland of India, making an impact on society and truly helping the empowered women of India to excel, and actively contributing in the overall progression of our country.