For Prasun Ghatak, helping others during the pandemic is a way to keep his late wife's memory alive.
How often do we come across couples whose love story not just amazes us but also inspire us? From losing a job, hard-earned savings to losing loved ones, the COVID-19 pandemic has been traumatic for many. However, several unsung heroes have turned their pain into happy moments for the less unfortunate ones. 
Thirty-six-year-old Prasun Ghatak's life trajectory changed forever due to the pandemic. He says, "If someone genuinely wants to help people, then no language barrier or any other challenge can deter him, as the universe sends the right help at the right time."
Over the last few years, Prasun would often volunteer with a few NGOs, but he started getting involved in charity work with his wife, Soumi Saha. Prasun, a Project Quality Lead with the Adani Data Centre, Chennai, shares, "Soumi was a government schoolteacher. She would always go to great lengths to help underserved students who had to forgo school midway due to financial constraints. Seeing her working relentlessly towards her goals moved me. I decided to be a part of her initiative. By late 2019, we had chalked out a full-fledged plan for the same, but the pandemic slowed things down. However, the biggest setback was when she passed away due to COVID-19, just a few weeks before her birthday (September 23, 2020)," says Prasun.
Prasun was working in Hyderabad during this time. He decided to start afresh on Soumi's birthday by distributing lunch packets to kids at the Kothaguda slum. "The daily wage workers and domestic help were one of the worst-hit groups during the pandemic. I distributed around 45 lunch packets to the children. To my surprise, the packets got over in a jiffy. I did not anticipate this when I went for a recce. But these are small learnings that have helped me to plan better. That was my first initiative. It also paved the way for my Trust, Soumi's Care," shares Ghatak. 
After the success of his first initiative, Prasun decided to continue the charity work in a more organised and structured way. "I started saving one per cent of my monthly salary exclusively for Soumi's Care. Since my first charity drive, we have successfully carried out plasma donation camps, food distribution, sanitisers, preventive masks and clothes to underprivileged kids, orphanages, and old-age homes. Along with this, we have also worked towards the Mangrove Reforestation Initiative at Sundarbans (West Bengal), and each experience has been overwhelming. Whenever the funds are ready, we immediately start working on the next initiative," shares Prasun, who joined Adani Data Centre, Chennai, in July 2021.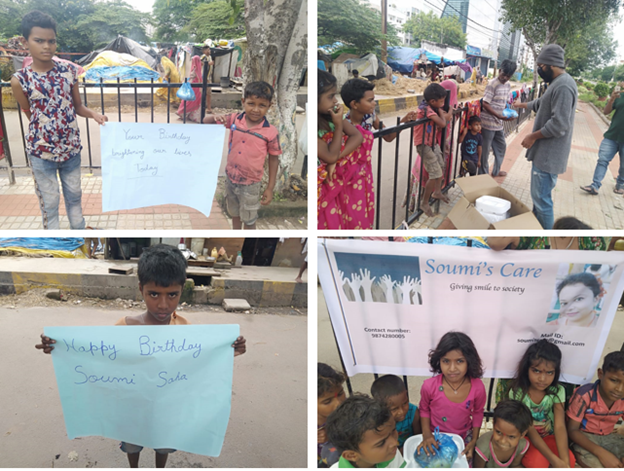 As Ghatak was adjusting to the new city, culture and workplace, Chennai was battered by incessant rains and floods in November 2021. His Trust – Soumi's Care, helped the nearby villages severely affected by the floods. Many families shifted to temporary accommodations. "When things subsided a little, I contacted the local councillor, who helped me with a volunteer to assist me in distributing essential food items such as rice, pulses, sugar, and oil," he shares. 
The Adani Data Centre also undertook charity work to help the residents of Muttukadu village, situated near their site location. The team distributed five kg rice packets each to over 1,000 displaced families with the assistance of the Muttukadu Panchayat.
Star India felicitated Prasun Ghatak with the 'Real Superheroes Award, 2021' for his contribution during the 2021 Chennai floods. 
Often, we forget the contributions of those who have passed on, but Prasun realised that the only way to keep Soumi's memories alive was to continue her legacy and inspire others. 
"Every new challenge helps me to push my boundaries," he signs off.