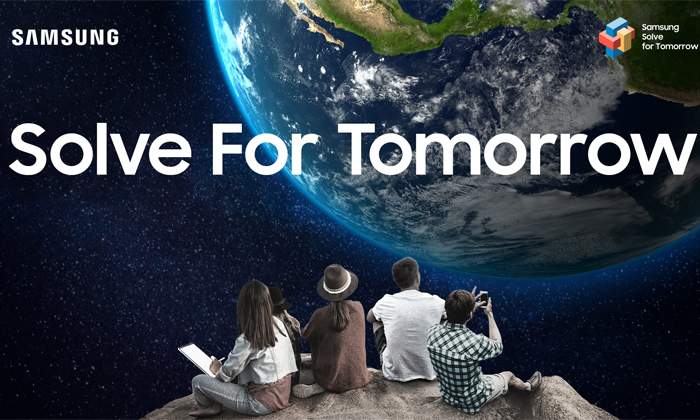 Gurugram: Samsung India announced the Top 10 teams of its national education and innovation competition, 'Solve for Tomorrow', celebrating the spirit of innovation, enterprise and social responsibility amongst India's Gen Z.
These 10 teams came up with ideas to solve real-world problems ranging from converting seawater into potable water, identifying pests and diseases in crops, food wastage, cleaning beaches, and developing a more sustainable leather tanning process to providing more accessibility to individuals with hearing loss. Their ideas also seek to bridge the communication gap with sign language users, find missing children, help individuals stay cool in the summers and help the visually impaired to read.
The Top 10 teams come from cities such as Maharajganj in Uttar Pradesh, Lakhimpur and Golaghat in Assam, Darjeeling in West Bengal, Surat and Ahmedabad in Gujarat, Ernakulam in Kerala, Chennai and Delhi.
Know more about the Top 10 teams and their ideas here – www.samsung.com/in/solvefortomorrow
For the second year of the competition, Samsung India has partnered with the Ministry of Electronics & Information Technology's (MeitY's) Startup Hub and Foundation for Innovation & Technology Transfer (FITT), IIT Delhi.
The Top 10 teams of Solve for Tomorrow 2023 were shortlisted after a boot camp at IIT Delhi. These teams visited Samsung India offices, its R&D centres, its design centre and Samsung Opera House in Bengaluru where they interacted with Samsung employees and researchers.
At the boot camp, Samsung and its partners FITT and MeitY Startup Hub mentored them, helping them enhance their ideas. Each team also got INR 20,000 to create initial prototypes and then pitched their ideas to a jury of young Samsung employees. Each team member got a Samsung Galaxy Book3 Pro 360 laptop and Galaxy Buds2 Pro alongside a certificate for attending the boot camp.
"We are proud of our 'Solvers'. Through their ideas, they have shown their passion to solve the problems India faces today. Their diverse backgrounds make Solve for Tomorrow 2023 even more inclusive and we are glad Samsung is able to play its part in empowering and supporting the next generation to achieve their full potential and pioneer positive social changes. We look forward to how the Top 10 teams strengthen their solutions with the help of mentors from Samsung and its partners," said Hyun Kim, Corporate Vice President, Samsung Southwest Asia.
"It is great to see our country's young minds coming up with such innovative ideas. The Top 10 teams really inspire us. With the Samsung Solve for Tomorrow program, we want to help these youth scale new heights and turn their ideas into action, transforming the country," said Jeet Vijay, CEO, MeitY Startup Hub. 
With an aim to foster a culture of innovative thinking and problem solving among the nation's youth, the competition invited ideas from 16-22-year-olds to solve problems around four themes – Education & Learning, Health & Wellness, Environment & Sustainability and Diversity & Inclusion.
Solve for Tomorrow 2023 has seen youth from across 500 cities, towns and villages of India respond and submit ideas to help tackle problems that India faces, symbolic of the innovation and entrepreneurial spirit of Bharat. 
Demeter: Developing a solution for identifying pests and diseases in crops.
Hackvengers: Developing a sign language interpretation device that can bridge the communication gap between sign language users and non-signers promoting inclusivity.
Jalraaj: Working on a portable solution to convert seawater into water that can be used for drinking.
Milaan: Developed an app that will help families find their children who may have gone missing.
Musketeers: Developing a solution to enhance accessibility and inclusivity for individuals with hearing loss, enabling them to overcome communication barriers and participate fully in society.
NIT Surat: Finding a solution to the problem of cleaning beaches where significant amounts of waste is accumulated.
Releathered: Developing a more sustainable leather tanning process.
TEG: Reusing food waste from cafeterias to create biogas that could power community project.
Think: Developed a solution to help people stay cool in the scorching summer heat.
Touchpad: Developing a reading solution for visually impaired individuals through use of tactile display-based pad. 
Over the next 12 weeks, the Top 10 teams will work on enhancing their prototypes for the final pitch that will be in front of an eminent jury in October 2023. For this, the teams will get an additional INR 100,000 each and mentoring support from Samsung employees and industry experts from IIT Delhi, who will handhold them in various areas including tech, design, marketing and policy.
These 10 teams will also feature in a TV series that will be produced by the News18 Group and be telecast on their national channels as well as OTT platform JioCinema. They will also get the latest Galaxy Z Flip smartphone.
The annual program will end with the grand announcement of three national winners who stand a chance to win INR 1.5 crore in prize money.
First launched in the US in 2010, Solve for Tomorrow is currently operational in 63 countries globally and has seen over 2.3 million young people participate worldwide.