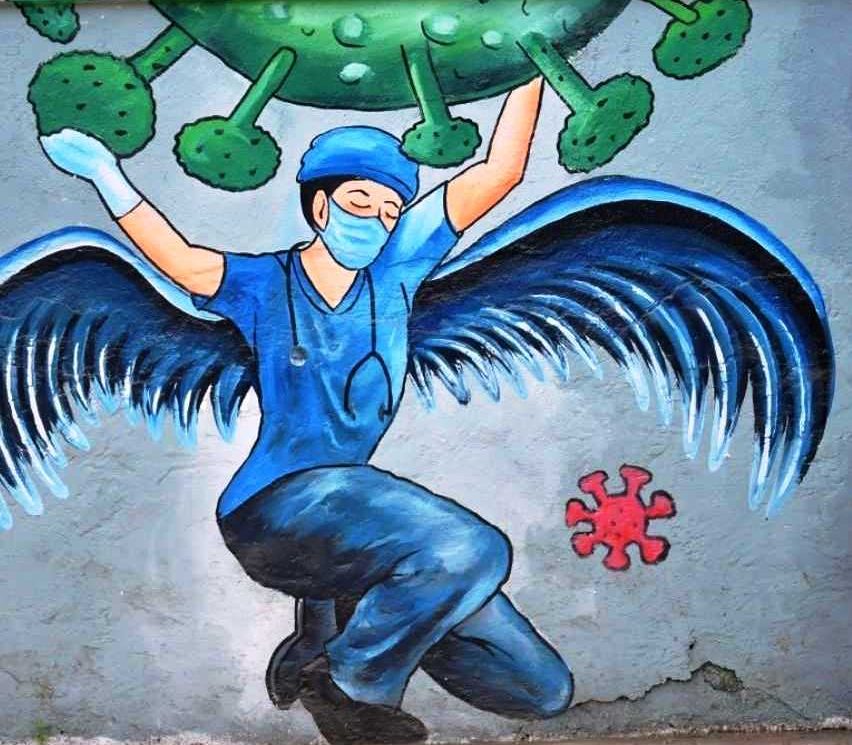 India needs all the help it can get at this critical juncture in its fight against the pandemic. The country cannot afford to let down its guard. The various measures undertaken in saving lives and protecting communities despite the grim prognosis is what should spur all of us to not give up but ensure that the country is back on its feet in no time. We take this time to highlight yet more of the contributions meted across the country by various groups and individuals. 
Health Cannot Wait: Smile Foundation Provides Doorstep Healthcare Services to the Underprivileged
The second wave of the COVID-19 pandemic has shaken the country and seems to be even more devastating than the first. Fighting the new, more infectious variant of the virus, frontline health workers are working round the clock even as hospitals run out of beds and oxygen supply, and thousands succumb to preventable deaths. India has become the second-worst affected country, with more than 24 million cases, and more than 270,000 deaths.
During this time of need, Smile Foundation has come forward with its 'Health Cannot Wait' campaign to strengthen the existing public health infrastructure.
Santanu Mishra, Co-Founder, and Executive Trustee, Smile Foundation said, "The pandemic has put to test the entire healthcare infrastructure, and our main motive is to support the country, help the underprivileged get timely access to healthcare, and spread awareness to tackle vaccine hesitancy in remote areas."
"It is important to understand the reality and educate everyone about the virus. Young people are much more affected in the second wave," Mishra added.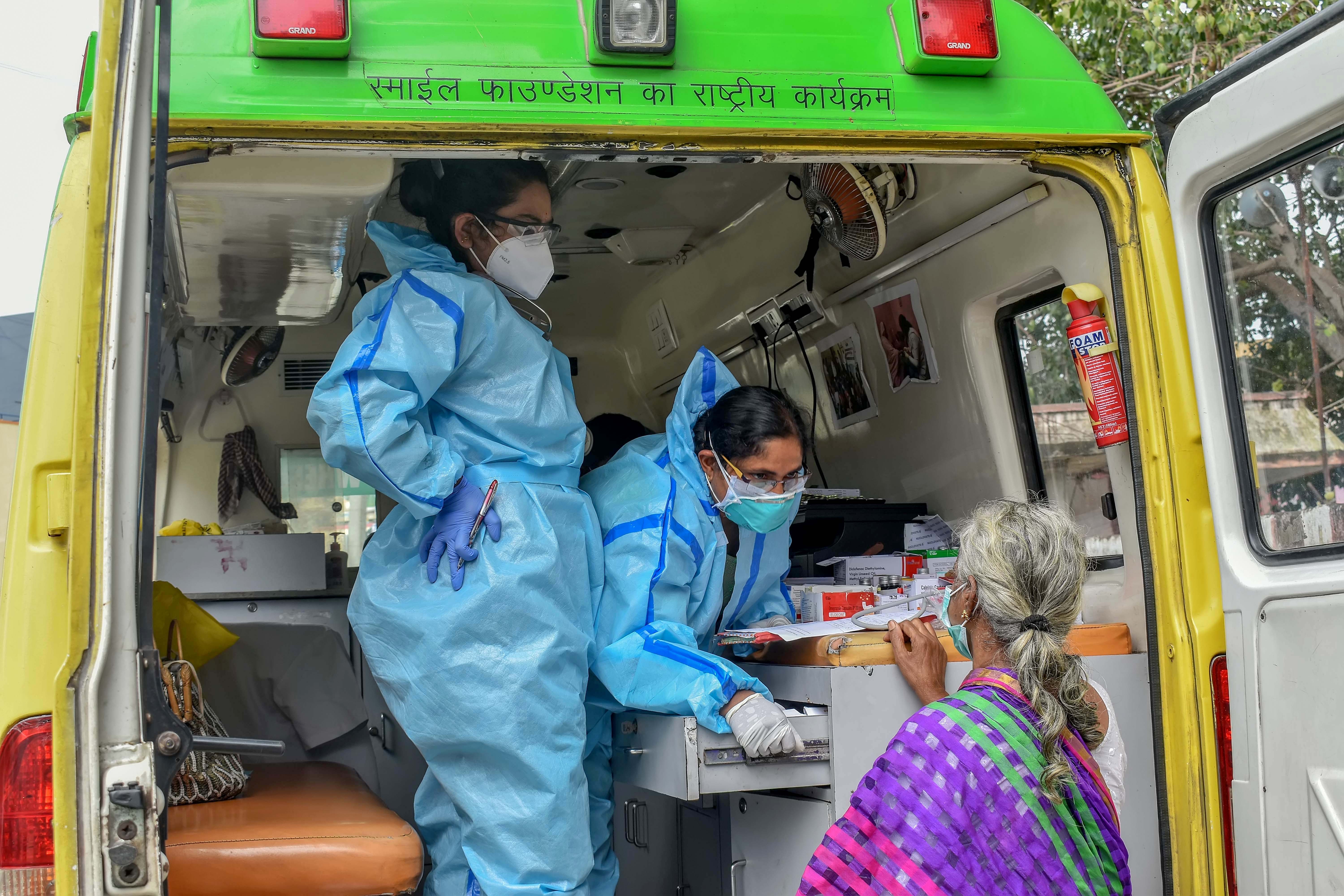 The Health Cannot Wait campaign solicits long-term investment through donations to strengthen COVID Care Centres with critical supplies like oxygen cylinders, oxygen concentrators and oximeters. It entails the setting up of oxygen banks for Croreitical patient support among vulnerable communities, mobilisation of PPE Kits, N-95 masks and sanitisers for frontline health workers, distribution of hygiene kits (including masks, soaps, sanitisers, oximeters) to the vulnerable population, tele-counselling to dispel vaccine hesitancy, spread awareness on COVID-appropriate behaviour and the provision of primary healthcare services to reduce the load on existing health infrastructure.
So far, Smile Foundation has provided 27.7 million meals to more than 200,000 families in 23 States of India. It aims to provide three square meals to more than 250,000 families and is working to provide 50,000 home isolation kits to COVID patients.
An important part of the campaign is the provision of free teleconsultation to the underprivileged through a toll-free number for tele-calling and outreach through bulk SMS service. The teleconsultation will emphasise the personal and community benefits of vaccination. Its objective is to address questions of people who are hesitant to get vaccinated, dispel myths, give them the right information, and encourage them to get vaccinated. Smile Foundation has sensitized more than 100,000 people through tele-counselling and aims to reach out to 500,000 people through this medium.
Smile Foundation is providing doorstep healthcare services to around one million people from 2,200 marginalised communities in 14 States. It aims to benefit 2 million people with mobile hospital and telemedicine projects in FY 21-22.
The Health Cannot Wait campaign has so far provided over 80,000 protective gears to frontline health workers and aims to provide 1 million protective gears to frontline health workers. As part of this campaign, so far, over 2,00,000 hygiene kits have been provided to vulnerable communities, and the target is to provide 500,000 hygiene kits.
Saint-Gobain India Joins Hands With the Government of Tamil Nadu to Support the Fight Against COVID-19 
As India is battling the second wave of COVID-19, Saint-Gobain India – Glass Business joins the force to fight COVID-19 and extends its support to the Government of Tamil Nadu. This will be through relief efforts in major districts of the State – Kanchipuram, Tiruvallur, Erode, and Chennai. The company pledges a total of Rs 4.5 Crore to overcome the unprecedented coronavirus pandemic and to provide medical care to those affected.
Saint-Gobain will provide essential oxygen generation plants airfreighted from France, one for Government Medical College Hospital Omandurar, Chennai costing Rs 2.5 Crore and another plant costing Rs 75 lakhs for IRT Hospital at Perundurai, Erode District.  The plant for Government Medical College Hospital, Omandurar Chennai will cater to around 250 beds at a time. These plants will be commissioned and operational by June 2021.
The company further commits to funding Rs 1.25 Crore for providing oxygen concentrators, flow meters, medical kits, personal protective equipment (PPE) like masks, gloves, sanitisers, and other protective gear for frontline healthcare workers, public healthcare centres, and government hospitals in Kanchipuram, Tiruvallur, Erode districts and Chennai in the state of Tamil Nadu.
HP India and Jubilant Bhartia Foundation Launch Virtual Helpdesk to Facilitate Co-WIN Registrations
HP India, in collaboration with Jubilant Bhartia Foundation (JBF), has launched a National Toll-Free Number, easing registration on the Co-WIN portal. The service will help people who have restricted or no access to smartphones or the internet and are dependent on others to register on their behalf. With a multi-lingual helpdesk, assistance will be initially available in five languages – Hindi, English, Telugu, Tamil and Kannada and more regional languages will be added soon.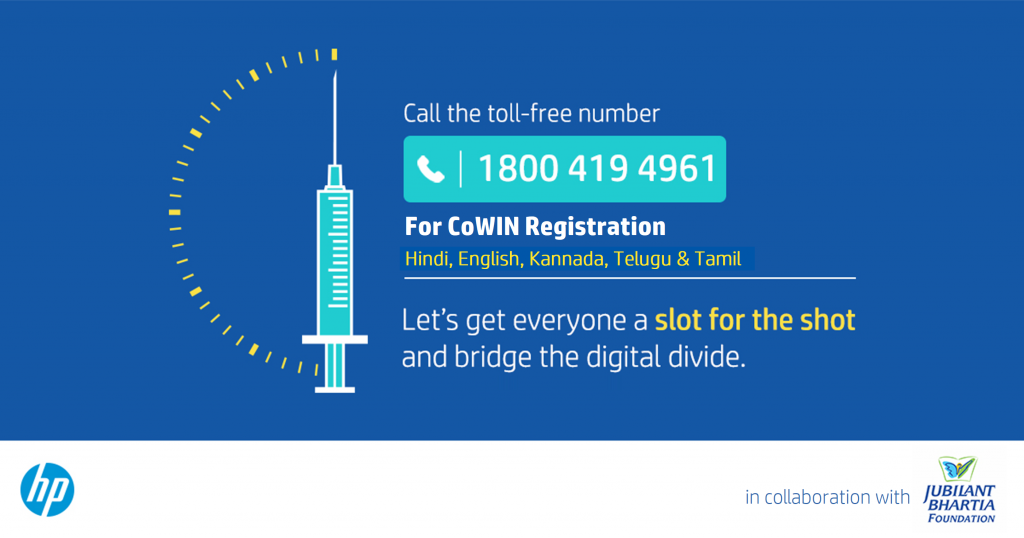 With a sizeable population of India having restricted access to smartphones and internet connectivity, misinformation and lack of resources are preventing many people from getting vaccinated. The Government of India recently announced the third phase of the vaccination drive, catering to the 18-44 age group. Approximately 59 crore Indians belong to this age bracket. Walk-in registrations for this segment have been allowed by the government for a limited number of registrations daily at the Govt COVID vaccination centre (CVC). However, the severity of the spread of COVID-19 risks people getting infected at these often-crowded centres. Through just a call at this national toll-free number, people can get themselves registered on the portal from the safety of their homes.
"The second wave of the pandemic has taken a huge toll on the community at large.  In these unprecedented times, HP remains committed to serving the community and those impacted by the ongoing health emergency. This initiative will help many people, especially those who do not have easy internet access or digital skills, to register themselves on Co-WIN and eventually get vaccinated. Our aim is to help millions of such people across the country secure the government-mandated registration on the Co-WIN portal in the easiest possible way," said Ketan Patel, MD, HP India Market.
"As the second wave of the pandemic continues, vaccination of the people will go a long way in reducing the impact of the current COVID-19 pandemic. We believe, the National Toll-Free Number initiative by HP India and JBF will act as a catalyst in extending the reach of the vaccination programme and will help the masses to access the programme without the challenges of lack of access to technology. The health and safety of every citizen in the country are of utmost importance to us and we are committed to contributing to fight this pandemic," said Rajesh Srivastava, MD & CEO, Jubilant Ingrevia Limited, and Director, Jubilant Bhartia Foundation.
This initiative is part of HP's global commitment to fight COVID-19. Last year, HP teamed up with Redington 3D in India to produce 1.2 lakh ventilator parts for AgVa Healthcare that helped manufacture 10,000 low-cost ventilators. 
120-Bed COVID Ward Complex Inaugurated at Saveetha Medical College and Hospital
Saveetha Medical College and Hospital has inaugurated a new COVID ward complex with 120 beds, which includes 60 oxygen beds at the Thandalam campus today. Dr Saveetha Rajesh, Director Saveetha Medical College Hospital and Stephen Sudhakar, Vice President, Hyundai Motors, inaugurated the facility. Hyundai Motors Private Limited has donated 13 oxygen concentrators to the new facility.
Speaking on the occasion Dr Saveetha Rajesh, Director SMCH, "Hailed the contribution of Hyundai Motors Private Limited who had donated 13 oxygen concentrators. With this new facility, the hospital has allocated a total of 620 COVID beds, which includes 310 oxygen beds, 50 COVID ICU beds and 100 HDU beds. Saveetha hospital has successfully managed more than 7500 COVID patients and 900 cases in COVID ICU, which is one of the highest among private hospitals in the country. Many of our patients come from a poor socio-economic background, who are offered free COVID treatment through TN Government Chief Minister Health Insurance Scheme."
The COVID patients are managed by 15 teams of doctors who are ably supported by nursing and physiotherapy professionals who provide high-quality care 24×7. COVID ICU is highly equipped with 35 high-end ventilators, 15 BIPAP & CPAP machines, High-frequency Nasal Oxygen, ECMO machines, dialysis machines, etc. The COVID treatment is done as per National and State guidelines and protocols.
The clinical management is ably supported by NABH accredited Molecular Biology lab, where we have done more than 30,000 tests. Saveetha Hospital has also taken an active role in the COVID vaccination campaign. We have given more than 9,500 jabs, with 99.5 per cent coverage of vaccination among our health care workers.
Finolex Industries Announces COVID Relief Efforts
Finolex Industries Limited (FIL) along with its CSR arm Mukul Madhav Foundation, has mobilised resources, globally and in India to augment COVID relief efforts in the country in collaboration with other corporates, NGO partners, philanthropic institutions, and like-minded individuals. This collaborative effort, on the part of MMF, has bridged together several corporates with Finolex Industries Ltd. to provide relief and support during the second wave of the pandemic. Through this collaboration, 945 oxygen concentrators, 218 ventilators, thermal scanners, PPE suits, oximeters, gloves, masks, sanitisers and paracetamol tablets have been donated to COVID centres, municipal hospitals, and rural hospitals across the country, especially in areas that have witnessed a surge in the number of COVID cases. The relief effort has safeguarded the Asha and ANM workers along with front line COVID warriors in their fight against the virus. Support has been extended to many States including Maharashtra, Gujarat, Karnataka, Uttar Pradesh, Haryana, Rajasthan, Goa, Orissa, Jharkhand, and Punjab.
Finolex Industries has pledged more than Rs 9 Crore for this second wave. With the association of MMF and its reach, funds are also being channelised through crowdfunding, CSR arms of other corporate institutions and private individuals.
Ritu Prakash Chhabria, Managing Trustee, Mukul Madhav Foundation and Board Member Finolex Industries said, "We have brought people and institutions together to collectively combat the rapid surge in COVID cases by augmenting public health infrastructure. We have raised resources by channelizing the support of our partners to ensure that the whole process of mobilising funds, sourcing and procuring medical equipment logistics planning and execution is implemented smoothly and the neediest patients receive timely treatment.''
A large part of the relief operation's success is attributed to the support received from Qatar Airways which has flown in the equipment free of cost. The ground support provided by Ashok Leyland ensured that the equipment across the length and breadth of the country safely and urgently even to the most remote corners. Finolex Industries has been instrumental in helping with import licensing and volunteers from the organisation have driven the coordination effort with local authorities and verified appeal requests to get the relief to the right places.
Since the beginning of April 2021, the Foundation has successfully connected and provided to all authenticated appeals that have reached them. It has also been instrumental in concentrating its efforts to provide medical support for paediatric hospitals and children. 
SPI partners with 3 NGOs to Provide COVID Relief and Health Care to the Rural Community
Smart Power India (SPI), a subsidiary of the Rockefeller Foundation, partnered with GiveIndia Foundation, Swasth Foundation, Eka Care to provide COVID relief, in the rural community, primarily to their mini-grid customers and ESCO employees. The services include:
Meeting oxygen supply via oxygen cylinders and concentrators for the COVID patients
Facilitating in-person and telemedicine consultations for those with chronic conditions
Procuring and distributing PPE to health professionals and essential workers and others
The mini-grid villages in India have observed an intense health crisis in 2021 as compared to 2020. As per the recent surveys conducted by SPI across mini-grid villages, 77 per cent of participants expressed COVID care facilities are inaccessible in case of emergency. Last year the main concern for rural households was livelihood. This year it is about access to healthcare. Lack of awareness and COVID appropriate behaviour still exists in the rural community with half the participants surveyed believing that their communities are not taking preventive measures like masking and sanitising.
Commenting on the partnership, Jaideep Mukherji, CEO, Smart Power India, said, "Last year we focussed on providing livelihood support to the rural community. This year, we see an urgent need to address the issue of lack of access to quality medical services. The Health and safety of our mini-grid customers and ESCO employees are some of our immediate priorities. These partnerships aim to support our ailing health infrastructure."
SPI had launched a Customer Voucher Scheme (CVS) for mini-grid customers in 2020. It aimed to benefit over 125,000 lives in 200 mini-grid villages in the wake of the COVID-19 pandemic. CVS enabled the mini-grid customers to redeem the vouchers against their monthly electricity bill issued by Mini-Grid Operators (MGO) for a period of 3 months.  The scheme is believed to impact over 125,000 lives in 200 mini-grid villages. This year, SPI is in the process of planning such health-related incentives to ease the health care burden in the catchment areas. 
Contribution details:
NGO – Give India
Financial and Technical Support for services such as:
Setting up oxygen generation plants
Providing oxygen concentrators
Providing oxygen cylinders
Refilling oxygen cylinders
Providing Bipaps (Non-invasive ventilation)
Providing Ventilators
Swasth Foundation
Providing dry ration kits to families that live in the surrounding slum areas of Mumbai
Facilitating in-person and telemedicine consultations for those with chronic conditions for the urban poor in Mumbai
Procuring and distributing PPE to health professionals and essential workers
NGO – Eka Care
Financial and Technical Support for services such as:
Introducing the Eka Care application in rural India so that masses are able to receive free, timely and competent medical advice from reputable doctors without having to take the risk of leaving their houses
Development of the application, including translating the application to Hindi and other regional languages, enrolling more doctors to comfortably reach more people, improving navigability through feedback from SPI customers
Creating awareness in the following ways:
Social media campaign to highlight the positive impact of the application
Dissemination of application amongst SPI's ESCO partners' 30,000+ customers and directly and indirectly reach over 2,50,000 people
Awareness generation on application usage 
Mindspace Business Parks REIT Extends COVID Support to Hyderabad Through HCSC and SCSC 
Mindspace Business Parks REIT ('Mindspace REIT'), owner and developer of quality Grade 'A' office portfolio in India, has extended its support to Hyderabad City Security Council (HCSC) and Society for Cyberabad Security Council (SCSC) to assist frontline warriors and marginalised COVID affected patients, by meeting the growing demand for oxygen concentrators, medical equipment, and consumables. The entity, which is known to positively impact local communities, has extended support to authorities across its geographies of operation.
The patronage extended to HCSC and SCSC will see funds being utilised towards free ambulance services, COVID resource support platforms, teleconsultation, and a telemedicine facility with a pool of private doctors. Funds will also be used for procuring necessary medical equipment such as lab equipment, surgical equipment, emergency drugs and oxygen concentrators.
Part of the funds is being utilised to set up isolation intermediary hospital facilities at Gachibowli and an isolation centre for mild and asymptomatic COVID patients in Hyderabad. A temporary shelter for young children of COVID affected parents is also being Croreeated, where their meals and daily requirements will be taken care of.
Vinod Rohira, Chief Executive Officer at Mindspace Business Parks REIT, said, "Our teams at Hyderabad have been consistently and dedicatedly working with the local authorities, to assist in dealing with the pandemic. Our current assistance is to ensure the growing demand for oxygen concentrators, ICU beds, ventilators and other essential medicines and medical equipment is met with.  We recognise that every contribution towards the fight against COVID will add up to bring about a meaningful change and improve pace of recovery and stay committed to playing our part."
Krishna Vedula, Secretary-General, Society for Cyberabad Security Council (SCSC), said, "We are glad to see established corporates extend their resources to support the local communities around them. The combined efforts of SCSC and Mindspace Business Parks REIT, will go a long way in providing essential medical assistance to those in need."
Dr P. Prashanthi Secretary General, Hyderabad City Security Council (HCSC), said, "It is very positive and uplifting to see corporates stepping up to help the community in these unprecedented times. We are thankful to Mindspace Business Parks REIT for extending their support in these crucial times. The frontline workers have been on duty tirelessly, ensuring the health and safety of people. The aid will be utilised to equip them with necessary resources and help COVID affected people with lifesaving necessities."
Mindspace Business Park REIT has a fully Integrated Business Park established at Madhapur and a high-quality independent asset located in Pocharam, Hyderabad. Mindspace Business Parks REIT is also in the process of setting up the backend facility required for the smooth administration of the vaccination drives at its Business Parks and is in talks with multiple medical authorities to source vaccinations.
Bihar Boy Raj Kumar donates 20 MT Cryogenic Container to Bihar Foundation For Transportation/Storage of Medical Oxygen
In an endeavour to strengthen the oxygen supply chain, Rodic Consultants Pvt. Ltd. has donated one empty ISO-certified, 20 MT cryogenic container to Bihar Foundation, Department of Industries, Govt of Bihar which has recently been notified as to the nodal agency for receipt of all reliefs. The cylinder has been imported from Dubai and will be used for transport as well as storage of liquid medical oxygen. It will further augment the supply chain of liquid medical oxygen for the benefit of coronavirus patients in Bihar.
The cryogenic container has been donated by M/s Rodic Consultants Pvt Ltd as a part of their CSR initiative to Bihar Foundation which in turn will hand it over to Bihar Medical Service Corporation Ltd. Oxygen availability and transportation has been one of the biggest challenges faced during the second wave of COVID-19. The cryogenic container will further boost the Government of Bihar's efforts of distribution of the liquid medical oxygen in various parts of the State. Rodic Consultants Pvt Ltd is also managing the war room on oxygen supply set up a Disaster Management Department in Bihar.
"The COVID-19 pandemic has led to massive loss of human lives and untold hardships to the families of COVID-19 patients. The initiative has been undertaken as a part of CSR. It will help streamline the supply of oxygen, ensure its timely delivery to COVID-19 patients and save lives. As a responsible organisation, we are committed to augmenting the efforts to tackle the COVID-19 and contribute our bit, said Raj Kumar, Chairman & Managing Director, Rodic Consultants Pvt. Ltd.
Transportation/storage of oxygen has been one of the challenges during the second wave of COVID19 and this initiative of the son of the soil, Rajkumar will go a long way in managing the demand and supply of oxygen in Bihar.
Rodic Consultants is also closely working with the Uttar Pradesh Government to ensure uninterrupted oxygen supply across the State. The company has also developed a first-of-its-kind digital portal, "Oxygen Monitoring System for UP" to monitor and track the real-time location of vehicles so that oxygen reaches hospitals without any delay, especially during emergencies. Over 100 volunteers led by national shooters joined Rodic Consultants in the battle against COVID-19 in Uttar Pradesh.
Ebro India Donates Oxygen Generation Plant at Kalpana Chawla Government Medical College in Haryana 
Reinforcing their commitment towards supporting local communities, Ebro India, the Indian arm of Ebro Foods International Group, is funding and taking an active role in the establishment of an oxygen generating plant at Kalpana Chawla Government Medical College & Hospital (KCGMC) in Karnal, Haryana. Facilitated by the Ebro Foundation, this initiative towards COVID-19 relief is yet another testament of Ebro India's ethos to nurture and support the community in which it operates.
Home to Ebro India's manufacturing unit in India – Karnal is one of the oldest districts of the State. KCGMC is one of the biggest hospitals in the region, with a capacity of close to 280 oxygen beds. The new oxygen plant will be able to support 107 beds, thereby significantly augmenting the medical infrastructure requirements in the wake of the second wave of the pandemic. The Plant will be a permanent feature of the hospital's infrastructure, therefore providing vital support for years to come.
Commenting on the initiative, Peter Walker, MD, Ebro India said, "The oxygen plant is being funded by the Ebro Foundation, a global charitable NGO which has reached out to provide support to the local community in which Ebro India operates. Ebro Group is a global family and we feel the impact of the devastation caused by the loss of human life for our employees, associates and the community at large. We have always been at the forefront to empower and support the community especially in an area which many of our employees live. The establishment of the oxygen plant will not only safeguard the lives of the people at this crucial time but will also continue to serve and support the community once the pandemic is behind us."
Ebro India has been actively supporting communities through meaningful initiatives in collaboration with Ebro Foundation. The Foundation is the driving force behind the actions carried out by the Ebro Foods Group within the framework of its commitment to the well-being and progress of society and the creation of value among the communities in which it operates. The Foundation majorly focuses on four main areas – Nutrition and Health, Equality, Sustainability and Environment, and Social Work. Additionally, the Foundation pays special attention to the issues that arise and affect the social environment of the geographical areas in which the Ebro Group operates, such as India.
Elaborating upon the efforts of the Ebro Foundation, Blanca Hernández, President, Ebro Foundation, said "We felt the need to stay close to our team in Ebro India and help in this terrible health crisis, help people have access to oxygen, shelter them and ultimately help save lives. Also, to send the message that, from the entire international community, we are very aware of you."
Over the past few years, Ebro India has significantly contributed to the development and enhancement of the communities in India. Last year, during the first wave, Ebro donated dry ration to more than 25,000 people under the Hands for Humanity campaign.