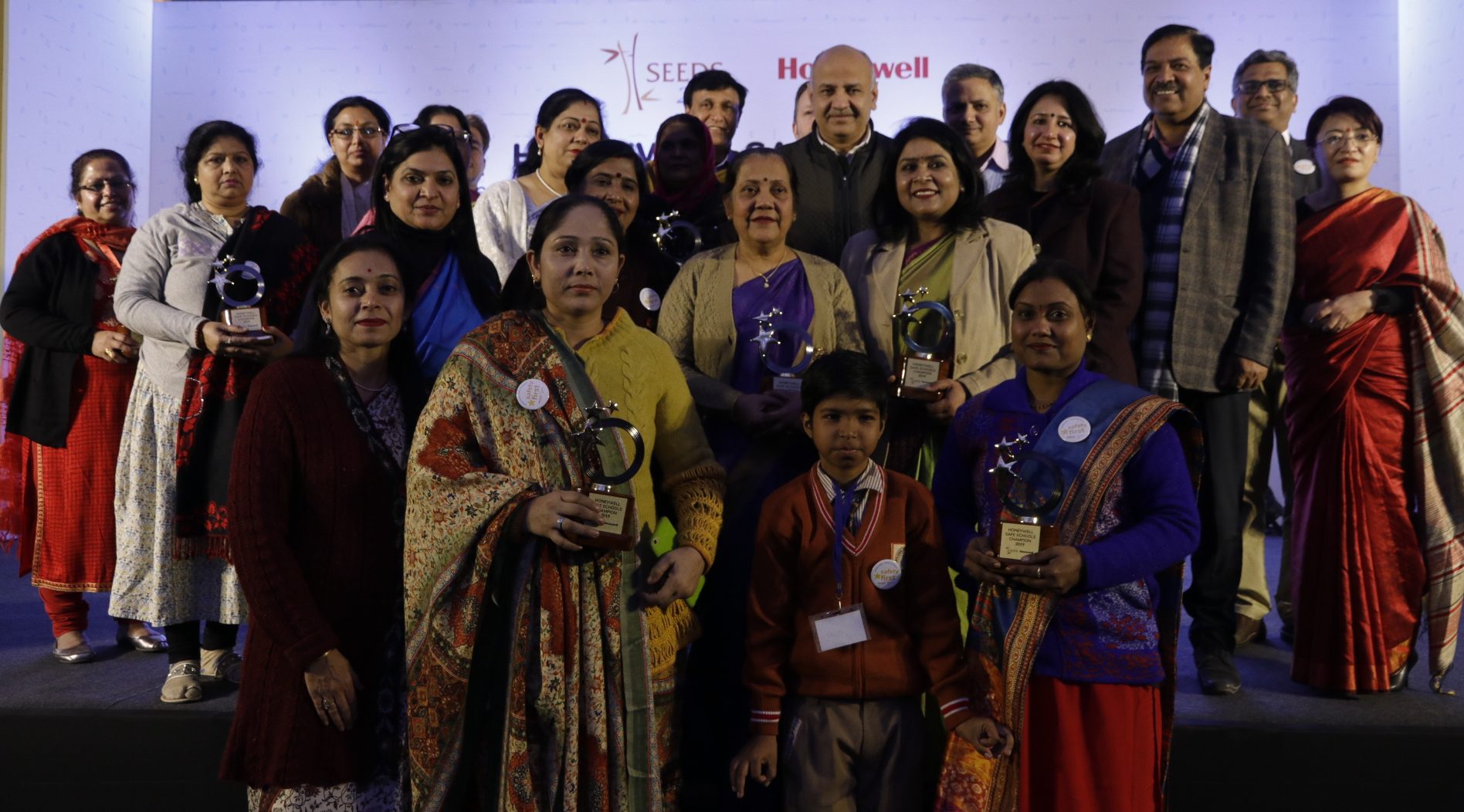 New Delhi, December 17, 2019: Six schools were declared champions of school safety at an event organised by the Sustainable Environment and Ecological Development Society (SEEDS), an NGO that has been implementing a comprehensive school safety programme in East Delhi. Principals, teachers, and students of these schools were felicitated by Shri Manish Sisodia, Deputy Chief Minister, Delhi.
"Schools are critical infrastructure entrusted with the responsibility of nurturing our future citizens. These schools have exhibited exemplary leadership in building a culture of disaster preparedness, which is so critical for ensuring the safety of our children," said Shri Manish Sisodia, Deputy Chief Minister of Delhi.
Piloted in 2017 in 50 government schools in East Delhi, the Honeywell Safe Schools programme seeks to ensure that children go to school without fear, remain safe in school, and return home safely. This is a pioneering school safety programme that brings a tailor-made approach to address the unique issues of each school or location involving structural assessment by engineers and architects; evaluation of risk perception; and examination of preparedness in the face of any natural or manmade disaster.
Dr Manu Gupta, Co-Founder, SEEDS, said, "We implemented our first ever school safety initiative in Gujarat in 2005. We partnered with Honeywell in 2017 to build a more robust programme. The Honeywell Safe Schools programme has already empowered 52,000 children, 45,000 parents and 2,200 teachers across 50 government schools in Delhi."SEEDS has been working closely with the principals and teachers of these schools to help transform mindsets and behaviours on the importance of risk readiness and preparedness within and around the school premises. The programme follows a child-centric approach, and involves an effective learning mechanism for students to be aware of – and mitigate – risks. The programme involves components like awareness of natural and manmade hazards; identification of structural and non-structural risks; creation and implementation of school disaster management plans; and training of students, parents, teachers, and communities on disaster preparedness and risk reduction. This is done through interactive sessions, mock drills, and peer-to-peer learning. Child protection initiatives to address issues like bullying, violence, abuse and neglect too are key components of the programme.
"Children need not be mere recipients of emergency aid or risk reduction support," says Dr Gupta. Indeed, this programme empowers children to become change agents for building resilience in their communities.