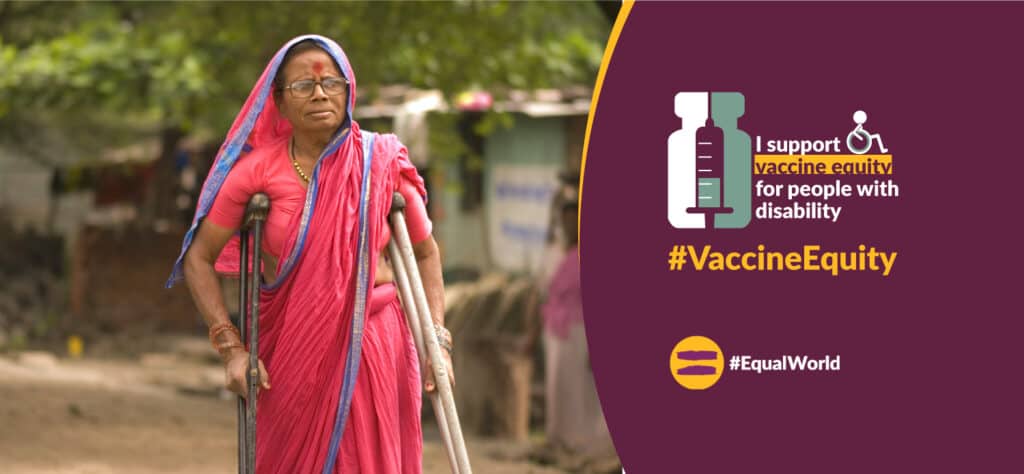 National: As part of its Social Inclusion Programme, Sightsavers India initiated a campaign on 'Vaccine Equity for People with Disabilities in its eight operational States. It has been witnessed that the situation of availability of vaccines has improved considerably and the hesitation among disabled people for taking the COVID vaccine has reduced a great deal.
Sightsavers Honorary Brand Ambassador, Kabir Bedi, who is also an internationally acclaimed actor, took part in promoting vaccine equity for persons with disabilities in India. To support Sightsavers India's initiative of Vaccine Equity and Leave No One Behind, he spoke to various media channels about the importance and urgent need for the equity drive. He said, "There are 26 million disabled people in India, and unless they are also vaccinated, it would be a tragedy. But there are so many who have difficulty in getting to the vaccination centres. So, our appeal to people is to look around themselves at people who aren't capable of going to get vaccinated themselves and to take them there."
Vaccine Equity animation film was developed by Sightsavers India in different languages including Hindi, Odiya and Bengali.
RN Mohanty, CEO Sightsavers India said, "Sightsavers Equal World Vaccine Equity campaign seeks to raise awareness on the issue by supporting local governments in creating enabling environments for COVID-19 vaccination. We also aim at making people with disabilities aware of the benefits of COVID-19 vaccination so that there is no hesitancy on its uptake."
Several developments have been taking place so far under this initiative. To start with the campaign, Sightsavers has been developing and disseminating accessible Information, Education and Communication (IEC) material in local languages including tribal dialects among OPD groups and networks to spread the need for vaccination and the rights and privileges being provided by the government in this process. As far as the government is concerned, circulars, advisories have been issued from state and district level authorities for taking special steps to include people with disabilities in the vaccination drive as priority groups. Taking the initiative to the project locations, meetings with Organisations of People with Disabilities (OPDs) were organised to orient them on the campaign and encourage them to get engaged in this initiative.
Sightsavers has had meetings with Disability Commissioners, Chief Medical Officers in project locations regarding prioritising COVID vaccination of people with disabilities. OPDs have been instrumental in raising awareness among people with disabilities on the importance of COVID vaccination, mitigating apprehension on vaccine side effects and mobilising them to get vaccinated.OPD members across the eight districts are collaborating with the government on prioritising people with disabilities in vaccination drives and ensuring the vaccination process is inclusive and accessible to all disabled people as per the advisory.OPD leaders are working as volunteers at the vaccination camp areas organised by the government and Local administration. They are making sure that the disabled people who are coming for vaccination are counselled and managed well at the centres.
In Chhattisgarh, for ensuring COVID vaccine equity for people with disabilities, a vigilance committee of disabled people is formed who is monitoring the situation at ground level. In Rajasthan, the All People's Networking organisation (APNO) took the initiative to get vaccination camps organised at an accessible location for People with Disabilities.
In West Bengal, with Sightsavers emphasis on vaccine equity in the district of Howrah, District Administration organised special camps for people with disabilities at accessible community health centres. For those with severe disabilities, arrangements are being made to vaccinate them at their homes. More than 250 people have received vaccination in the last month through this drive.
In Odisha, Sightsavers presented the vaccine equity survey reports of 10 districts obtained through eye screening camps and household surveys specially held for people with disabilities in many districts in collaboration with the Department of Social Security and Empowerment of Persons with Disabilities (SSEPD). This has helped the Department of SSEPD to understand the status of vaccination at the ground level. In Kalahandi, Khordha, Rayagada and Gajapati, the district administration has taken proactive steps in expanding the vaccination centres to ensure accessibility of vaccination for people with disabilities and especially for those with severe disabilities. In Ganjam, the District Administration in collaboration with Sightsavers promoted OPD "SAMBHAB" for the provision of transportation facilities from and to the vaccination centres for people with severe disabilities. 
In Jharkhand, as a result of advocacy for vaccine equity, the State Government has been giving priority to people with disabilities and has identified them as a high-risk group. A similar advocacy initiative was also taken at the District level which resulted in the vaccination of around 70 per cent of eligible people with disabilities as of October 2021.