Odisha, August 6, 2019: Everest Industries, one of India's leading and fastest growing building solutions providers, has rolled out a community development initiative in Odisha, called Building Master Training programme through its CSR entity, Everest Foundation. Under this community outreach programme, the Company will equip local villagers from cyclone-hit regions, with complementary skills training to enable them to rebuild the roofs of their homes and also others in villages. This initiative is one of the key programmes under the Foundation's mission towards community and social development, in line with the Company's endeavour to improve the quality of life of the people and the communities surrounding the areas in which it operates.
The training has commenced in the city of Puri, and will use Everest Super, India's first coloured roofing sheet, for this rehabilitation. The initiative aims to cover 25 beneficiaries with an aim to rebuild upto15 houses in the month of August.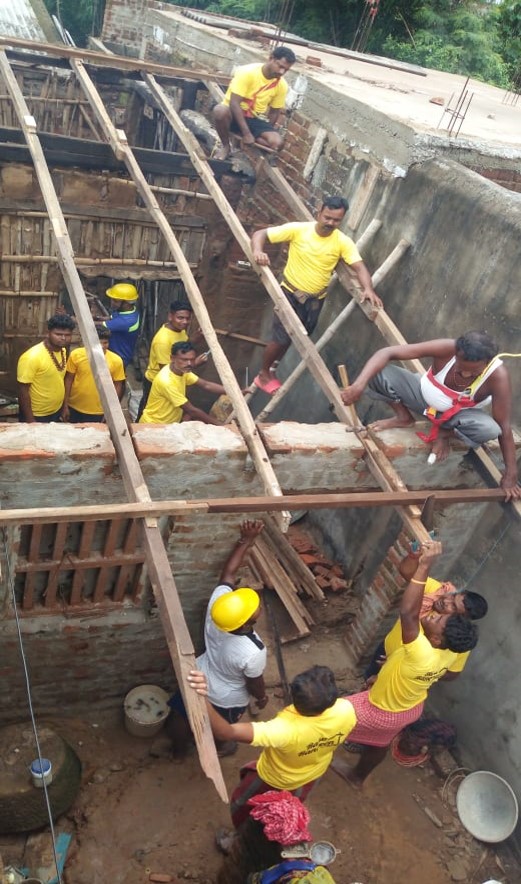 Commenting on the initiative, Manish Sanghi, Trustee, Everest Foundation and Managing Director, Everest Industries Ltd, said, "Many people have lost not just their homes but their means of livelihood. Being a leading building solutions provider, we aim to extend support to the community while expressing solidarity with the people of Puri as they rebuild their lives. Moreover, the skill training in roof installations across Puri will not only benefit the cyclone survivors, but will also equip them with a life skill that can be used in future for livelihood, hence creating a long term impact on the communities in which we operate."
Everest Foundation's social development efforts primarily focus on health, hygiene and sanitation, education, art and sports promotion, environmental sustainability, and community empowerment in addition to training and skill building. It has developed programmes which are innovative, sustainable, and create value for every stakeholder. The Foundation also promotes Individual Social Responsibility (ISR), and facilitates social change by engaging with privileged individuals and motivating them to participate in the creation of a better society. Most importantly, it aims to collaborate with individuals and enterprises to develop sustainable action agendas that can improve the world we live in.
The idea of roofing has been restricted to the sole purpose of providing a strong shelter and a necessary framework to houses. Everest Super infuses colour and design while enhancing and maintaining functionality of the establishment. These coloured roofing sheets are made from the finest quality cement, fibre and top quality paint, making it a durable product. The sheets are fortified to be able to withstand natural elements and have added features for heat, water and fire resistance, a user-friendly installation mechanism and a corrosion-free experience which makes it an ideal building for calamity prone areas.
In addition to Puri, the Company has been conducting skill development programmes in multiple batches in 62 districts spreading across seven States (Tamil Nadu, Odisha, West Bengal, Uttar Pradesh, Madhya Pradesh, Haryana and Punjab), targeting over 1500 beneficiaries.