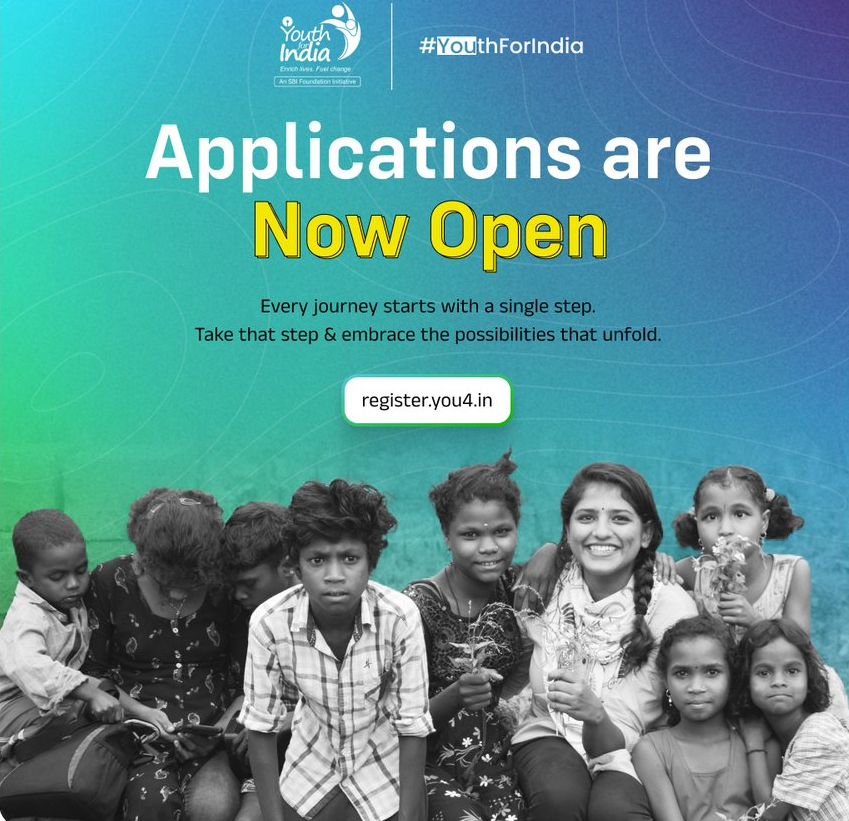 New Delhi: SBI Foundation, the CSR arm of State Bank Group, is inviting applications for the 11th edition of the Youth for India Fellowship programme. The fellowship provides a framework for educated urban youth – professionals or fresh graduates – to join hands and foster change with rural communities and NGOs at the grassroots across 17 Indian States.
The applicants for this 13-month fellowship must be Indian citizens, Overseas Citizens of India (OCI), or citizens of Bhutan and Nepal, willing to adjust and adapt to rural life and work towards sustainable rural development goals. 
The SBI Youth for India Fellowship, which is one of its kind, works on 12 thematic areas such as Health, Rural Livelihood, Food Security, Environmental Protection, Education, Water, Technology, Women's Empowerment, Self-Governance, Social Entrepreneurship, Traditional Craft and Alternate Energy. During the Fellowship programme, the Fellows work on one of these 12 areas as per their interest.
"The SBI Youth for India programme aims to fill the gap that exists between urban youth's aspiration to contribute to the development sector and experience rural reality, as also supplement the lack of qualified human resources with diverse educational and professional backgrounds in the NGOs working at the grassroots level. The 13-month long Fellowship provides an active framework for the Youth to come up with sustainable development solutions for rural development and capacity building in multiple ways," said Sanjay Prakash, Managing Director & CEO, SBI Foundation.
Over the last ten years, Youth for India has seen active participation from hundreds of Indian youth. This also included Overseas Citizens of India (OCIs) in addition to applicants from metropolitan cities of India. In terms of capacity building, the Programme has impacted over 1,00,000 beneficiaries through the Fellows' interventions ranging across the 12 different thematic areas. These interventions were carried out in 200+ villages across 20 States in India. 
The project has a lasting impact on the country's development sector ecosystem. Thirty-four Fellowship alumni have either founded or initiated a programme, enterprise or non-profit. Among some notable alumni is Siddharth Daga, Co-Founder of NeoMotion that customises tech-enabled wheelchairs, who appeared on Shark Tank this season. Another former Fellow is Shriti Pandey, who founded 'Strawcture' in 2018 and was covered in Forbes 30 under 30 in the 2021 edition for her use of technology that helps reduce pollution by compressing crop waste into agri-fibre panels for industrial and commercial builds.
The project also impacts youth in their future academic pursuits. 100+ Fellowship alumni pursue higher studies in development domains after their SBI Youth for India Fellowship experience, and about 70 percent go on to pursue meaningful careers in the social sector by working in Rural Development, Public Policy/Governance, Academia, etc., thereby enabling positive change lasting. Among them is Naman Bansal (2015-16 Batch), who went on to pursue a Master of Education (M.Ed.) from Harvard University, USA, and Himanshu Pandey (2016-17), currently employed with NITI Aayog and Consults in Capacity Building Commission, Government of India.
The aspirants for the Fellowship can apply using the link https://you4.in/pr