Mumbai: T.E.A.M, a student-led NGO started in 2015. This year,  along with 11 students from various well-known schools across Mumbai, they organised an iconic prosthetic limb donation drive in their new initiative, "Gift a Foot" for over 150 people living below the poverty line from various parts of Maharashtra. T.E.AM joined hands with Jaipur Foot and Bhagwan Mahaveer Viklang Sahayta Samiti (the world's largest organisation for the disabled) to enable this noble cause at the Orthopaedic Department at KEM Hospital, Parel.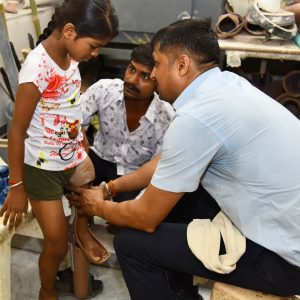 An eye-watering moment, was when over 150 people gathered at the KEM hospital where they walked inside with a crippled leg and walked out with joy and hope of a better future with a prosthetic leg. The stay and travel arrangements for these people were also covered under this donation drive.
Patients come with the question if they will ever be able to walk or not. The staff strengthens their mental weakness and
motivates them to have a never give up attitude and encourages them to use the prosthetic limb. With the prosthetic limb, an individual can comfortably do their chores for over 10 hours. The cost of each leg comes up to INR 10,000/- and the members of T.E.A.M managed to gather a huge sum of approximately INR 14 Lakhs to facilitate a better future for these people with disabilities.
Squatting is a very integral part of life, especially in rural India. Various important day-to-day activities include squatting, one classic example would be the usage of Indianised toilets in rural areas. This leg is designed in such a way that it can facilitate activities such as squatting for the usage of Indian toilets and riding a bike, as well as farming activities.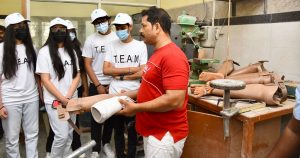 The co-captains for this activity are Arhaan Lulla (Grade 12 from Bombay Scottish School) and Shloka Shah (Grade 11 from Jamnabai Narsee International School). The other praise-worthy students are Rishaan Lulla (Grade 8), Nishhay Nichani (Grade 10), Samara Masand (Grade 11), Aleya Masand (Grade 11), Yuvraj Wadhwani (Grade 11 from Bombay Scottish School), Shanaya Thadani (Grade 8 from Jamnabai Narsee International School), Divya Karnani (Grade 10 from Dhirubhai Ambani International School), Vivaan Sharma (Grade 11 from Hillspring International school), Anandi Sanghi (Grade 12 from The Cathedral and John Connon School) and Shanaya Thadani (Grade 8 from Jamnabai Narsee International School). The current volunteers at T.E.A.M are enabling and mentoring more kids to be part of this initiative and further help more people across the nation.
The T.E.A.M mentorship programme has taken off this year with all founder members mentioning the new and current lot of students. Aditi Raheja, Aditya Shah, Ishana Jasani, Shiv Karnani, Aarav Nichani, and Gayatri Sanghi are the founder members who are at different universities around the world but take up mentorship to guide the new lot.