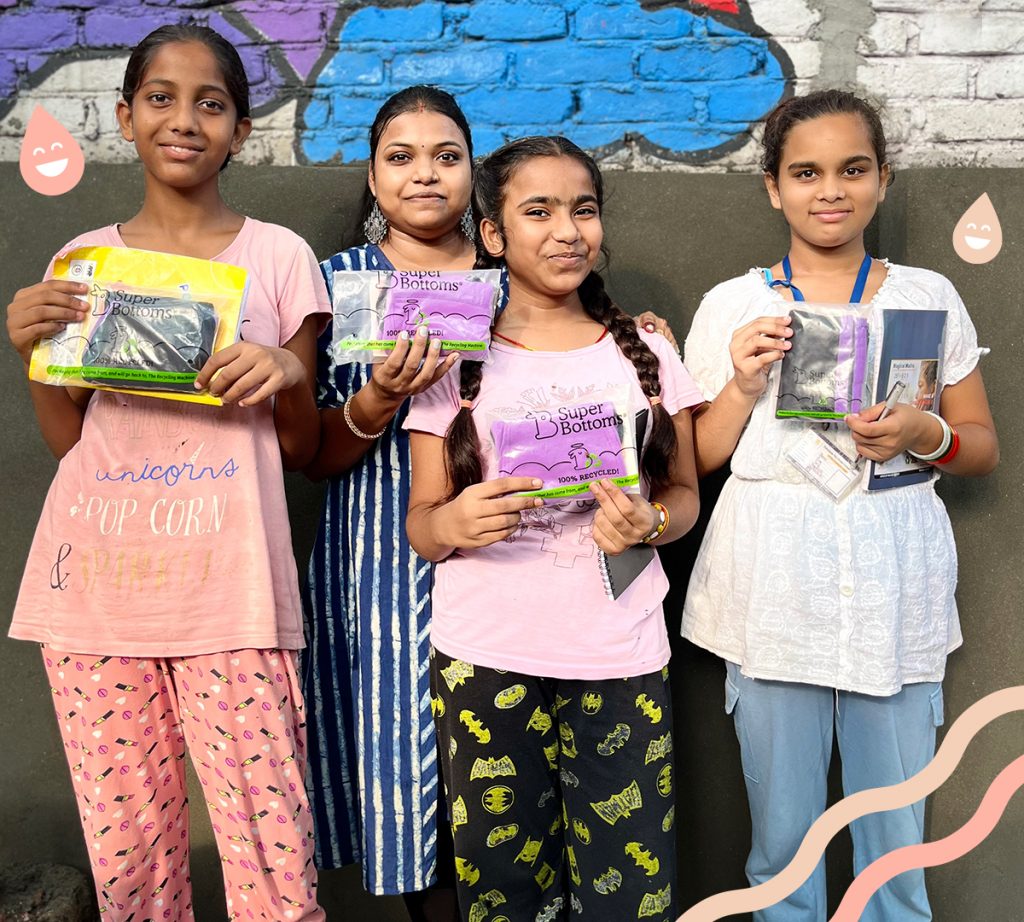 National: India's leading sustainable baby and mom care brand – SuperBottoms has joined hands with Pehchaan The Street School (Trust) in Indraprastha to promote safe and sustainable menstruation. Under the #RedFest initiative, SuperBottoms organised an awareness session on menstrual hygiene and safety for the underserved girls in the heart of the national capital. The company also equipped menstruators with SuperBottoms' MaxAbsorb™ Period Underwear to empower young women with safe and sustainable menstrual habits.
SuperBottoms' heartfelt initiative is not just about menstrual hygiene; it is about reclaiming dignity, erasing taboos, and empowering young girls to embrace their womanhood with pride. The event commenced with an enlightening session led by Dr. Rupali Bhatia, SuperBottoms' Consultant Gynecologist. In the session, she discussed critical aspects of menstrual hygiene and safety, shattering taboos and encouraging open dialogue. As the session concluded, each attendee was handed SuperBottoms' MaxAbsorb™ Period Underwear, a sustainable, comfortable, and affordable alternative to chemical-laden pads and unhygienic cloth scraps.
Pallavi Utagi, the CEO and Founder of SuperBottoms, remarked, "This initiative is a reflection of our values and commitment to making a positive impact on the lives of those we touch. Safe and sustainable period care is the basic right of every woman. The impact of our #RedFest initiative goes beyond the event itself; it's a foundation for a more dignified and healthier future."
Echoing the sentiment, Kanika Narula, Head of CSR and Partnerships at Pehchaan The Street School (Trust), stated, "Our partnership with SuperBottoms has paved a new path to empowerment, showing how collective efforts can shape a brighter tomorrow. This initiative marks a powerful step towards fostering lasting change in the lives of young women."
MaxAbsorb™ Period Underwear is designed by SuperBottoms to ensure rash-free comfort for 8-10 hours, guaranteeing absolutely zero leaks. They are also ideal for protection from postpartum bleeding and incontinence, catering to a broader range of women's needs. One of the most striking features of MaxAbsorb™ Period Underwear is its holistic approach to addressing hygiene, affordability and sustainability. The #RedFest campaign carries its message of empowerment and change into the hearts and lives of menstruators.