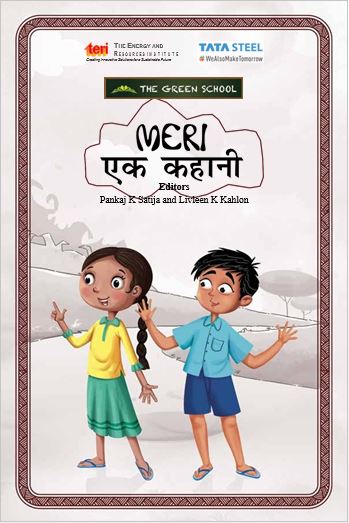 New Delhi: Tata Steel and TERI have been jointly working on The Green School Project since 2017, with the aim of helping students comprehend their relationship with nature and make concerted efforts to conserve it for a quality environment with improved standards of living through effective resource management initiatives at local levels.
Currently in its third phase, this year an idea was conceptualised to compile stories contributed by students exhibiting their creativity and sharing their perspectives on the environment and the world around them. With this objective in mind, a story-writing competition was organised wherein students were asked to showcase folk tales around their vicinity. The competition received an overwhelming response manifesting in approximately 500 entries. Thirty best stories were selected from Jharkhand and Odisha and included in the book – Meri Ek Kahani.
In a virtual event organised today, the book was launched by Shri Sharath Kumar Pallerla, Scientist, Ministry of Environment, Forest and Climate Change, Government of India, and Dr Vivek Saxena, Country Representative, International Union for Conservation of Nature (IUCN) – India.
Speaking on the occasion, Shri Sharath Kumar Pallerla, said: "I am glad to know the achievements of The Green School Project and especially the development of Meri Ek Kahani this year. It is important to inculcate environmental consciousness among students at this age as they are flagbearers of change and it is through such initiatives that they become better equipped to spread the message of environment protection to the communities around."
"Indigenous knowledge is integral to the identity of most local communities. Such knowledge is critical to protecting biodiversity, healthcare, food security, culture, religion, identity, environment, trade and development. I am glad that through Meri Ek Kahani, Tata Steel and TERI are helping students and communities revive them," said Dr Vivek Saxena, Country Representative, IUCN.
Chanakya Chaudhary, Vice President Corporate Services, Tata Steel, said: "Aptly themed #RestoreOurEarth, this #EarthDay2021 let us focus on restoring the earth's ecosystems and learn from indigenous people who know the best about environment and biodiversity. Leveraging the medium of stories, Meri Ek Kahani, comprising story contributions by Green School students and essays by eminent personalities, aims to revive the traditions and rich knowledge of the indigenous communities who have lived in harmony with nature for generations together."