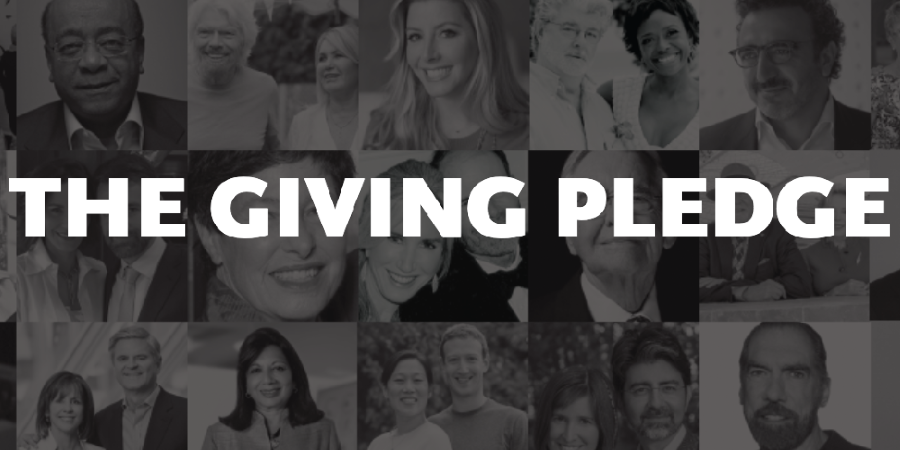 New Delhi: The Giving Pledge announced that 14 philanthropists have joined the Giving Pledge since December 2020, bringing the total number of signatories to 231 from 28 countries.
Now in its 11th year, the Giving Pledge is a global, multi-generational commitment by some of the world's wealthiest individuals and couples to give the majority of their wealth to charitable causes, either during their lifetimes or in their wills. The Giving Pledge aims to catalyse a movement that will help shift the norms around wealth and giving on a global scale – including encouraging wealthy people to give more, establish their giving plans sooner, and give with greater impact.
The newest signatories are:
Anil Agarwal (India)
Jon and Helaine Ayers (United States)
Ric and Brenda Elias (United States)
Jeff T. Green (United States)
Jared and Monica Isaacman (United States)
Bongjin Kim and Bomi Sul (South Korea)
Miseon Hyeong and Beom-su Kim (South Korea)
Melanie Perkins and Cliff Obrecht (Australia)
Jack and Renate Schuler (United States)
Steven Schuurman (The Netherlands)
Ben and Divya Silbermann (United States)
Byron and Tina Trott (United States)
David Vélez and Mariel Reyes (Brazil, Colombia, and Peru)
Patti Bao and Tony Xu (United States)
Bill Gates, who founded the Giving Pledge together with Melinda French Gates and Warren Buffett, said, "I've always believed that if you're in a position to help somebody, you should do it. It's great to welcome this new group of philanthropists to the Giving Pledge community as we continue to learn from each other and find new ways to maximise the positive impact of our philanthropy."
Melinda French Gates said, "I'm inspired to see how the Giving Pledge has grown into a movement of over 230 philanthropists from around the world who are committed to giving away the vast majority of their wealth to address some of the most pressing issues in our society."
Many of the newest signatories to the Giving Pledge are already deeply engaged in philanthropy, providing support to a wide range of causes including poverty alleviation, climate change, education, medical research, disaster relief, gender equality, social justice, and wildlife protection.
A recurring theme in the letters from this year's Giving Pledge signatories is a desire to not only use their wealth for good but also to grow philanthropy and strengthen traditions of giving in new geographies and among future generations – so that more resources are directed towards improving the lives of others and addressing complex challenges.
About the Giving Pledge 
The Giving Pledge is a global, multi-generational commitment by some of the world's wealthiest individuals and couples that aims to create a greater culture of giving in order to help tackle society's most pressing problems. Signatories of the Giving Pledge make a public, moral commitment to give the majority of their wealth to philanthropy or charitable causes. They also come together to learn and share knowledge in order to continue to improve the effectiveness and impact of their philanthropic giving.
The 231 Pledgers range in age from 34 to 98. Globally, signatories represent 28 countries: Australia, Brazil, Canada, China, Colombia, Cyprus, Germany, India, Indonesia, Israel, Malaysia, Monaco, the Netherlands, Norway, Peru, Portugal, Russia, Saudi Arabia, Slovenia, South Africa, South Korea, Switzerland, Tanzania, Turkey, Ukraine, the United Arab Emirates, the United Kingdom, and the United States. In the United States, Pledgers hail from 30 states and the District of Columbia, with the largest contingents from California and New York.
The Giving Pledge does not involve either pooling or granting funds or requirements to support any particular cause or organization. Signatories of the Giving Pledge pursue their philanthropy independently but come together frequently to exchange ideas and learn.
For the full list of Pledgers and their personal letters stating their commitment to giving, visit www.GivingPledge.org