As we watch the sun go down, evening after evening, through the smog across the poisoned waters of our native earth, we must ask ourselves seriously whether we really wish some future universal historian on another planet to say about us: "With all their genius and with all their skill, they ran out of foresight and air and food and water and ideas" – U. Thant, Secretary General – United Nations, in 1971.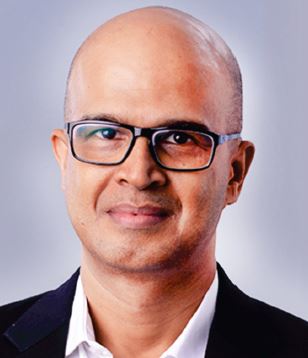 The Earth and its ecosystems provide us with life and sustenance. In order to achieve a balance among the economic development, social equity, and environmental needs of present and future generations, it is necessary to remember what Mahatma Gandhi observed – "Earth provides enough to satisfy every man's needs, but not every man's greed."
The consumerist modern life has caused significant resource depletion and climate change. There is a need to recognise the dominating development issues such as inequitable growth, lack of financial inclusion, gender inequity, climate vulnerability, and stress on natural resources. There is a dire need for environmentally sustainable solutions in all areas of technology and trade. Sustainable development takes into account environmental protection and economic growth. Market-led solutions that create a win-win situation for both people and planet should be encouraged through advocacy and policies, and incentives for businesses.
The RBS Approach
As a responsible business, we at RBS have demonstrated a commitment to sustainability to support communities and customers. We have signed up for Task force on Climate-related Financial Disclosures (TFCD).
Initiatives under our Foundation – RBS Foundation India (RBS FI) – focus on building the social capital of the most vulnerable communities residing in ecologically-critical landscapes in India with the objective of creating sustained benefits for community and biodiversity. Our projects provide sustainable livelihoods to tribal and other vulnerable households through household enterprise, and they strengthen the governance of the relationship between the communities and the forest/wetland ecosystems. Our approach originates in recognition of the fact that poverty is deepest amongst communities that are directly dependent on resources from forests and other natural ecosystems for their survival.
Our Supporting Enterprise programme provides sustainable sources of livelihood to those communities that live in and around critical ecosystems. These sustainable sources of income reduce the community's dependency on the forest, help facilitate financial deepening and promote financial inclusion and economic development. The programme, therefore, targets forest/wetland and other such ecosystem resources dependent communities to enhance their land productivity and to enhance household income.
Sustainable Livelihoods in Ecologically Vital Landscapes Ecotourism Enterprise in Mangalajodi, Odisha
Mangalajodi, near Chilika Lake, Odisha, was known as a poacher's village. It was reported that migratory birds were being poached on a large scale for self-consumption and trade. In 2000, a census exercise recorded a mere 2,000 birds and called for immediate conservation action. Few community members led this action from the front but faced numerous challenges. To support and sustain these conservation efforts, a community-owned ecotourism enterprise leading to conservation linked incentives was created in 2011. We have been involved in the formation of the ecotourism enterprise right from the beginning and provided 100 percent funding to the project. Apart from funding, we also provided strategic support, dialogue with the government, and advocacy. Setting up of the Trust was further supported by activities like building capacities for hospitality and accommodation, and business development. Our employees volunteered to create a marketing strategy for the enterprise. Today, the Trust runs a tourist facility with beds, dining and interpretation area, providing guided boat trips for bird-watching for visitors. In transforming the earlier poacher population into the protectors of the wetland and its biodiversity, this project has allowed viable and sustainable livelihoods to its members.
Presently, the Trust, managed independently by community members, is operationally self sufficient and has a substantial corpus for exigencies. More importantly, the bird population has soared to over 150,000.
Bird's Eye View Similipal Biosphere Reserve
Similipal Biosphere Reserve (SBR), is a national park and a Tiger Reserve situated in the northern part of Odisha's Mayurbhanj district. The tiger reserve is spread over 2750 sq km and has some beautiful waterfalls like Joranda and Barehipani. It is one of the seven biosphere reserves in India identified under UNESCO's Biosphere Program. It harbours an assemblage of great biodiversity and supports a substantial human population –73 percent of which is indigenous, sharing an intricate link with SBR. Local livelihood is primarily dependent on subsistence rain-fed paddy, timber, and non-timber forest produce, and migration for wage labour. Diminishing land productivity and erratic rainfall conditions have led to over extraction of forest resources, used as a coping mechanism by the local community.
Our focus on the intersection between poverty and critical ecosystems brought us to the project area in SBR in 2009. We partnered with NGO Indian Grameen Services (IGS) for the implementation of the project and worked with the Odisha Forest Department and the local community for the fruition of the project. The project aims to reduce the ever increasing forest dependency of the inhabitants by creating alternate livelihoods opportunities in 36 forest fringe villages of SBR. Interventions for improving farm yields, building household level non–farm enterprises and land development work through the convergence of ongoing government schemes were undertaken.
One such initiative taken under the project was the creation of small scale commercial poultry enterprise. The initiative was based on a cost-sharing model and thus required monetary contributions from the farmers. The sharing ratio was decided to be 20:80, with 20 coming from the poultry farmer and 80 from the support funds provided by us. The poultry farmer was required to pay back the support funds in installments of Rs 3,000 per month to the Village Development Committee (VDC), an institution created within the village for governance, which will also ensure that these support funds will be rotated to the others interested in undertaking poultry farming. The total investment amounted to ~Rs 50,000, which included the capital cost incurred to setup a shed, and the cost to cover a cycle of 35 days with 200 chicks.
Experts were engaged to train the community on small scale commercial poultry. Both classroom training and on-the-field training were provided on aspects like building a vision around poultry, forming business strategies, vaccination etc. The households now earn a revenue of ~Rs 35,000 and a profit of ~Rs 6,000-8,000 per cycle. The most gratifying impact of poultry intervention is the increased entrepreneurial skills displayed by the farmers. They continue to reap the benefits from the intervention, and at the same time, keep learning from past mistakes and challenges. This is an indicator of the sustainability of the intervention which has not only increased income, but also the social status of the farmers in their villages.
Testimonial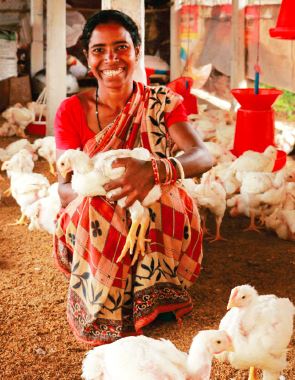 Kuni Tudu Asanabani Village Mayurbhanj, Odisha
"I never dreamed of running a livelihood enterprise. Being located in a remote village in Similipal Tiger Reserve with low accessibility to the market is the main detriment to doing something sustainable. RBS Foundation came into the picture, and with their support, the IGS team taught and trained me how to become an entrepreneur and to setup a small scale poultry enterprise. Finally, with the financial and moral support of the Foundation, I started the activity. I faced many challenges, like not making any profit at all at the initial stages, but I pressed on and succeeded. I have now completed seven to eight to eight cycles, and gaining confidence by the day, with set-up linkages for fodder, chickens, and selling my birds in the market. I can now say with confidence that I can manage my own enterprise.

'Devbhumi' – A Rural Enterprise by the Women of Pauri, Uttarakhand
The farmers in and around Devalkhet village, situated on the banks of river Pain near the Corbett Tiger Reserve in Uttarakhand, suffered heavy losses due to crop raids by wild herbivores. Crop losses made agriculture economically unviable, and gradually the farmers stopped cultivation. They had to migrate to cities in search of livelihoods. The issues arising out of the raids are widely known. Our research concluded that the major issues were the migration of the men to towns and cities in search of livelihood, leaving the womenfolk to look after the homes and farms; depredation by wild herbivores on crops; a decline in soil and water productivity on account of tree-felling and vegetation patterns. We initiated the project – Devbhumi in 2011. We partnered with Appropriate Technology India (ATI) to seek their expertise in tackling these specific problems. The first challenge was to respond with practical and cost-effective protection of crops. Several innovative methods including bio-fences, bio-repellents were considered. It took much effort and confidence-building initiatives to get the villages to abandon cereals that attracted elephants, wild boars, deer, and go for crops like ginger, turmeric and garlic which were introduced by the project.
Today, over 12,000 families in the project area cultivate varieties of organic spices. More than 125 acres of farmland was brought under cultivation of spices. A total of 5,000 quintals of turmeric, ginger, garlic, and chilli have been produced since the intervention. 187 kgs of cardamom have also been produced. The total income of producers through spice cultivation has been over Rs 83,00,000.The farmers were formed into producers groups to facilitate input supply, collection, storage, processing, packaging, value addition, market promotion and distribution and were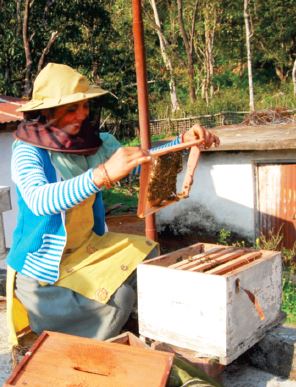 linked to a producer-owned company- Devbhumi Natural Products Producers Company Ltd. (DNPPCL). The Company facilitates sales of produce, procured directly from the farmers. Over 3,700 families have been covered under livelihoods initiatives such as dairy, apiculture, sericulture, and spice cultivation. Self Help Groups (SHGs) have proved to be the cornerstone of the project. Through their membership in these groups, women have learned to participate in democratic processes, developed their ability to engage in livelihood activities that are best suited to their resources, skills, and interests, and increased their awareness on preserving and regenerating their local natural resources.
Testimonials
Beena Devi – Spice Cultivation
Beena Devi had been growing spices for a long time. Initially, she did this for personal use, but after becoming a member of the EKTA Self Help Group (They developed a Spice Seed Zone at Kumaldi Village of Rikhnikhal Block), she was given inputs to increase the production for commercial gain. She underwent capacity building trainings on organic cultivation of spices, technical and management of organic production. She was supported with her 125 kg seeds of ginger, turmeric, garlic and chili. The total production came to six quintals which she marketed through the Farmer Producer Organisation at Devbhumi, earning her Rs 22,000. Beena Devi is now one of the illustrative producers who encourage women producers through her efforts and empowerment.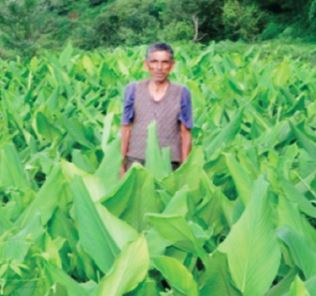 Bhagat Singh – Spice Cultivation, Pauri
Bhagat Singh, from Simali village, Nanidanda, Pauri Garhwal, Uttarakhand, is one of the spice producers under our project. He is one of the members of the spice seed zone formed in his village, Simali. Bhagat Singh showed keen interest in spice cultivation and a total of 0.8 hectare of his land was selected for spice cultivation.
Singh and his wife both work together in the spice farm and earn Rs 38,000 per year. They cultivate turmeric, ginger, chili, and garlic. They plan to upscale their production to enhance their annual income. Singh shares, "Spice cultivation brings cash income back home. We are also exploring other sources for cash income to meet household needs."
They produce spices for sale and also for seeds, so that they do not have to buy seeds, thereby help in reducing the input cost in production. Bhagat Singh is simultaneously learning business skills to enhance his knowledge. He now motivates other members of his Producers Group to adopt spice cultivation as an enterprise.
Eco Homestays in Leh – Ladakh
The Leh landscape is characterised by high altitude, harsh climate, and a very short agricultural season. The impact of climate change is most visible in Ladakh, where receding glaciers have led to water scarcity adversely impacting agriculture and local livelihoods and has also intensified man–animal conflicts.
RBS FI's landscape strategy of working in the intersection of poverty and critical ecosystems led to our introduction to this region. The area displayed specific high altitude ecosystem issues like depleting habitats of wild fauna due to competition between livestock and wild fauna for the scarce grazing grounds, livestock killing by carnivores, especially snow leopards and wolves. Given the intersectional focus on high altitude regions as the source of water security and habitat of unique mountain fauna and its biodiversity, we partnered with Nature Conservation Foundation (NCF) and Leh Nutrition Project (LNP) who specialise in technical expertise with working in Ladakh habitats.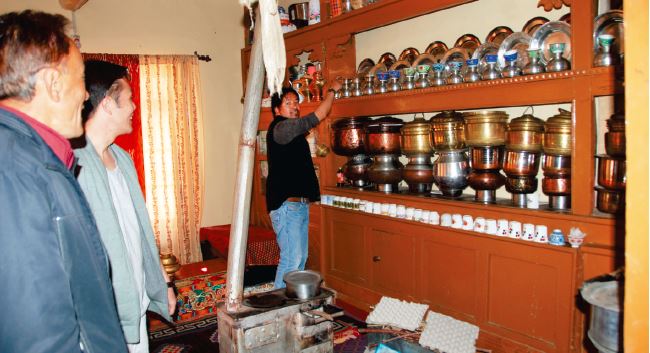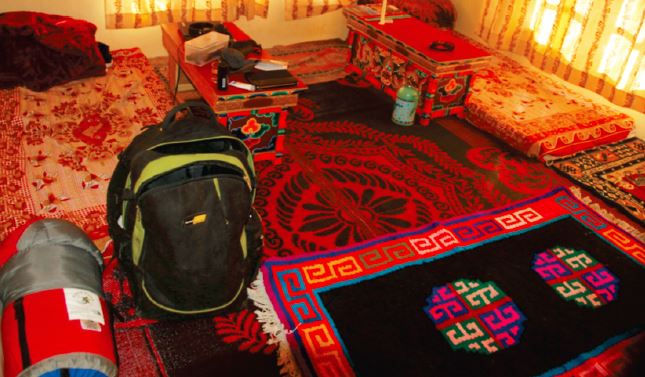 The project's aim is to enhance local incomes through tourism-allied activities which include establishing homestays, eco-cafes and souvenir making value chains for the community living in the region. Under the project, 28 homestays in six villages viz. Liktsey, Tukla, Himya, Khadpu, Kesar and Chumathang have been established by motivating the households and supporting them with basic materials required for hosting tourists and providing them training on hospitality. New trekking routes around the villages have been developed to attract tourists and it has been complemented by linking these homestays to travel agents and local resource partners. Other facilities created are two eco cafes which provide refreshments to tourists and a handicraft enterprise involving 50 women who produce souvenirs which are bought by the tourists thereby creating a local value chain for income enhancement for the local community.
The Rong area was found to have a healthy population of snow leopards, as indicated by the results of our camera trapping study. There were also reports of high livestock depredation rate and revenge killing of snow leopards by the local people. Therefore, given that homestays have promoted a positive attitude of local people towards snow leopards in other parts of Ladakh, the Himalayan Homestay Program was expanded to the Rong area. Currently, the home stays in the area are operational only in the summer months. The average annual turnover of all the homestays in the Rong valley since its inception has been Rs 1,70,000. However, some villages like Himya, Kesar and Tukla have been getting more footfalls compared to others. Following the establishment of the homestays, the benefits to the community in terms of various training has been immense. For instance, people are very happy with the sanitation programme started to complement the homestays. Several women have reported learning about hygiene and punctuality from the tourists. The other value addition has been the information dissemination among the people about the local flora and fauna. More than 12 nature guide trainings have been organised. Each training includes a field visit to an eco-sensitive area. Today, many youths who have received these trainings are working as professional nature guides, making a decent living.
Testimonials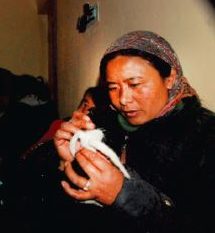 Thinley Angmo
Headwoman Himya, Leh
The concept of homestay is great. It is helping us in generating additional income. The conservation awareness programme that goes with the homestay programme has been a real eye-opener as we have learnt a lot about local wildlife. Earlier, we were very hostile towards the snow leopard as this elusive animal would attack and kill our flock. We are now able to address this man-animal conflict with the Foundation's help. We have now realised that we need to make sure that the snow leopard be protected as it is slowly disappearing. It also helps boost tourism as many wildlife enthusiasts from all over the world come to our region with the hope of catching a glimpse of this rare species.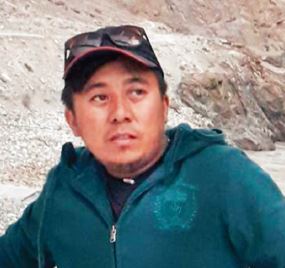 Skalzang Wangtak
All Rong President
Homestays as well as the other livelihood improvement programmes initiated by RBS Foundation are very useful for the people of Rong area, which is one of the most neglected areas in Ladakh. People, especially women, have been generating a steady income through the homestays. Handicraft is another important project that is helping us move towards economic independence. We are very grateful to all the organisations that are investing their time and resources to develop Rong. We look forward to receiving further assistance so we can boost up the livelihood of our people further.
A Strategic Impact
We have accelerated the transition to a low carbon economy by supporting our customers and integrating climate change into core business decision making. Our community initiatives directly link with seven of the 17 UNSDGs. Through RBS FI, we have reached out to 1,25,000 excluded families and have developed 1,30,000 hectares of degraded lands. This has improved the functionality of India's ecosystems and improved their ability to support communities through environmental upgradation. Our project interventions support over 1,00,000 small and marginal farmers to improve their farm productivity by adopting climate-resilient practices and support 20,000 women on developing farm-non farm enterprises.
We have formal partnerships with government agencies – National Bank of Agriculture and Rural Development, Ministry of Environment, Forests and Climate Change and also with multilateral agencies – United Nations Framework Convention on Climate Change (UNFCCC). We are the first business supported entity to have formally partnered with UN Climate Adaptation Fund.
Skill training of women, youth, and farmers on new agricultural practices, and sustainable livelihood interventions has helped in creating a substantive economic and environmental impact as witnessed in the increased earning capabilities of the local communities and their awareness of preserving biodiversity.
Sustainability is not Optional
The Governor of the Bank of England and his French counterpart warned that the global financial system faces an existential threat from climate change. Writing in The Guardian, they have told companies: "Fail to adjust…fail to exist." The message is clear –"This is an emergency".
RBS, through RBS FI, has been undertaking community development work even before CSR became mandatory in India. We hope to build on the design of the "Supporting Enterprise" programme that promotes financial inclusion and economic integration for those sections of society that are extremely poor and unsustainably dependent on natural resources. There are over 300 million people at this intersection, and systemically, we hope to integrate the majority of them into mainstream economy.
Sunil Kumar Nandamudi is Head, Sustainability, Royal Bank of Scotland, Asia Region and CEO at RBS Foundation India.