National: On December 4, 2021, The Sanctuary Nature Foundation, sponsored by DSP Mutual Fund, co-sponsored by Godrej Industries and Morningstar India and supported by the Wildlife Conservation Trust, Carbon Copy and IndusInd Bank presented the Sanctuary Wildlife Awards 2021 as an online virtual ceremony that was streamed live on Zoom, YouTube and Facebook to a global audience.
Instituted in the year 2000, the Sanctuary Wildlife Awards recognise individuals working for the protection of wildlife and natural habitats in India. In their 21st year, the Sanctuary Wildlife Awards have become more relevant than ever before because across the world the realisation has dawned that the economies and the existence of humans is dependent on our ability to protect Earth's threatened biosphere.
This year, the Sanctuary Wildlife Service Awards and the Sanctuary Wildlife Photography Awards were held together on the same night. The event was hosted by Dia Mirza, Actor, Producer, UN Environment Goodwill Ambassador and United Nations Secretary-General Advocate for Sustainable Development Goals.
THE SANCTUARY WILDLIFE PHOTOGRAPHY AWARDS 2021
The heart-wrenching visual of a Gangetic river dolphin with a fishing gill net hanging from its beak, the phenomenal natural history moment of a common toad gatecrashing a pair of mating purple frogs, and the panic-stricken moment when a bike crashed into a leopard, these were the images that caught the eyes of our jury this year as they chose the winners of the Sanctuary Wildlife Photography Awards 2021.
The Sanctuary Wildlife Photography Awards were instituted two decades ago to recognise and honour those who bring wild nature into our lives, through images that have changed human thoughts, ambitions and even national policies.
The jury for this year's awards included Bittu Sahgal, Founder-Editor, Sanctuary Asia; Steve Winter, renowned National Geographic Conservation Photographer; Dr Anish Andheria, President, Wildlife Conservation Trust; NayanKhanolkar, Field Biologist and Conservation Photographer; Meena Subramanian, Nature and Conservation Artist; Rita Banerji, Environmental Documentary Filmmaker and Founder–Director, Green Hub; Dr Parvish Pandya, Director, Science and Conservation, Sanctuary Asia; Lakshmy Raman, Executive Editor, Sanctuary Asia and Cara Tejpal, Head, Conservation Initiatives, Sanctuary Asia.
A LOOK AT THIS YEAR'S WINNERS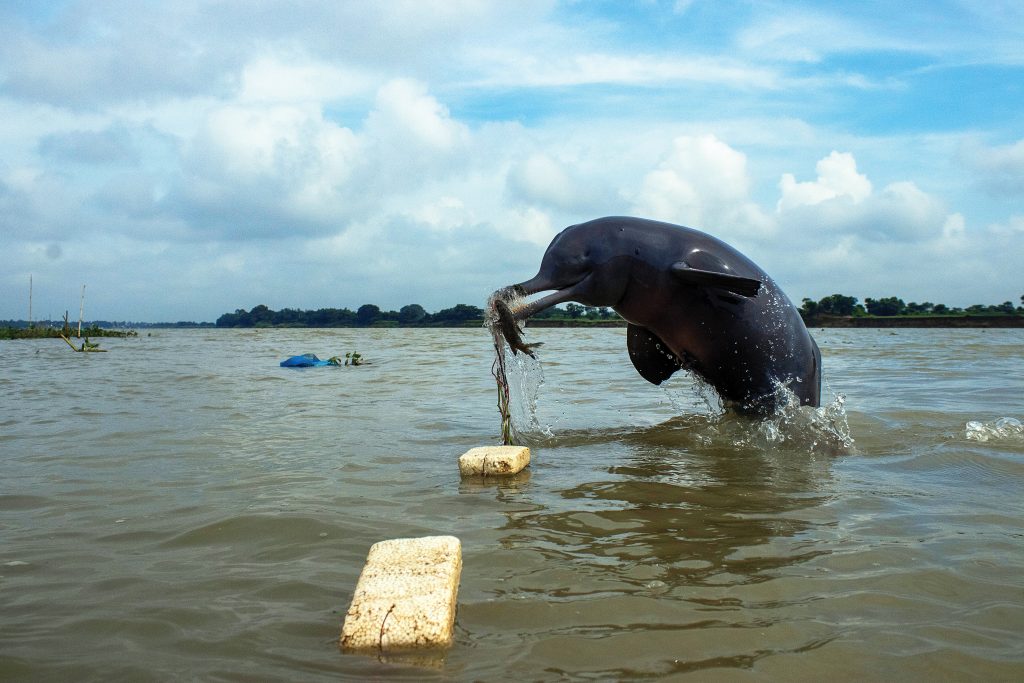 FIRST PRIZE
Ganesh Chowdhury
Entangled in the Ganges
Ganges Dolphin
Nayachar, West Bengal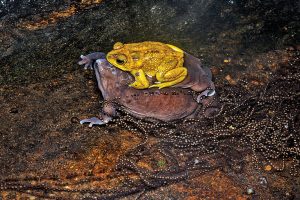 SECOND PRIZE

Sandeep Das
Three's A Crowd
Common Indian toad and purple frog pair
Thrissur Forest Division, Kerala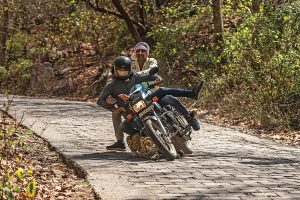 THIRD PRIZE
Sridhar Sivaram
Collision Course
Common Leopard
Ranthambhore National Park, Rajasthan
CERTIFICATES OF MERIT
Alok Kar – What Katy Did — Katydid nymph in Rasomoti Forest, West Bengal
Mandar Mohan Ghumare — Water War Veterans — Whirligig beetles and water strider in Matheran, Maharashtra
Rajesh M. Chaudhary — Eyes Wide Shut — Indian golden jackal, Tonk, Rajasthan
Shashwat Jaiswal — Night Prowler —  Asian palm civet in Mungeli, Chhattisgarh
Sourabh Bharti — Safe Haven — Indian Peafowl and chicks in Jhalana Leopard Reserve, Jaipur
HONOURABLE MENTIONS
Amith Kiran Menezes — A Hairy Defense — Prominent moth caterpillars in Bengaluru, Karnataka
ApurvDilip Jadhav — Night Flight — Longhorn beetle in Lonand, Maharashtra
Sitaram Dinkar Raul — Little Things — Wasps and African tulip tree seed in Badlapur, Maharashtra
Kirubha Bose — PET Peeve — Lion-tailed macaque in Anamalai Tiger Reserve, Tamil Nadu
Lucky R. Jaiswal — Bubble Butts — Thrip nymphs in Pune, Maharashtra
EDITOR'S CHOICE AWARD

Thomas Vijayan
Within Reach
A Bornean Orangutan on a tree
Borneo
 THE SANCTUARY WILDLIFE SERVICE AWARDS 2021
 This year, 12 inspiring change-makers from across the country were honoured under four categories — Green Teacher Award, Wildlife Service Award, Young Naturalist Award, Lifetime Service Award and the newly instituted Legend Award.
2021 WINNERS 
LEGEND AWARD
Dr Jane Goodall, DBE – Legendary scientist, ethologist, conservationist, and messenger of peace 
LIFETIME SERVICE AWARD
Dr Anwaruddin Choudhury — Retired civil servant, ornithologist, mammalogist, artist, and author
YOUNG NATURALIST AWARDS:
Ayushi Jain — Researcher, community conservationist, and student
Ramya Nair — Researcher, anthropologist, and conservationist
RadheshyamPemani Bishnoi — Wildlife conservationist, animal rescuer, and photographer
GREEN TEACHER AWARD
Yuvan Aves — Writer, naturalist, educator, and activist.
 WILDLIFE SERVICE AWARDS:
(JOINT AWARD) Dr Ravikant Khobragade and Prajakta Hushangabadkar –– Respectively Veterinary officer with the Tadoba-Andhari Tiger Reserve Forest Department; and Wildlife Biologist at the Tadoba-Andhari Tiger Reserve and Project Officer with WWF-India, Uttarakhand.
Fakim Anti-Poaching Squad — Forest guardians, community conservationists, and team players
Arun Singh — Journalist, nature lover, and conservationist
AmcheMollem Campaign — A dream, a voice, and a people's movement
Usha Lachungpa — Naturalist, researcher, and conservationist
QUOTES: 
Bittu Sahgal, Founder and Editor, Sanctuary Asia:
"The Sanctuary Wildlife Awards was launched exactly four decades ago. Since the year 2000, we have been honouring our nation's true heroes, the dharti sevaks, who live to champion and protect the biosphere that supports us all. These men and women live the truth that working with nature's maintenance engineers — single-celled organisms, plants, molluscs, insects, amphibians, birds and mammals — the original Gardeners of Eden — is the only real hope we have of healing our one and only home.
We began with a wish and prayer that was christened Sanctuary Asia. Today, sleeves rolled up, we promise to continue focusing doggedly on acts, large and small, on solutions, guided by people actually working on the ground to tackle the ecological problems staring us and all life on Planet Earth in the face."
Hemendra Kothari, Chairman, DSP Investment Managers Pvt. Ltd.:
"THE DSP GROUP is pleased to support the Sanctuary Wildlife Service Awards 2021 that honours our nation's true heroes by protecting our forests, oceans, rivers and all ecosystems. Saving our biosphere is the most efficient way to halt the climate crisis. The many collateral benefits include better water security, reduced floods and droughts, and the sequestration of atmospheric carbon. DSP has been working together with Sanctuary for the last 20 years and are proud of our association to support those foot soldiers working to save all this and more."
Nadir Godrej, Chairman and Managing Director, Godrej Industries:
"Godrej takes great pride in associating with The Sanctuary Wildlife Awards, which recognises and applauds the several unsung heroes of nature working across our country. Environment sustainability is a key factor in all operations of Godrej, and in my view, the successful companies of the future will be those that integrate business, planet and people. For over 124 years, the Godrej Group has actively championed social responsibility. It's core to who we are.  We believe that working towards the betterment of natural resources, forests, environment and the economy is possible and should be a priority area to focus on."
Aditya Agarwal, Managing Director, Morningstar India:
"Morningstar India is pleased to be supporting the Sanctuary Nature Foundation in their endeavour to honour our country's unknown nature protectors. These real-life heroes sometimes risk their own lives to save our planet and need to be lauded. There is rising evidence that the health of all human life depends on the health of our planet; protecting the biosphere is vital for our survival."