National: Amidst the isolation and missing social and emotional connection that has been a result of the pandemic, certain segments of society like our elders and senior citizens have been especially impacted. While we all want to be close to our loved ones, this has been especially hard in the past year, given the risks associated with travelling and socialising, and the increased vulnerability of the elderly. Surf Excel's latest Holi campaign #RangAchheHain is built around this very insight and shows a heartwarming gesture by an innocent boy who wishes to include his friend Rancho, an elderly neighbour, in the Holi celebrations. It takes forward the brand's 'Daag Achhe Hain' proposition, showing how colours can travel distances that our hands cannot, and help bridge emotional distances despite being apart.
Taking a step forward to make this campaign a reality, Surf Excel partnered with HelpAge India to reach out to their communities of senior citizens across the country and gift surprise festive hampers which included organic colours, colour balloons and a Holi special music playlist among other elements, thus including them in Holi celebrations. As a special surprise element, the hamper also included t-shirts with colour handprints of their near and dear ones who could not be with them this Holi. Aligned with the core messaging of the campaign of letting colours be the medium of togetherness this festive season, the team managed to help elders recreate the joy of celebrating Holi with their loved ones, despite the distance. Their delight and happiness were unmistakable when they unboxed these hampers to apply colour to their faces, and wear the colour embossed t-shirts that carried the personal touch of their loved ones.
With the impact of the pandemic and the ensuing isolation expected to continue in the near future especially for this vulnerable section of society, Surf excel has also made a donation towards this cause and is helping HelpAge India raise more funds to continue their good work.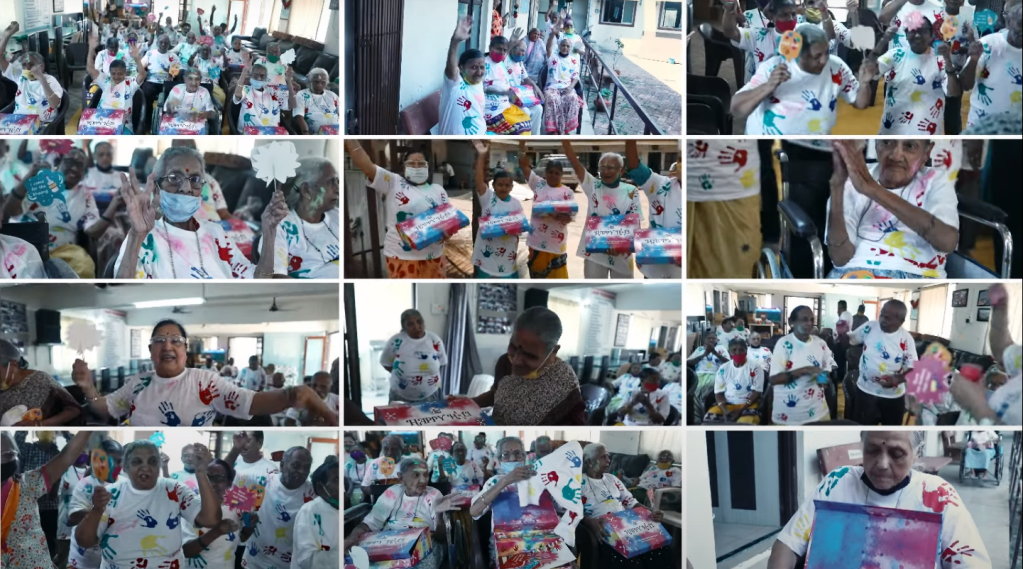 Commenting on the collaboration, Prabha Narasimhan, Executive Director & VP – Home Care, South Asia, Hindustan Unilever Ltd, said, "In our various Holi campaigns, the brand has always shown how the colours of Holi can be a force for good, bringing people together. This year, with the current reality of the pandemic, and a fantastic campaign idea to show how colours could reach where our hands cannot, we felt that we had a unique opportunity to not just take our idea to consumers, but also make a meaningful difference through our actions. The partnership with HelpAge India is a continuation of the same promise and spirit. With their credibility and significant body of good work in this space, they were the right partner for us to bring this promise alive on ground.  To watch the elders experience the closeness and warmth of a familial touch despite staying apart, truly made Holi complete for all of us."
Speaking about the collaboration, Rohit Prasad, CEO, HelpAge India, said, "Our elderly community faced huge challenges due to COVID-19 and continue to do so. Many have children and grandchildren living in different cities and across the globe, unable to travel due to the current circumstances. This Holi we wanted to connect the two generations and bring back laughter and colour in the lives of our elderly who faced isolation, anxiety and loneliness all of last year. HelpAge India is thrilled to associate with the Rang Achhe Hain campaign and we hope that together, we will be able to bring the much-needed warmth and cheer in the lives of our elderly family."
Physical distance is no more a barrier to feeling close to our loved ones. The video in the link below captures this heart-warming Holi celebration.