Vrindavan, Mathura, September 21, 2017: The partnership of Brij Healthcare and Research Centre (BHRC)-Dr. Shroff's Eye Care Institute with Standard Chartered Bank has successfully completed three years of operations in Vrindavan, Mathura.
Co-funded in 2014 by BHRC and Standard Chartered Bank, and implemented by Dr.Shroff's Charity Eye Hospital, the eye care facility has achieved self-sustainable status in just three years. This is part of the Standard Chartered Bank's Seeing is Believing project, a global initiative to tackle avoidable blindness and visual impairment.
Taking this partnership further, Seeing is Believing has also launched a vision centre in Raya, Mathura district to serve more people. This vision centre will act as a hub for implementation of community eye health projects.
Institute in Vrindavan is equipped with high-tech eye care equipment in both in-patient and out-patient areas. Starting with basic cataract services, the institute now provides various sub-speciality services like glaucoma, cornea, oculoplasty, pediatric and vitreo retina.
India has the largest number of blind people in the world; however in many cases, blindness can be prevented through a simple cataract surgery or a pair of spectacles. In India, Seeing is Believing has provided over 12.6 million or 1.26 crore eye care interventions to urban, rural and tribal population through 120 vision centres across 21 States. Since 2003, this initiative has reached 133.8 million or 13.38 crore people globally through medical interventions, eye examinations, eye health education and training.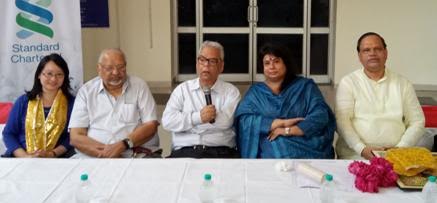 Karuna Bhatia, Head – Sustainability, India, Standard Chartered Bank, said, "Standard Chartered Bank is proud to be involved in this project, alongside two esteemed partner organisations – Brij Healthcare and Research Centre and Dr. Shroff's Charity Eye Hospital whose focussed efforts have helped the project reach a self sustainable status in just three years. The bank's long-running Seeing is Believing programme was established in 2003 to help fund programmes, that contribute to the elimination of avoidable blindness. Now this newly launched vision centre in Mathura will be a welcome addition in our project to help reduce avoidable blindness in this region."
Shyam Sunder Beriwala, Secretary of the BHRC, said, "We have seen the effects that blindness can have on individuals and families and we are happy to have contributed in our own way by opening the doors of BHRC to offer patients the best available treatment. We have also conducted many operations completely free of cost. Going ahead, we are confident that we can do even more to help those who are suffering from blindness."
A K Arora, Chief Executive Officer, Dr. Shroff's Charity Eye Hospital, said, "The partnership with BHRC and Standard Chartered Bank has been solid since day one. With this firm structure in place, we have been able to offer additional eye care services, some of which were not available within the area, especially not for the most vulnerable populations. We are now pleased to announce that we have recently started cornea transplant treatments also under this partnership."