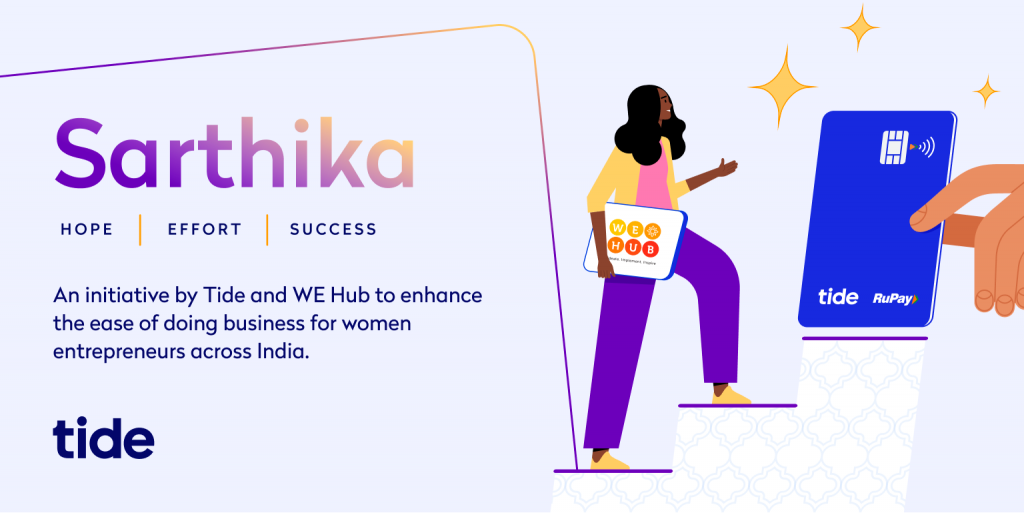 Delhi: Tide, the UK's leading SME-focused business financial platform, which recently launched in India, and WE Hub, Telangana's State-led incubator for women entrepreneurs have launched the 'Sarthika' programme, to bridge the information and last-mile delivery gaps in State and central government schemes for women-led micro, small and medium-sized enterprises (MSMEs).
Through this initiative, Tide aims to reach women entrepreneurs across India and enhance the ease of doing business by improving access to information and the uptake of public schemes and initiatives.
The Sarthika web portal (https://www.tide.co/en-in/wehub-tide/) will work with the cohort at the grassroots level to help them navigate through the application process, eligibility criteria, and other important aspects of the schemes. After the completion of the full KYC process, Tide India and WE Hub will work with relevant government departments to quicken the operationalisation of the schemes.
The programme's first phase consists of three schemes:
Prime Minister's Employment Generation Programme (PMEGP): The scheme focuses on credit subsidies for self-employment.
Raw Material Assistance Scheme: This scheme offers access to higher-quality raw materials.
Barcode Registration Subsidy: This scheme enables businesses to conform to global standards of trade and commerce.
The Government of India has rolled out a series of measures to boost growth and opportunities for women in business. However, lack of information about eligibility and availability of schemes, poor allocation of resources, and complex processes have led to weak demand from the people these schemes could best serve.
The Sarthika programme comes at a time when W20, under India's G20 presidency, is focused on realising the vision of women-led development, with women as active change agents of India's growth story rather than passive recipients of development. The W20 is an official G20 engagement group focused on gender equity.
WE Hub CEO, Deepthi Ravula said, "Enabling access and opportunity for women to partake in the economic workforce of the nation is of pivotal importance to the growth of the nation. While there have been efforts to ease this process, awareness and handholding support are often amiss. In our collaboration with Tide, we are looking at addressing this problem statement and are positive that this will lead to a monumental change!"
This move also elevates Tide's India Chapter of 'Women in Business' and the company's plan to work as an incubator to digitally transform women-led SMEs beyond Tier 2 and 3 regions of India.
Kumar Shekhar, Deputy Country Manager, Tide India said, "As India presides over G20, there is an increased need to focus on the inclusion of women in finance and creating an enabling and non-discriminatory ecosystem. Last-mile delivery of schemes and incentives is a common challenge faced by governments across the globe. While there is no magic bullet to bridge this gap, we are proud to launch a programme that will not just remove barriers to women-led development but help them realise their full potential."
Earlier this year, Tide also conducted a mentorship programme for women entrepreneurs to decode the Union Budget 2023 and help them understand how new government policies, tax laws, and funding opportunities may affect their businesses.