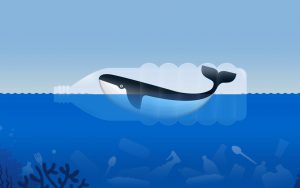 India, September 3, 2019: TikTok, the world's leading short video platform, has partnered with Conservation International, to launch the #SaveOurOceans challenge. Conservation International works around the world to protect oceans and marine ecosystems – and the people whose lives and livelihoods depend on them.
The challenge spotlights the critical role of the world's oceans and what we can do to protect them for future generations.
As a platform for creativity, TikTok users can show their support for ocean conservation through their short videos and raise awareness to protect our oceans for a better future.
From August 26 to September 9, TikTok users can apply an ocean effect that lets them virtually clean plastic out of the ocean. For every video uploaded with the hashtag #SaveOurOceans, TikTok will donate $2 to Conservation International to help save 3,000 square kilometers of ocean (up to $100,000). #SaveOurOceans is a global campaign and users from countries and regions including the US, the UK, France, Spain, Italy, the Netherlands, India, Japan, Hong Kong, Macau, Taiwan, Malaysia, Indonesia, Singapore, Thailand, Vietnam, the Philippines, Turkey, Middle East and North Africa (MENA), South Africa, Brazil, Mexico, Colombia, Argentina and Chile, can participate.
The ocean has a message for you:
http://vm.tiktok.com/YjG6M9/          http://vm.tiktok.com/Y2SRcs/
Join Rannvijay Singh, Aakash Chopra, Little Gloves and other TikTok creators globally to help #SaveOurOceans
The ocean-themed challenge comes at a time when the world is grappling with a global plastic pollution situation. The UN estimates that the ingestion of plastic kills one million marine birds and 100,000 marine animals each year. Scientists predict that the weight of ocean plastics will exceed the combined weight of all of the fish in the seas by 2050.
"TikTok's global community allows users to showcase and consume creative, everyday moments through videos. We're delighted to partner with Conservation International on the #SaveOurOceans challenge, which empowers our community to use their creativity to show their commitment to and raise awareness toward clean oceans," said Nitin Saluja, Director, Public Policy, TikTok India.
"By 2050, there will be more plastic than fish in the world's oceans. TikTok offers an imaginative platform that has the power to both educate and inspire users to take action. That's why we are partnering with TikTok and its global communities to address one of the world's most pressing environmental challenges and to, together, inspire a creative, call to action around protecting our oceans for a better future," said Conservation International Chief Marketing Officer Anastasia Khoo.