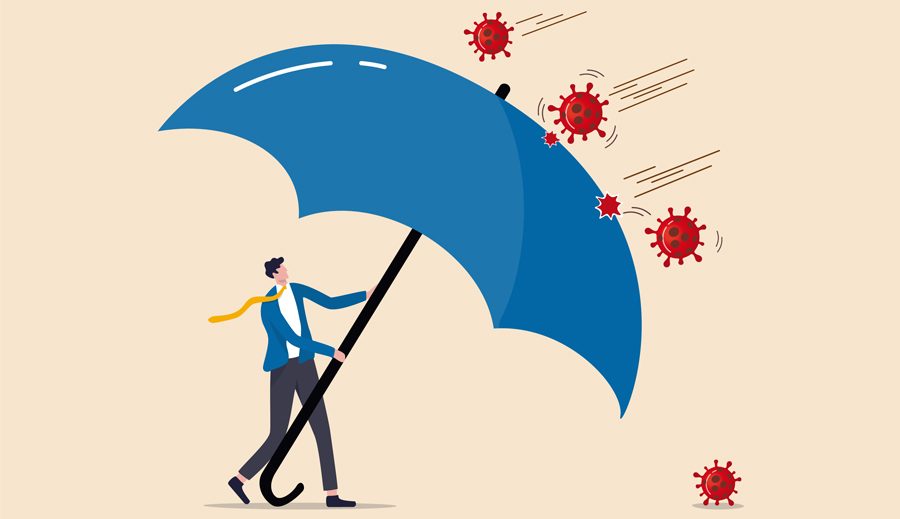 We highlight inspiring initiatives by corporates, NGOs, and individuals that are being mobilised across the country to augment COVID relief efforts. These much-needed and timely actions have made a big difference in providing aid and support to the country during the second wave of the pandemic. 
Honeywell Dedicates COVID Care Centre to Delhi 
Honeywell dedicated a 20-bed COVID Care Centre to the citizens of Delhi. The centre, located at the Aggarwal Dharmshala in Kirari, is affiliated to Sanjay Gandhi Hospital and managed by the New Delhi Municipal Corporation (NDMC). It is equipped with beds, oxygen supply, PPE kits, medical consumables, and basic medical infrastructure to treat non-critical patients. The company also donated 100 oxygen concentrators as part of the relief package for Delhi, including 10 for this Centre in northwest Delhi.
This follows an announcement that the company is establishing COVID Care Centres and COVID Critical Care Centres across five States in India. Honeywell has partnered with the governments of Delhi, Maharashtra, Haryana, Karnataka, and Uttarakhand to help address the ongoing pandemic.
Honeywell is also donating 1,000 oxygen concentrators, 50 ventilators, 10,000 N95 respirators, and 2,500 personal protective equipment (PPE) kits to various government and private hospitals.
"We are encouraged by Honeywell's initiative to add capacity to our healthcare infrastructure," said Shri Rituraj Govind Jha, Member of the Delhi Legislative Assembly. "We also welcome and appreciate the donation of medical supplies, including concentrators and PPE kits," he added.
Dr Akshay Bellare, President, Honeywell India, said, "Honeywell is committed to helping the country deal with this humanitarian Croreisis and has pledged $3M since the start of the pandemic for COVID relief."
"We are partnering with State and local governments to enhance healthcare infrastructure across multiple States, including setting up COVID Care Centres and ICU setups. We are also donating essential medical supplies such as oxygen concentrators, ventilators, N95 respirators, and PPE kits," he added.
Honeywell has already dedicated a similar center at the Employees State Insurance Corporation Hospital in Bibwewadi, Pune, and at the Bharat Bhagya Vidhaata Hospital in Gurugram. Similar centres are being established in Nainital and Yerawada, Pune.
In the second phase, Honeywell plans to establish COVID Critical Care Centres in Bengaluru and Mumbai in partnership with the state governments of Karnataka and Maharashtra respectively. These centres will be equipped with Fowler beds, class I ventilators, defibrillators, multipara monitors, X-ray machines, BiPAP machines and all the equipment necessary to treat critical COVID-19 patients.
The Bengaluru Critical Care Centre is located at Bowring Hospital, Shivaji Nagar, and the Mumbai Critical Care Centre is located at the Jumbo Facility Hospital in Kandarpada, Dahisar West.
Galen Group of Healthcare to Open Emergency Care Hospital
Galen Group of Healthcare (GGH), a premier private healthcare provider in India giving free world-class medical service to the community, has announced the opening of Galen Emergency Care Hospital with a 300-bed facility in New Delhi in the coming week to serve COVID patients and curb the COVID situation in the national capital of India.
With more than 3,00,000 cases being reported daily, India's healthcare system is struggling to meet the needs of 135 crore people, considering that the new COVID strain has a higher transmission rate. Therefore, to ease the pressure on the healthcare system and improve the condition, Galen Emergency Care Unit will be providing oxygen, ventilators and doctors to those suffering from COVID in the capital city of Delhi.
The team at Galen Emergency Care Hospital will be led by Dr T R Pattanayak, Chairman of GGH, who will be supported by Asutosh Pattanayak (Managing Director, GGH), Suhail Abdul Latif Galadari as the Non-Executive Chairman in their Board of Directors, and Dr Rashid Mohammed Zubair Al Farooq, Non-Executive Vice – Chairman of GGH.
Mr Pattanayak is an International Humanitarian figure, working intensively to bring affordable and accessible international standard healthcare facility to India.
On the occasion, Suhail Abdul Latif Galadari, the Non-Executive Chairman, GGH said, "We are doing this for humanity; we want to help the people of India. Everything will be fine for such a beautiful country and such beautiful people. We want to lend our hand in supporting and helping in any way we can, we are only doing what we have been taught by our great rulers and are following their example."
Dr Rashid Mohammed Zubair Al Farooq is the Ambassador for the World Peace Committee, Economic Advisor for the World fund for Development and Planning at the GCC, Peace Ambassador at Centre of Peace Studies, and Chairman of Farooq Corporation.
"This is the first phase of hospitals that the group intends to open in India. We have plans to support and help the people across the country, ensuring everyone is taken care of, and we can do our little part. We lead by example, as our rulers do," reiterated Dr Rashid Mohammed Zubair Al Farooq, the Non-Executive Vice-Chairman of GGH.
In the near future, Galen Group of Healthcare plans to expand its services to over 100 cities across the globe by 2030 that adheres to the highest international standards while making quality healthcare accessible to one and all. 
UPL Pioneers Helping Eight Hospitals Achieve Self-Sufficiency in Oxygen
UPL a global provider of sustainable agriculture solutions announced that it has set up plants at eight hospitals in Gujarat, Madhya Pradesh, UP, and New Delhi to generate oxygen. Responding to the nationwide shortage caused by the surge in COVID cases, the company rapidly stepped up its innovation and converted four of its nitrogen production plants in Gujarat, to produce and deliver oxygen to four hospitals in Gujarat and Uttar Pradesh. These plants are skid mounted and delivered directly to the hospital sites for them to be directly plugged into the hospital's oxygen header system to help attain self-sufficiency in supply.
These converted plants have now been installed and operational at the hospitals including Government Ayurvedic College in Chauka Ghat, Varanasi, Haria L G Rotary Hospital in Vapi, Jayaben Hospital in Ankleshwar, and the Government Hospital in Jambusar, Bharuch. In addition to this, UPL has also installed a direct oxygen plant at Max Hospital, Patparganj, New Delhi, and is in the process of providing additional three oxygen plants at Indore, Gwalior, and Varanasi. All these eight oxygen plants together will be catering to ~1,000 beds. UPL has also supplied ventilators, oxygen concentrators, COVID medicine kits under the supervision of the local Chief Medical Officer in Gujarat, Madhya Pradesh and Uttar Pradesh.
UPL pioneered to help meet the rising demand by converting industrial nitrogen plants for generating oxygen. As part of the task force formed by the Central Pollution Control Board (CPCB), this conversion experience was shared with other industry members who were willing to get their nitrogen plants converted to Oxygen generating plants. We are glad as a part of the task force team, we were successful in encouraging and educating about 100 industry members to come forward to execute the noble cause.
Commenting on this development, Jai Shroff, CEO of UPL Ltd. said, "We, at UPL, are committed to our value of being 'Always Human'. We are proud of our team who showcased exemplary agility and innovation in these tough times by developing the unique solution of converting nitrogen to oxygen. We will continue to support the community through our bit in this battle against the pandemic."
Dr S. S.  Singh, Director, Medical Services, Haria LG Rotary Hospital, Vapi said, "We have set up a COVID Camp with a facility of 60 ICU beds with all the facilities including ventilators and oxygen. We were facing an issue of an irregular supply of oxygen to run these beds. We reached out to UPL to help us overcome this Croreisis, and they set up a skid-mounted oxygen plant at our hospital, which we were in dire need of. At the initial stage of installation, the plant is generating 300-350 litres of oxygen per minute that is sufficient to treat 30-40 patients at a time, comfortably. We are extremely grateful to UPL for their generous and timely contribution at a time when we needed it the most." 
RHI Magnesita Supports 9000 Families with COVID-19 Safety Kits
RHI Magnesita, the Global leader in refractory products and solutions, has directly supported more than 9000 families in the fight against COVID-19 recently by providing necessary safety tools. Under its Corporate Social Responsibility initiative, the company, through its three Indian subsidiaries – Orient Refractories Ltd., RHI Clasil Pvt. Ltd., and RHI India Pvt. Ltd., distributed safety kits to the families in the communities around its manufacturing facilities in India.
Commenting on the initiative, Parmod Sagar – MD & CEO of Indian operations of RHI Magnesita said, "We, as a Nation, are going through the most challenging times in recent history. We are together in it and would need to hold each other's hand to come out stronger from this. As a socially committed organisation, standing by the community in such times of Croreisis is deeply embedded in our corporate culture. Our COVID-19 safety strategy is focused on preventive action. This initiative not only creates mass awareness on the preventive safety measures, but also supports the marginalised sections in practically following those measures on a daily basis."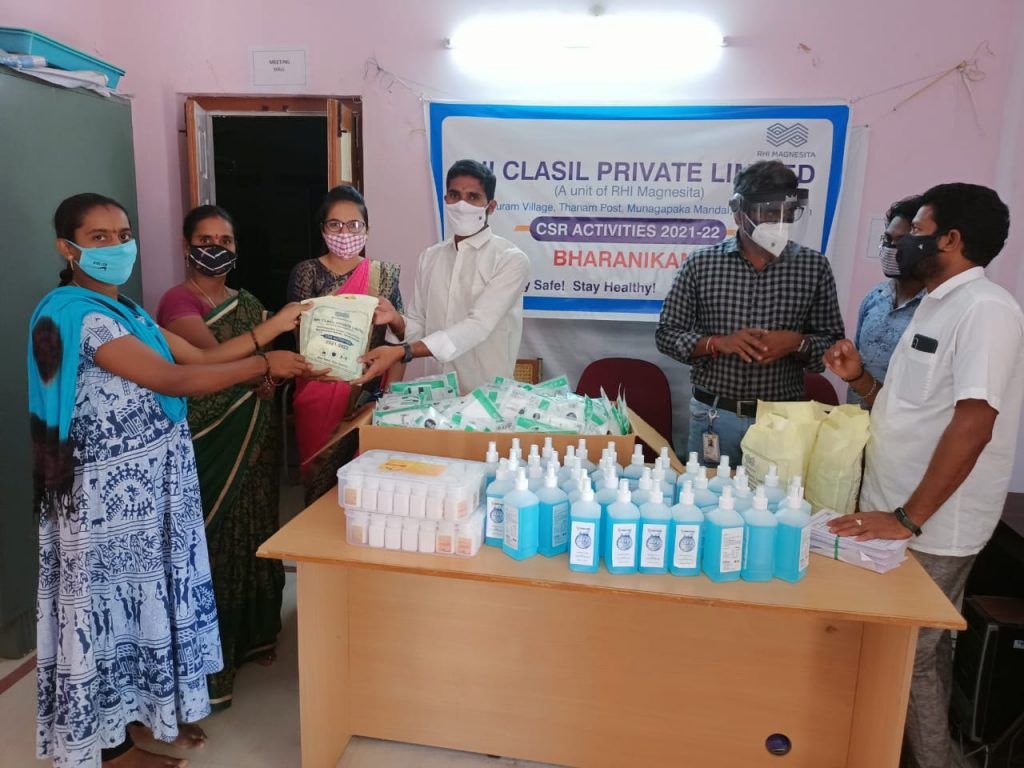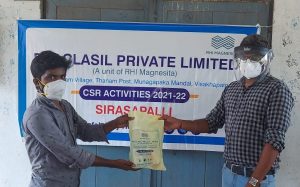 The kit contains an oximeter, a digital thermometer, liquid hand sanitiser, liquid soap, 5 units of N95 masks, and vitamin supplements. The kits were distributed to families in the neighbouring communities of its plants in Bhiwadi (Rajasthan), Vishakhapatnam (Andhra Pradesh), and Cuttack (Odisha). The families of the contractual workers of the company were also covered under the initiative.
Sanjeev Bharadwaj, Regional Chief Financial Officer of RHI Magnesita said, "In this initiative, we included the families of frontline COVID-19 warriors too. Police personnel in three local police stations near our plant in Vishakhapatnam were provided with the kits, in addition to the villagers. During the first wave of COVID-19 also, we had taken up multiple CSR initiatives. The ambulance that we donated to the local PHC in Bhiwadi last year and the one provided to communities around our Cuttack plant as part of the pandemic support has come in very handy in providing COVID-19 healthcare support during the second wave this time." 
Piramal Foundation to invest INR 100 Crores Towards COVID Relief in Aspirational Districts in Partnership with Niti Aayog 
Piramal Foundation, the philanthropic arm of Piramal Enterprises Limited (PEL), has launched significant initiatives to address the devastating impact of the second wave of COVID in India's aspirational districts. To address the current emergency due to the second wave of COVID-19, the Foundation will set up 100 COVID Care Centres in rural and tribal blocks across 25 of the worst affected aspirational districts and home care support to the tribal and rural population with poor access to health services in 112 aspirational districts across India in partnership with Niti Aayog. Piramal Foundation will invest Rs 100 Crores towards COVID Relief in the aspirational districts, in partnership with Niti Aayog.
The intervention seeks to reach 2 million people in 1143 blocks through a network of 1000+ NGOs and over 1 lakh volunteers. In Maharashtra alone, it aims to reach 1.25 lakh people in 32 blocks of four aspirational districts of Gadchiroli, Nandurbar, Osmanabad, and Washim.
In Maharashtra, the four aspirational districts have been among the worst hit. These districts account for 1.6 lakh cases and close to 3063 fatalities. The number is growing alarmingly by the day, with almost 3.3 per cent of the deaths in Maharashtra happening in these aspirational districts.
Dr. Swati Piramal, Public Health Expert, and Vice-Chairperson Piramal Enterprises Limited said, "As the pandemic spreads rapidly from urban areas to the rural hinterlands, containing the second wave of COVID-19 and curtailing the severity of a third wave is the top priority of the Government. With its limited public health infrastructure and lack of skilled personnel, the rural health system is not adequately equipped to manage a surge in cases. There is a need for urgent and innovative action to address this gap. 'Anamaya', the Tribal Health Collaborative, and other Piramal Foundation initiatives will help reduce the burden on the system and improve access to healthcare for the rural and tribal communities."
100 30-bedded temporary COVID Care Centres are planned at the block level in 25 aspirational districts, including four districts in Maharashtra. Each Centre will cater to the population in the catchment area of the associated Primary Health Centre. These will be dedicated spaces for COVID-positive, asymptomatic, or mildly symptomatic cases to be isolated and cared for in a well-ventilated room with essential facilities.
Home Care Support will be provided to 20 lakh rural and tribal communities in 112 aspirational districts through 1,000+ NGOs and 1 lakh plus volunteers to support COVID patients and families as a viable alternative for asymptomatic, mild symptom patients seeking support from hospitals. Through local NGOs the intervention will enlist and train Volunteers to engage with patients based on in-bound/out-bounds calls to educate caretakers to follow COVID protocol and provide timely updates about patients.
"This pandemic has re-iterated the power of collaboration for all of us. The support from philanthropic partners and civil society organisations has contributed immensely to each districts preparedness and COVID response. Piramal Foundation has been a crucial member of our COVID task force in Nandurbar, they have been supporting us in the Aspirational Districts Programme for three years now and with this second wave, they've left no stone unturned in supporting us with providing essential medical supplies, following up with home isolation centres, handholding the on-ground staff, mobilising communities for COVID vaccination, and popularising COVID appropriate behaviour through community and tribal influencers," said the District Magistrate, Nandurbar, Maharashtra.  
A Non-Funded SME PM Relocations Mobilises its Resources to Extend Help to the Nation in the Fight Against the Pandemic
Small and medium enterprises (SMEs) are the principal driving force of our nation's economy. They are majorly affected amidst the pandemic. The government is doing its best to provide help to the citizens as well as ensuring proper health care supplies are provided to the hospitals. Companies across various sectors, as well as individuals, are coming forward to help the nation on humanitarian grounds to overcome this unprecedented health crisis. People across the nation are helping each other through social media platforms like Instagram and Twitter, etc. Companies are extending their support by making masks and sanitisers, providing medical amenities to contributing funds, etc.
One such non-funded SME PM Relocations (PMR) which is a logistic and relocation firm based in Gurugram has put their step up to offer support to help deal with the pandemic outbreak across the country. They are offering free services to healthcare companies, hospitals, pharmacies, and individuals who are in urgent need of logistical support or require moving-and-packing services for essential items. Through their pan-India services, they are helping in transporting oxygen concentrators, medical supplies, hospital beds, medical heavy equipment and machinery, and any essential items. To scale up the help furthermore, PM Relocations (PMR) has also partnered with NGOs such as GiveIndia and Robin Hood Army (RHA India).
Through their collaboration with GiveIndia, PMR is providing warehousing and logistics services of oxygen concentrators across India. These oxygen concentrators are delivered to various hospitals and individuals to enable them to combat the pandemic and help India breathe. And with its partnership with Robin Hood Army (RHA), the company is focusing on transporting and delivering dry rations and other essentials to remote migrant workers, low-income residents, and villages.
Inspiring and impacting people's lives have always been the basis of PMR's entire ecosystem. Their team is pooling all its energy to tackle the current unprecedented health and humanitarian crisis arising from the pandemic outbreak. 
Arijit Singh Partners with GiveIndia and Facebook to Extend COVID Support to Rural Indian Towns and Villages 
Arijit Singh, one of India's most eminent singers and music composers, has collaborated with Facebook through its SocialForGood Initiative, and GiveIndia, to raise funds for COVID relief to support rural India. This is the first time Arijit is hosting a live fundraiser and through this campaign titled 'Helping Rural India Breathe and Stay Safe", Arijit intends to provide essential supplies such as oxygen equipment, beds, medicines, food, and financial assistance to those affected by the pandemic in small towns and villages.
The relentless second wave of COVID-19 has already stretched the availability of essential medical equipment and crippled the healthcare infrastructure in cities. However, the problem has begun to escalate with the spread of the virus into the smaller towns and villages of the country.
Through his initiative, Arijit hopes to help provide medical equipment and healthcare needs to help those in such regions – like his own hometown of Murshidabad, West Bengal.
To support the initiative, donors can directly go to the GiveIndia fundraiser page and make a contribution to the cause. As a part of the campaign, Arijit will also be doing a livestream through Facebook from his village of Murshidabad on Sunday, June 6th, the details of which he will be announcing on his Facebook page. Fans can both enjoy the live concert, and make a contribution to his fundraiser on GiveIndia.
Commenting on the fundraising campaign, Arijit said, "I have grown up in a small town in Murshidabad in West Bengal and wouldn't be who I am if not for my small-town upbringing. Seeing how COVID is affecting the people of rural India and watching these regions lack the required infrastructure saddens me and improving things in these regions is of critical importance for the livelihood of crores of people."
Manish Chopra, Director and Head of Partnerships, Facebook India added, "Facebook's SocialForGood initiative is focused on supporting large community causes by bringing together public figures and creators to raise awareness and funding. We are happy to partner with Arijit Singh and GiveIndia for this cause and enable people to come together on our platform through music in these times and help raise funds for those in need."
GiveIndia CEO and Founder 2.0 Atul Satija said, "While the decreasing number of COVID-19 cases in the cities after a deadly peak is a ray of hope in these bleak times, the spread of the infection to rural areas is deeply worrying. These regions have inadequate health facilities and limited access to basic needs.  It is critical to support our rural population with lifesaving medical supplies, put healthcare infrastructure in place where there is none, and help with nutrition and financial aid. GiveIndia is grateful to Arijit for his support through the campaign to minimise the negative impact of the pandemic in rural India."
Link to the fundraiser: GiveIndia Fundraisers: India's most trusted crowdfunding website
Myntra Customers Aid in Supply of Over 14,000 Oxygen Cylinders Amounting to 1.5 Lakh Kgs of Life-Saving Oxygen
Myntra, India's leading lifestyle and fashion destination, has partnered with GiveIndia, one of the largest and the most trusted donation platforms in the country, for a multi-faceted fundraising initiative. With a commitment to supporting the nation in this need of the hour, Myntra has enabled its customers to contribute generously, using their 'Myntra Insider' points, to COVID relief efforts, including towards the cost of refilling oxygen cylinders. Launched in May this year, the drive allows customers to use their Insider Points (the loyalty programme points accumulated from shopping on the platform), to contribute to the cause, without having to actually contribute real money.
Since the commencement of the drive, over 33,000 customers from various cities have come forward and contributed more than 26 million Insider points. The donations through Myntra Insider points have helped in adding 1.5 lakh kilograms of oxygen and facilitating medical care facilities at over 11,000 homes for the needy. Myntra is also extending support to healthcare heroes and critical patients at COVID Centres and hospitals by providing essential medical supplies through its fundraiser campaign with GiveIndia. The composite value of the funds collected in partnership with GiveIndia, as part of both the activities, so far amounts to nearly Rs 10 million.
Myntra's association with GiveIndia is a testament to the use of technology for the good of the community while enabling customers with a seamless and effortless donation programme.
Speaking on the initiative, Amar Nagaram, CEO, Myntra, said, "We are proud to play the role of an enabler, by providing our customers the opportunity to donate their Myntra Insider points for the larger good of the community. We are committed to and are constantly working towards identifying and initiating activities that contribute to the nation's collective efforts of saving lives and fighting the pandemic. We have also extended COVID Relief measures to our employees and partners, and amplified our contributions towards supporting the current healthcare needs of the nation through our partnership with GiveIndia."
GiveIndia CEO, and Founder 2.0, Atul Satija said, "We are very grateful to Myntra customers, who have become a valued part of our COVID relief work. Like last year, they have again come forward to support Croreitical needs during the COVID Croreisis – this time raising funds to augment the overburdened health infrastructure. It is a wonderful example of India's citizens rallying together to help each other during the nation's greatest hour of need."
Launched in September 2018, Myntra Insider is a unique loyalty programme that offers a comprehensive package of tiered benefits and privileges for top Myntra customers as they engage and shop more on Myntra. It boasts of a host of one of its kind benefits, such as fashion advice through personalised styling sessions, VIP access to flagship sale events, and exclusive access to limited edition launches and collections. In addition, Myntra Insiders can also save big with exclusive vouchers and deals from Myntra and other lifestyle partners in the fitness, entertainment, health, food and travel space.
Keventers and Amba Dalmia Foundation Trust Raised More Than Rs 1 Crore for COVID Relief
India's iconic dairy brand, Keventers, and EduTennis, an initiative by the Amba Dalmia Foundation Trust have successfully managed to raise more than Rs 1 Crore to help provide critical care to COVID-19 patients. As part of the initiative, four main projects are taking shape (1) The Cantonment General Hospital in Delhi Cantonment has received ICU beds and other equipment which will help convert this from a primary healthcare facility to a Croreitical care unit for COVID-19 patients. (2) The Indian Army's Base Hospital has received ventilators for critical care of COVID-19 patients. (3) Medulance, the premier ambulance company, is providing emergency care to patients, especially from economically weaker sections, using equipment given by Donate Oxygen India. (4) Leading healthcare provider Moolchand Hospitals is receiving its own Oxygen generation plant, which will help meet the needs of the coming times and help the city fight any upcoming waves of the pandemic.
The Hospitals have been identified by working in tandem with Government Authorities. The teams at Amba Dalmia Foundation Trust and Keventers are directly in touch with these hospitals to support the implementation of the projects on an emergency footing. The campaign has drawn widespread support, prompting the organizers to increase the initial goal from Rs 1 Crore to 1.5 Crore.
Speaking on the initiative, Agastya Dalmia, Director & Founder of Keventers and Managing Trustee of Amba Dalmia Foundation, says, "We are happy that our initial target of Rs 1 Crore funds raised is met, of which we have spent Rs 47,73,743 on providing lifesaving medical equipment to the hospitals. Also, we have increased the goal to Rs 1.5 Crore in the hope that additional requests for critical care equipment can be taken care of under 'Donate Oxygen India'. We want to express our gratitude for the overwhelming support from 500+ supporters that enabled us to reach our goals in a matter of four weeks."
To celebrate this spirit of togetherness and support this initiative, Letters of Love and Community Arts Network organised a virtual event where ten globally acclaimed musicians came together for a live musical e-concert 'United for India' on Instagram (@DonateOxygenIndia) on May 23, 2021. Through this e-concert, music brought us closer to the audience across seven countries and proved to be an effective, powerful, and therapeutic element during the ongoing health crisis.
Current Status:
Project 1: Immediately provide oxygen concentrators and BiPAP machines for respiratory support to hospitals and institutions that are in dire need of immediate relief.
Current Status: Based on the requirements sent in by the CEO of the Delhi Cantonment Board, S.V.R Chandra Sekhar, we have dispatched 2 Ventilator machines, 5 Monitors, 5 Syringe pumps, 5 Infusion pumps, 3 Suction machines, 5 ICU beds, and 3 non-invasive ventilators (BiPAP machines) to the Cantonment General Hospital. We are in constant touch with Dr Ajay Singh, who is leading the COVID-19 Ward.
Project 2: Provide urgent support to strengthen long-term COVID-19 care to the Army Base Hospital, which is providing essential support for the public.
Current Status: We have dispatched 2 ventilators to the Base hospital.
Project 3: Provide support to paramedic and transportation agencies actively working to provide free services to COVID-19 patients.
Current Status: Medulance, an ambulance booking service that is assisting the government in providing free transportation and paramedic services to the patients in Delhi-NCRORE, has received 3 Swasth Vayu non-invasive ventilators (BiPAP machines) and 45 antibacterial filters.
Project 4: Build oxygen generating facilities at hospitals to create a self-sustaining oxygen source to mitigate the issue on a long-term basis and make hospitals more self-sufficient.
Current Status: We have connected with Moolchand Trust which runs Moolchand Hospital at Lajpat Nagar, Delhi. Moolchand Trust is more than 90 years old and Moolchand Hospital is one of the oldest and reputed private hospitals in the city. We are collaborating with Vibhu Talwar, Trustee, Moolchand Trust, regarding the setup of an on-site medical oxygen plant with a capacity of two plants 30 nm3/hour at their Lajpat Nagar, Delhi campus and Agra Campus. We have received quotations for such plants and shared them with the hospital and await the technical specifications and final capacity required.
For now, we may have enough resources to fund one medical oxygen plant, which will be around Rs 90 Lakhs. And to cater to the requirement of the other plant, we have increased our fundraiser goal to Rs 1.5 Crore.
ARTPARK launches XraySetu, a free-to-use AI-driven Platform to Aid Doctors for Early COVID Interventions Over WhatsApp
As COVID-19 continues to wreak havoc across the rural heartlands of India, it has become more critical to drive rapid testing, contact tracing, and create dedicated containment zones. However, the rural infrastructure is not as well developed as it is across cities. So, when the respective tests are taking more than a week across some cities, the plight of our rural geographies – home to about two-thirds of the Indian population – in the second wave is easily understood. The fact the RT-PCRORE tests also give a 'false negative' for some of the variants only adds to the situation.
ARTPARK (AI & Robotics Technology Park) has extended some relief on this front. ARTPARK is a one-of-its-kind innovation hub for AI and robotics in India that is created on the model of Stanford Research Institute, which played a pivotal role in creating Silicon Valley in the US. ARTPARK (Seed funded for Rs 230 Crore by DST, Govt. of India, and the Govt. of Karnataka) in collaboration with HealthTech startup, Niramai, and the Indian Institute of Science (IISc), the innovation hub has launched XraySetu, an AI-driven solution for the early intervention of COVID-19 cases across India. The free-to-use platform extends an equitable AI technology to rural Indian doctors for doing a quick chest X-ray interpretation over WhatsApp chatbot.
To conduct the health check, any doctor simply needs to visit www.xraysetu.com and click on the 'Try the Free XraySetu Beta' button. The platform will then redirect the person to another page, wherein he or she can choose to engage with the WhatsApp-based chatbot via web or smartphone application. Then, they just need to click the picture of the patient's X-ray and obtain the 2-page automated diagnostics with annotated images in a few seconds. While extending the probability of the COVID-19 contraction, the report also highlights a localised heatmap for a quick perusal of the doctor.
Umakant Soni, Founder, and CEO, ARTPARK said, "The second wave of COVID-19 has really exposed the frailty of our current healthcare ecosystem. Scaling manpower is futile in a big, populous, and diverse country like India. We need to scale technology for addressing the needs of 1.36 billion people, especially considering we have one radiologist for over one million people here. XraySetu paves the way for exponential technologies like AI to leapfrog and provide cutting-edge healthcare technology to rural India in an extremely cost-effective manner. Built with the collaboration of industry and academia, XraySetu can serve as a great template for bringing such technology-driven innovations to the heartlands of India. India is looking to invest more than Rs 64,000 Crores to overhaul the Indian healthcare system as per the 2021 budget. Instead of building physical PHCs, we can enable cutting-edge AI-driven systems powering mobile digital PHCs, which can make healthcare more accessible even across rural India.  We can't afford yet another pandemic to derail our lives. "
"NIRAMAI has partnered with ARTPARK and IISc to provide a rapid COVID screening method for rural doctors who have access to X-ray machines. XraySetu provides an automated interpretation of chest X-Rays to predict if a patient has any lung abnormality that indicates COVID-19 infection. This service is provided over a simple messaging platform like WhatsApp with an input of a simple photo of the X-Ray image." Dr Geetha Manjunath, Founder and CEO, Niramai.
"The biggest challenge that we faced at the start of the project a year ago was the lack of COVID positive X-ray images. To circumvent this problem, we developed a unique Transfer Learning framework that leverages easily available X-ray images of lungs, not necessarily COVID positive, to learn useful features which have high predictive power. We also saw that Doctors tend to trust more if some sort of explanation is provided. To this end, we developed a confidence score which is guided by the areas of lungs that are infected. The system outputs a prediction, localizes the infected parts, and creates a report which gives a confidence score, all within a few minutes," said Prof. Chiranjib Bhattacharyya, IISc.
On top of COVID-19, the platform can also ably detect 14 additional lung-related ailments including tuberculosis and pneumonia alongside others. XraySetu can further be used for both analog as well as digital X-rays and work with low-resolution images sent via mobiles. XraySetu has successfully piloted more than 300 doctors in rural areas over the last 10 months.
ARTPARK is further collaborating with infrastructure partners like C-DAC (for leveraging AI supercomputer Param Siddi), Nvidia and AWS to scale this free service. If you are a doctor in rural India, you can try the service at www.xraysetu.com.  ARTPARK is also inviting other institutions and universities to help further research and create a wider imaging service built for rural India for 14 other lung abnormalities.
If you wish to volunteer for the cause, please feel free to reach out to the XraySetu team here and share with #XraySetu to build awareness about it. 
Wistron Launches WeCare CSR Program
Wistron has launched Wistron WeCare CSR Program at Kolar. As part of the phase one program, face shields and masks were handed over to the Kolar Police. 1000 face shields and 10,000 masks were handed over by Nagaraj M, Managing Director, and Senthil Kumar, General Manager of Wistron India, to Karthik Reddy IPS, Superintendent of Police, Kolar District. This is the first of a series of initiatives under the Wistron WeCare CSR programme to be undertaken over the next few weeks. Present virtually from Taiwan were Hank Hsu, Vice President, Wistron India, and David Shen, President and CEO of Wistron Smart Devices.
Wistron WeCare CSR Program will include, apart from the face shields and masks to the district police, thousands of health kits to employees' families, hundreds of food ration kits and health kits to the poor and the marginalised from in and around the industrial area, oxygen generator plant at a hospital and distribution of oxygen concentrators at primary health centres. Other CSR initiatives are also being planned under the WeCare programme going forward.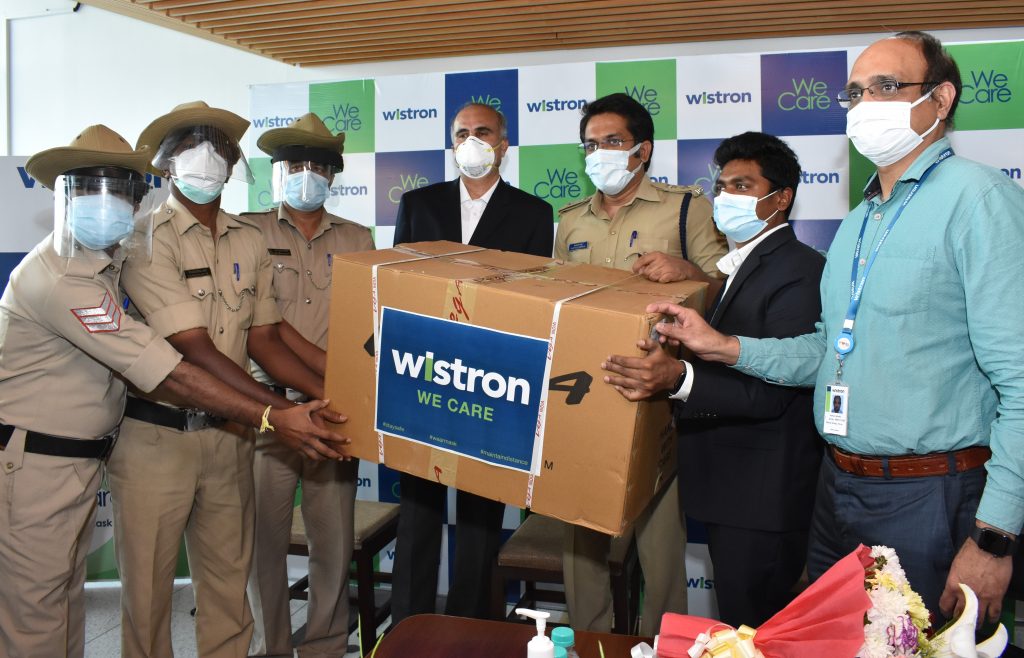 Announcing the launch of the India CSR programme, Hank Hsu, Vice President – Wistron India, said, "Wistron wishes to express total solidarity with India on its fight against the pandemic that has affected hundreds and thousands of people. As part of our commitment to the community, we have embarked on a month-long CSR programme to extend support and relief through emergency equipment, health kits, safety materials, and food rations, as per need, to government agencies, frontline workers, the poor, and marginalised, and the communities where we operate. The company is committed to improving the healthcare infrastructure and resource availability in the community and will extend all efforts as the need arises."
Commenting on the launch of the CSR programme, Nagaraj M, Managing Director, Wistron Infocomm Manufacturing, Narasapura, said, "All of us at Wistron would like to express our sincere thanks and appreciation to all the frontline workers especially the police and the healthcare workers. The local administration efficiently led by the respected DC and the SP are doing a wonderful and commendable job as frontline workers tackling the current pandemic. In spite of the high risk involved, they are out on the roads discharging their duties selflessly. We would like to express our support to them and extend all assistance. We would be very happy to extend any further assistance as required. We sincerely hope that this would aid them to some extent in conducting their duties in a safe and healthy manner. There are more initiatives lined up under the Wistron WeCare CSR Program which will be undertaken over the next one month."