Literacy India's Mission of Equipping the Underprivileged Paying Rich Dividends
A little over 20 years ago, a pilot with India's national carrier, noticed that the children of migrant labourers in Gurgaon were devoid of education, of basic healthcare and of opportunities that were the rights of every individual. She then determined that something needed to be done to lift these children out of their present situation. She wanted them to have a better future. Taking the lead, she interacted with the older members of the community and convinced them of the importance of sending their children to school. This tiny yet powerful spark became Literacy India. She also realised that to improve these communities further, its womenfolk need to be empowered. The journey has had its share of frustrations, challenges and hardships along the way, but, with the never-ending hope in her heart, she pressed on. Meet the exceptional woman behind the genesis of Literacy India, Capt. Indrani Singh. Read on as she shares with Atula Imchen the enriching experience so far, and how it has translated in producing many precious gems from an otherwise dismal mine.
How was Literacy India born? What was the driving force behind its genesis?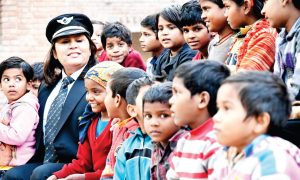 Literacy India, as a non-profit organisation, started its journey in 1996 with five children at a construction site in Chauma village, Palam Vihar, Gurgaon. A large workforce of migrants from the villages of Rajasthan, West Bengal, Jharkhand, UP, Bihar and Uttarakhand come to Gurgaon in search of jobs and livelihood. They stay in unauthorised squatter settlements amidst a filthy environment. It is observed that these migrant labourers, especially the men, engage themselves as casual labour in construction work, plumbing, carpentry, electrical repair, garage maintenance while the womenfolk mostly engage in domestic help and low-paying jobs. Children face the worst circumstances- they roam the streets and are not admitted in schools as they do not have a birth certificate.
Seeing this, we felt the urgent need to intervene in children's education and women's livelihood options. We believe that overall growth and development will be possible only if the whole family is put into coverage of the three E's- Education, Employment and Empowerment.
What were the goals and expectations you set when you embarked on this journey?What are the key focus areas of Literacy India?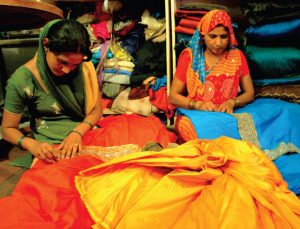 We wanted to identify children, especially girls from underprivileged backgrounds to build their confidence and awareness; support children in active schooling and provide minimum levels of learning; nurture, mentor and assist them to become assets in the community and to restore their dignity. We also provide skilling, mentoring, training and engage youths and adolescents through internship; use role models to inspire the youth to take up issues concerning their communities. We want to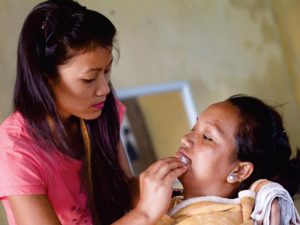 provide women and children with vocational skills, economically empower women from rural and slum areas; promote and enable women with livelihood opportunities.
Another very important goal for us is the implementation of Gyantantra Digital Dost across India to accelerate learning, targeting basic primary education.
Our Focus Areas:
Intensify and heighten the three E's– Education, Employment and Empowerment.
Mainstreaming ICT-based learning for fast track learning for children.
Improve and increase skill development programmes across the nine States of the country where we are currently involved in.
What are your flagship programmes, their unique features, and how have they benefitted the communities?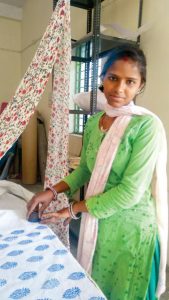 Literacy India has various programmes dedicated towards education, digital learning, vocational training, women empowerment etc. Emancipation of girls and women requires an attitudinal shift in the society to empower them to become economically independent and thus equal partners in the home economy. There are numerous women who do not receive the opportunity to attend school or get good education. Their rural upbringing limits them only to household duties and marriage. Our two programmes- Karigari and Indha Craft, provide a platform for rural women to harness their employability skills and secure a job with decent wages, thus making them respectable and earning members of the society.
"Karigari has helped over 10,000 women with the help of various corporate donors. Interestingly, there has also been a spur of micro and small businesses, home enterprises with a large portion of the beneficiaries turning into self-employed entrepreneurs"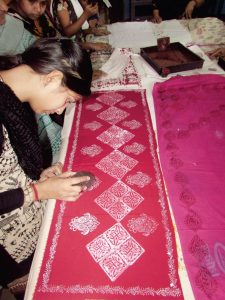 Started in 1999, our project Karigari helps improve the status of youth and women in society by providing them with livelihood options in vocational areas, based on the needs in their local economy, beneficiaries' preferences and aptitude. The whole purpose is to impart vocational skill training wherein entrepreneurs and skilled workers are incubated. Karigari Janani, as the name suggests, specifically focuses on girls and women. It helps women establish themselves in vocations such as stitching, embroidery, recycled paper product training, block printing, tie & dye, spa & beautician training, agarbatti making, paper plate making, driving and hospitality management, eco/social tourism, computer courses certified by National Institute of Electronics and Information Technology (GOI), Training Teachers for Gyantantra Digital Dost (Basic ICT & Trainers Course). Teachers who do well are hired by LI for planned programmes in government schools of Haryana, Jharkhand and West Bengal.
The project has been implemented across 152 villages in India. Karigari has helped over 10,000 women with the help of various corporate donors. Interestingly, there has also been a spur of micro and small businesses, home enterprises with a large portion of the beneficiaries turning in to self-employed entrepreneurs. Some have also found employment in relevant industries. Along these lines, these women have been further trained on advanced designs with quality finishing.
Indha Craft was evolved in 2002 and aims to create a community-based livelihood enhancement model to reduce poverty in rural and semi-urban on a sustainable basis. Its purpose is to enable the most vulnerable groups to contribute more effectively to the development of their communities by adapting various skills. Indha is now becoming a brand under which handcrafted products made by village women are getting a platform to be sold. We took this initiative to empower rural women by equipping them with special skills to earn a little income as well as manage their household work. Indha products have become quite popular among many donors and can also be found on the shelves OMO and Bombay Store in Mumbai, Instore in Noida, Killol,Tupperware, Discount Circuit, etc.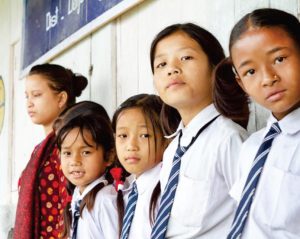 Vidyapeeth is our core programme which aims at making quality education available and affordable to underprivileged children. This initiative runs classes up to high school like any other school. We operate this out of a school building at Bajghera. Children appear for their Board Exams through National Open School (NOS).
The beneficiaries of Vidyapeeth come from the lowest economic and social strata of society, and many of them are first generation learners. These children are otherwise likely to be engaged in child or menial labour at a very early age and would have never dreamt of being able to attend school due to poverty and traditional attitudes. Our volunteers approached their parents, talked and counselled them to allow their children to attend school. The curriculum is designed in a way so as to generate and sustain the children's interest in education and their keenness to continue to attend school. This is superimposed with extra-curricular activities and an experimental educational approach which together spans a wider socio-cultural horizon to capture the interest of these children. Through classroom contacts, excursions and inspirational interaction with well-known personalities, the programme is a learning process in itself. The idea is to enhance the process of overall growth of these children through character building, enabling them to be self-reliant and most of all, providing an opportunity to live a childhood that every child deserves.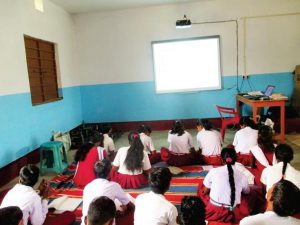 We provide basic uniform, shoes, sweaters, text books and stationary for free or at a basic cost to bring about parent involvement. Daily nutritious midday meal is provided to all students. Sports and physical training are an important part of the curriculum.
With Literacy India thriving in a constant state of change and progress, our newest venture, Project Nandini, represents the fusion of multiple educational programmes. Nandini is a synthesised process designed to empower the community with a special focus on women and children. The project intends to motivate and empower the girl child as well as adolescents and young women with a planned set of skill-building training.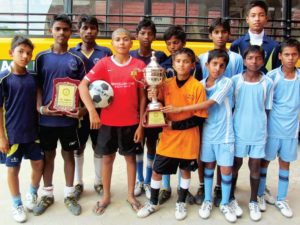 Young girls from rural areas are always expected to maintain and live up to their family as well as the society's expectations. Likewise, boys face these pressures and challenges from both parties, albeit for different goals. Burdens and hardships of this kind on a child have many a time led to bouts of depression and/or substance abuse.
This project therefore implements Gyantantra Digital Dost–the multimedia holistic package that boosts learning through technology, learning ICT (Information and Communications Technology) through CCA and CCC (Course on Computer Concepts), and vocational training courses that includes stitching, tailoring and sewing, beautician and spa courses and hospitality and/or driving.
Literacy India supports meritorious and motivated students, encouraging them to spread their wings further. Share with us more about Gurukul and the impact it has had so far.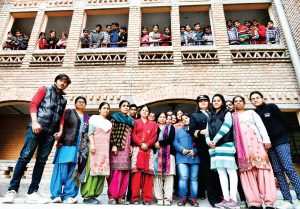 Every year, our country witness millions of children dropping out of schools for financial reasons thereby killing their potential and extinguishing their dreams. Gurukul is Literacy India's flagship 'one of its kind project' that supports meritorious and motivated students. It mainstreams children in various schools and colleges across the country and paves the way for children aspiring higher education and career prospects. We partner with institutions for subsidised fees and sponsor children to pursue their education through formal schooling at English medium public schools such as the Rotary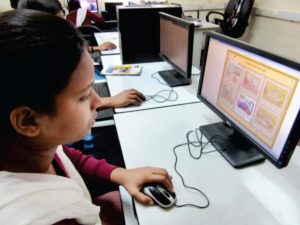 Public School, St. Soldier School and Mount School, to name a few, by meeting the entire cost of their education. This project also supports students who wish to pursue vocational courses such as fashion designing, interior designing and MBA. We have recently tied up with Rai Foundation, which is sponsoring professional education for girls who have cleared their higher secondary examination. This project has many individual donors and corporate sponsors like PVR Nest, Gyan Jyoti Charitable Trust, American Express, HSBC and the Charities Aid Foundation.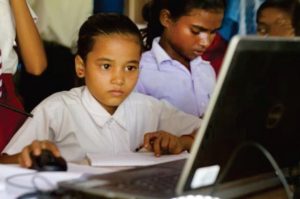 "Gyantantra Digital Dost (GDD), a software-based, self-paced, interactive multimedia learning process. It smartly blends classroom teaching and textbooks embedded with cartoon characters and assessment modules and make the entire learning process easy, effective and enjoyable"
At present, Gurukul facilitate the education of over 120 students. In the next 10 years, our aim is to enrol 10,000 children in various institutes.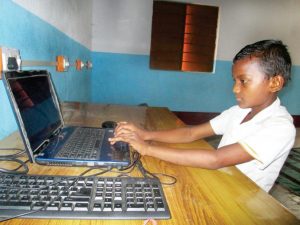 We have observed, during implementation, a few issues which led to the pressing need for a project like Gurukul. A certain segment of society, which includes tribals, are totally cut off from civilisation and hence, ignorant of the concept of education. In addition to awareness, a support system is also needed to tackle these issues so as to engage with them, hand-hold them, and most of all, render financial support.
Pathshala provides education to individuals of different ages, social and financial backgrounds. What are the goals being set and methods used to impart education through this initiative?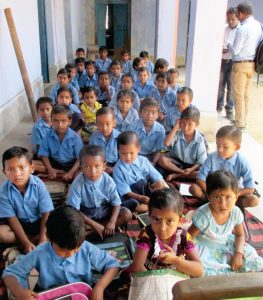 Pathshala is our first project which started in 1996. It is a teaching programme that provides education to individuals of different ages, social and financial backgrounds. It functions with the sole objective of teaching every student to read and write within the time period of three months to one year.
Remedial classes are conducted with non-school going children and government school children. Students generally spend two to three hours a day brushing up their basics. This acts as a school readiness programme for them while children from government schools are guided to revise the different concepts and complete their class assignments. We conduct summer schools for dropouts and monitor their progress regularly. This programme attracts more students as we use the Jagrukta programme. Competent students then graduate to the Vidyapeeth programme.
Not wanting to deprive underprivileged children the opportunity to raise their standard of education as well as enable them to be technology savvy, LI developed Gyantantra Digital Dost. Can you give us more details and the benefits these children have been accorded through it?
In India, many children have foregone their education due to the need for survival. The many education initiatives that currently exist for the underprivileged are not completely meaningful and effective. They also do not prepare them enough for the fast evolving, technologically emerging India. The solution lies in a cutting-edge innovation and thinking as well as a high-impact, low cost and scalable solution. Having sensed this correctly and in order to tackle this issue, we developed Gyantantra Digital Dost (GDD), a software-based, self-paced, interactive multimedia learning process. It smartly blends classroom teaching and textbooks embedded with cartoon characters and assessment modules making the entire learning process easy, effective and enjoyable. In order to ensure enjoyment and retention of the curriculum taught, especially to those deprived of education and not exposed to technology till now, the programme has been designed to have various learning games that immediately grab the attention of these underprivileged and under-educated children. GDD covers important chapters of Hindi, English, Science, Math, and Environmental Sciences up to Class V. The programme also illustrates to the children in a simplified manner important issues of society such as HIV, sexual abuse, voting rights and opening of bank accounts.
In fact, since 2008, the model has evolved after observing that both children and adolescents are extremely receptive to computer-based learning, the level of attention being much higher vis-a-vis a classroom-based approach.
We have not only taken up the task of creating awareness on the importance of education for underprivileged children and youth, but also raise the standard of education for these children. We believe in innovative pedagogy in order to retain the children within the purview of education.
What are the different programmes introduced to educate, empower and liberate street children as well as those in under served communities?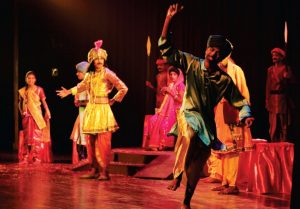 For children who come from harsh environments of exploitation and abuse, we have reoriented the Pathshala module to specifically suit their needs. This experimental model of education is a combination of the National Literacy Mission, Pratham and Vidyasagar syllabuses.
We aim to have the kids come back for more, every day, with facilities like computers with photo shop software, art classes and well-stocked libraries.
Pathshala has resulted in many children being admitted into private schools. More students are also being enrolled into preparatory programmes. It is heartening to know that this programme is now being replicated by many NGOs.
Pathshala is our first project which started in 1996. It is a teaching programme that provides education to individuals of different ages, social and financial backgrounds. It functions with the sole objective of teaching every student to read and write within the time period of three months to one year. It is heartening to know that this programme is now being replicated by many NGOs.
You also encourage children to showcase their talent and skills in various art forms through Shiksharth. How has this transformed their lives and that of their surroundings as well?
Firstly, let me quote Dean Koontz who aptly said, "I really believe that everyone has a talent, ability or skill that he can mine to support himself and to succeed in life." His saying has been meaningfully implemented into action by Literacy India. If learning is enjoyable, exciting and entertaining, it can be very engaging too. Shiksharth, a unique programme by Literacy India aims at doing just that- providing a platform to slum children to bring forth their talent and skills in various art forms such as painting, pottery, theatre, dance etc. This experiment has been very well received and has been a major attraction amongst children of all age groups. We have also introduced new things on story telling, writing on values and morals, etc. Children under this project discuss issues of the society and create a projector street play to be performed in public.
We started it in 1997 with the help of Mobile Creche. There has been no looking back since! The programme met with enormous success within a short time. In fact, it has created sufficient motivation for children to excitedly showup for classes and continue with their regular educational curriculum. We take great pride that several participants of this programme have now reached the national stage and some have even acted in feature films and serials. To name a few, Rahul in Omkara, Urmila in BlueUmbrella, the very likeable character 'Millimetre' of 3 Idiots fame. All of them have received excellent reviews for their splendid performances and we are now flooded with more enquiries for auditions.
With the support of Adobe India, a photography workshop was also organised for Literacy India children. A large number of our children attended the workshop. Fifteen of these children designed and conceptualised a beautiful calendar using their photography skills.
Share with us about Jagrukta.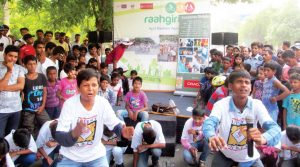 The literal meaning of Jagrukta is awakening. This project aims towards educating and making people in slums and rural areas aware of key social issues and encourages residents to evolve into greater and better citizens. It comprises intensive mobilisation and sensitisation activities to make people aware about crucial concerns such as communal harmony, hygiene, disposal of waste etc. Since theatre is a stimulating and very effective medium to reach out to the rural population and lower income groups, Literacy India has been conducting street plays-Nukkad Natak-in the village clusters near Palam Vihar, Gurgaon, to raise awareness on various issues like Education and Progress, Importance of Girl Child and Female Infanticide, Cleanliness and Personal Hygiene, Population Control, Communal Harmony, Vocational Training and AIDS Awareness. Our children are trained by professional members of the NSD troupe, Delhi. An accompanying benefit is that it initiates and nurtures vocational and creative skills in children from the villages participating in the programme.
Healthcare is yet another initiative undertaken by you. Tell us more about Aarogyam and the various health initiatives under this umbrella?
A healthy state of body and mind is everything one requires. Our Aarogyam programme is aimed at increasing its outreach to villages in India. We saw this urgent need when we found out that Bajghera in Haryana lacked proper healthcare, especially for women and girls. This propelled us to set up a healthcare centre in 2006. We tied up with various doctors and hospitals to provide free medical care to numerous villages. The medical campaigns created awareness about various health problems and diseases. Free health camps were conducted. As per the diagnosis, references are given and healthcare is provided, without any charge. This has led to reduced visits to fraudulent quack doctors and improved the health, behaviour and well-being of the communities.
Through Aarogyam, we advocate preventive healthcare rather than curative healthcare. We organise regular health camps and check-up for children in the village. We also stress emphasis on elderly healthcare, assist cataract surgeries for them, conduct free eye tests for all age groups and introduce intervention methods that have helped reduce anemia occurrence to a large extent.
The programme is now extended to surrounding villages with weekly visits from the doctor. Our medical support assists around 5000-6000 people every year. These centres have become places of healing, as well as a safe place for counselling.
Literacy India has, over the years, produced exceptionally bright students. Can you share their success stories and their entry into the prestigious Mensa Club?
Yes, we are indeed blessed to have discovered, through our programme Vidyapeeth, a number of exceptional boys and girls who only needed a little nudge to let their geniuses break forth.
Let me share some examples with you.
Aditya- Our Little Historian
Aditya and his younger sister attends Vidyapeeth. He is a history buff and admires historical figures. In a recent written English assessment, he named Maharana Pratap as one of his favourite heroes, admiring him for his fearless nature and the way he protected his people. Aditya was recently featured in the local newspapers for his above average IQ. He has been selected, along with two other classmates from Literacy India, by Indian Mensa to receive academic mentoring. This will ensure he has the opportunity to reach his full potential and pursue his love for History, English and Chess.
His family is immensely proud of his achievements and is very optimistic about his future. Originally from Basti in Uttar Pradesh, his father moved them to Gurgaon with the hope of creating a better future. He works long hours in a SIM card factory with very minimum wage. His mother had struggled to find work in the past due to a slight disability with her leg, but thanks to Literacy India, she is now able to contribute to the family's earnings. She is now a member of the Craft Centre which allows her flexible timing to work as well as take care of her family.
Babita- Our Theatre Artist with a High IQ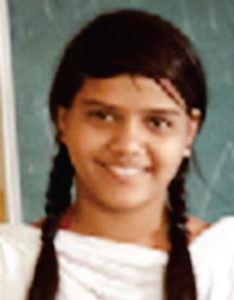 Babita, like many children at Literacy India, comes from a humble background. Her family is from a hillside village in Uttaranchal. They moved to Palam Vihar, Gurgaon when she was five. Her father works as a cook earning Rs.7000 a month to support the family. Babita likes to draw, but her real love is dance and theatre. She has been successfully performing in a number of plays at Literacy India, where students are trained by professional acting coaches.
She would love to pursue a career in acting but as a dedicated and hardworking student, she realises that her studies are more important to take her to the top. The highlight of her academic career was when she was selected by the Indian Chapter of Mensa International to receive additional mentoring and support as she has been identified as having a particularly high IQ for a student her age. Her parents did not complete high school and her sister had only completed Grade VIII. She therefore felt the importance of continuing with her studies and receive as much support as possible. Hopefully, the links to Mensa with additional support, will offer Babita new and unimaginable opportunities.
Tell us about your reach and impact in the country. What is the future course of action?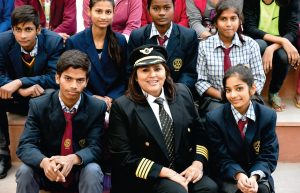 We are grateful for the open doors that Literacy India has been able to gain so far. We have 83 centres in nine States- Delhi NCR, Haryana, West Bengal, Jharkhand, Rajasthan, Uttar Pradesh, Uttaranchal, Karnataka and Telengana. We have an outreach of 50,000 beneficiaries annually and have now impacted over 30,000 children, directly and indirectly.
Literacy India uses fairly innovative techniques and we make sure that we build on strengths of the local community we work in rather than adding on new things. We use technology to speed up education and have developed a digital animated learning module in-house. There were inhibitions initially, but the children have taken in to it without many hitches. Teachers are also witnessing its benefits first hand in aiding the learning process.
The beneficiaries of Literacy India have been able to live a life of dignity and our students have also excelled in education, sports, performing and visual arts.
Lastly, I would like to say this: We have to speed up education in this country. The job has not even begun.