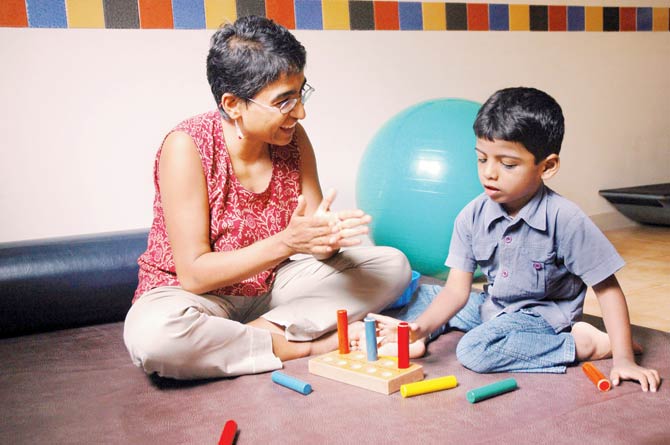 Mumbai: Ummeed Child Development Center, a non-profit organisation that helps children with developmental disabilities, has partnered with Credit Suisse, one of the world's leading financial services providers, to set up its very first Family Resource Center (FRC) in Mumbai. The FRC is envisioned to be a safe and accepting space where professionals and families can work together to help children with disabilities as well as their families in their journey of acceptance and empowerment.
At the FRC, families can not only access information and resources, but also get together for various interactive and fun activities such as support group meetings, watch a movie, plan a picnic, or simply be who they are, together. The family members can also avail of programmes such as counselling and mental health services on a regular basis. The FRC will be staffed with trained professionals from Ummeed who will be available to help and support these families.
Dr Vibha Krishnamurthy, Founder and Executive Director of Ummeed said, "Ummeed and Credit Suisse recognise that every family's journey is different and that each person can contribute in a different way at a different time. But every child and family's voice does need to be heard as we work towards a more inclusive world. 'Nothing about us without us' needs to translate into action, and the FRC is an effort towards this. We are thankful to Credit Suisse for partnering with us on this new and exciting journey we are about to embark on."
Meenakshi KS, Head of Global Business Integrated Services and Senior Franchise Officer, Credit Suisse Powai, said, "We are excited to be partnering with Ummeed on setting up their Family Resource Center. Families with children that have disabilities need a space where they can connect with and offer support to each other. The Ummeed FRC will be the first of its kind in the country and will address this critical need. Through the FRC, we hope to reach out to more than 500 families in the first year, with this number increasing meaningfully every year."
Ashish Gupta, Chair of the India Philanthropy Committee, Credit Suisse, added, "Credit Suisse is delighted to extend support to Ummeed for a one-of-a-kind Family Resource Centre in diagnosis, treatment and rehabilitation of children with disabilities. We believe that Family is the primary unit in the life of any individual and involving them in the treatment of disabled children is critical to their journey towards rehabilitation and empowerment."
The Centre will be headed by a person with disability (PwD) or by a parent or family member of a PwD, and over the next few months, additional PwDs/parents will be added to the team. The long-term goal is to empower families to advocate for themselves, and support others where and when they can.