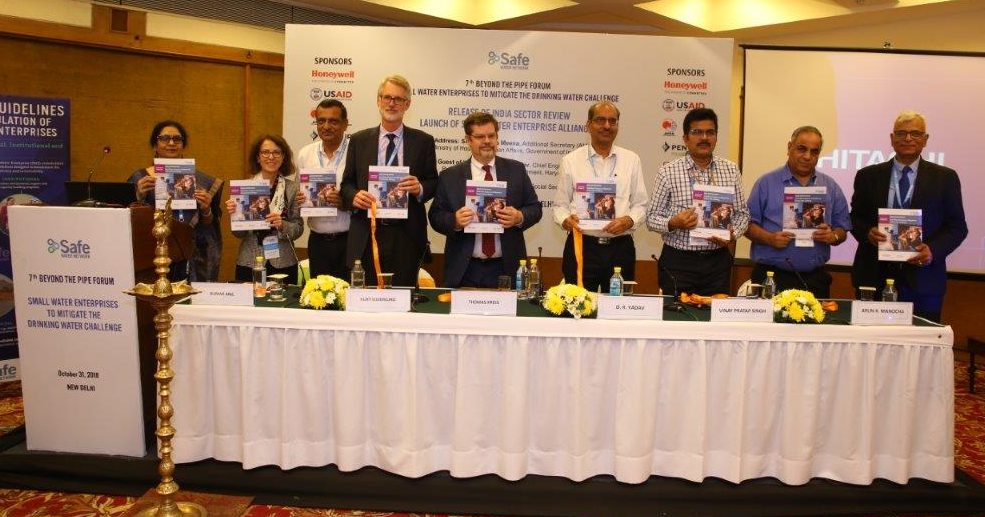 New Delhi, October 31, 2018:  The U.S. Agency for International Development (USAID) today launched the Small Water Enterprise (SWE) Alliance, a multi-sectoral collaboration facilitated by Safe Water Network, focused on promoting an ecosystem for scale-up of Small Water Enterprises. The SWE Alliance, comprised of SWE practitioners, entrepreneurs, technology providers, service providers, funders and knowledge providers will work together to align on standards and promote policy reform to accelerate the scale-up of SWEs and contribute to the achievement of U.N. Sustainable Development Goal 6.1,  universal access to safe water for all.
At the launch, SWE practitioners in India, who pioneered sustainable, decentralised, affordable safe water delivery for low income communities, gathered to discuss the policy reforms required to accelerate the scale-up of SWEs.
At the launch, Ministry of Housing and Urban Affairs Representative said, "Providing basic services like safe drinking water to households, which will improve the quality of life for all, especially the poor and the disadvantaged, is a national priority for AMRUT. I congratulate USAID on the launch of the Small Water Enterprise Alliance, and the collaborating organisations for coming together to advance the provision of affordable safe water to low economic communities. These communities need low cost solutions that can be provided through partnerships between local government and the private sector."
Speaking at the launch, Thomas Kress, Director of the office of Social Sector Initiatives for USAID – India, said: "The Small Water Enterprise Alliance brings together sector stakeholders to develop an eco-system for scale. There is a high level of involvement from the sector stakeholders. This includes Small Water Enterprise practitioners, technology providers and funders who are interested in working together to lead the sector and facilitate the expansion of Small Water Enterprises. This alliance will help Small Water Enterprises make their voices heard, influence policy change to facilitate expansion and unlock capital."
Kurt Soderlund, Chief Executive Officer, Safe Water Network, said: "Safe Water Network is honoured to partner with USAID and other sector stakeholders to mainstream SWEs. Our priority has always been to advance broad-scale replication of SWEs, working in collaboration with other implementers and sector stakeholders. We will continue to invest in stakeholder engagement, seeking policy reform and building and sharing the evidence base that documents the requirements for success of this approach to reach millions in need of safe water."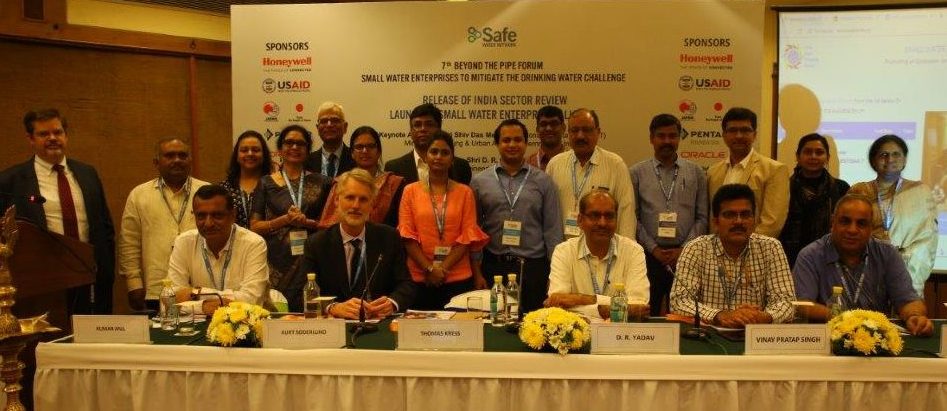 The SWE Alliance is to serve as the national professional body to mainstream SWEs in the national drinking water policy with allocated budgets and promote a conducive policy and regulatory environment. The Alliance will work collaboratively with the government and other stakeholders on vital professional issues and seek support to advance SWEs in all aspects for the public good.
At the 7th Beyond the Pipe Forum, Safe Water Network also released the India Sector Review 2018: Small Water Enterprises to Mitigate the Drinking Water Challenge. The Report, part of an ongoing series, describes how Small Water Enterprises (SWEs) have largely been accepted by the Government in recent years as an alternative solution to address the gap in drinking water supply. The growing acceptance is reflected by a shift in government policies and the proliferation of SWEs in more than 17 States where they are supplementing the safe drinking water needs of communities. The report further recommends specific policy reform to create an enabling environment for scale.
Launching the India Sector Review 2018, Mr. D. R. Yadav, Chief Engineer, PHED Haryana said: "Access to affordable, safe drinking water is a critical requirement for public health. The Government is committed to providing safe piped water for all. Small water enterprises complement the Government's efforts to provide high-quality treated water, in areas where it is difficult for piped water to reach. My compliments to Safe Water Network on the India Sector Review which calls for action and provides specific recommendations to develop meaningful PPPs for sustainable safe water access."
Ravindra Sewak, Founding Trustee, Safe Water Network India said: "There is an opportunity for SWEs to play a far greater role in mitigating the country's current drinking water challenge. The sector needs institutional, operational and financial level policy reforms to create a conducive enabling environment for scale."
He further added, "Recognised for their advantages of providing reliable, safe and affordable drinking water on a 24/7 basis, and improving public health as well as generating livelihoods, SWEs have the potential to provide access to about 370 million people beyond the pipe in rural and urban communities through 220,00 SWEs at an investment of US$6 billion (44,000 Crore) or a cost of US$16 (INR 1000) per person."