Hyderabad, March 18, 2021: UST, a leading digital transformation solutions company, in collaboration with HYSEA and Nirmaan Organization, inaugurated a digital lab at a Women and Child Welfare Department service home in Ameerpet, Hyderabad, Telangana. The initiative was in support of the Disruptive Digital Intervention (DDI) programme by HYSEA (Hyderabad Software Enterprises Association) with Nirmaan Organisation as the Knowledge and Implementation Partner, which serves as a source of learning, supporting students and young women from underprivileged backgrounds to promote their welfare and digital literacy.
The first steps towards establishing and inculcating digital learning for young girls were taken through an inaugural event with a purpose to transform the lives of these children and prepare them for a better future. With a mission to bridge the digital divide among the students of Government schools and private schools, the new program commits to make a concrete difference in the lives of young girls that may have faced issues like gender-based inequalities, discrimination, oppression, violence, and inhuman values at a very tender age.
With UST's collaboration and support, the lab is now well equipped with desktop computers, furniture, power back-ups, computer accessories, high-speed broadband internet connection, a projector room including digital resources, and a salaried IT teacher. This lab will help around 300 service home students who are studying polytechnic to learn the basics of computers. Through the new digital lab, these young girls will be trained with the latest computer operations, skills, and techniques to expand their knowledge about the digital world to enable them for prospective careers.
"We feel humbled to be associated with HYSEA, Nirmaan Organization, and Women and Child Welfare Department to spread digital literacy and empower young girls. It is essential to be sustainable and scalable in our approach. This collaboration aligns with UST's vision of creating impact and transforming lives through digital transformation", said Harilal Neelakantan, UST Hyderabad Center Head.
The event was inaugurated by Divya Devarajan, IAS, Commissioner of WCWD, HYSEA President Bharani Kumar Aroll, Sunil Balakrishnan, Chief Values Officer; Global Head -Development Center Operations, UST, Harilal Neelakantan, UST Hyderabad Center Head along with Nirmaan's and UST's Leadership & CSR team. Divya Devarajan, IAS, Commissioner of WCWD expressed gratitude to UST, HYSEA, and Nirmaan Organization for their support in this initiative.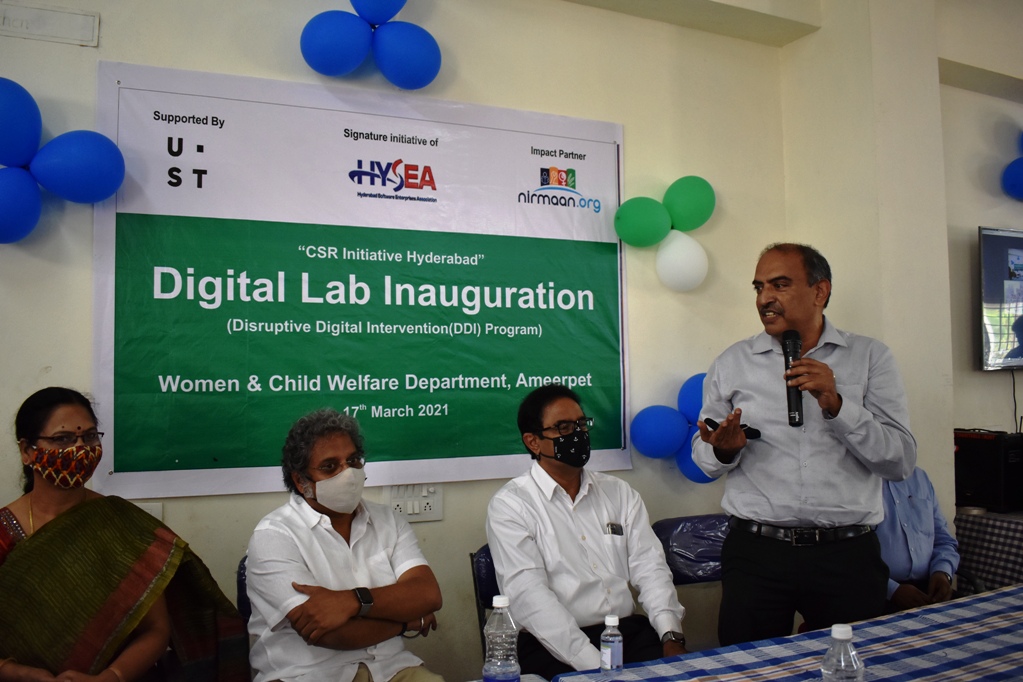 Speaking at the inauguration, Bharani K Aroll, President, HYSEA, said, "At a time when many public schools are grappling with basic issues of infrastructure, mid-day meals, and improving attendance to check the alarming dropout rates in the State, we as an industry body felt that the students from the underprivileged background should not be left behind in this digital age. This could only be achieved through computer education, and hence the DDI initiative was launched in 2017. It has become successful mainly because of support from our member companies like UST. Today the program reaches more than 13,500 students from govt schools. Our target is to reach more than 50,000 students through the programme." He also encouraged students to dream big and achieve great things in life.
Drawing on his experience as a Chief Values officer of UST, Sunil Balakrishnan said, "We are privileged to extend our support to the Disruptive Digital Intervention (DDI) programme in a bid to empower young minds, especially during these unprecedented times. We recognise the importance of gaining digital knowledge and computer skills for everyone, especially at this moment. At UST, we are committed to transforming lives through technology. This initiative is helping us to create ripple effects of positive change for future generations."
With the valuable contributions from Smita Sharma, CSR Catalyst, UST; CSR Ambassador Subhash Surgani, and Color Ambassador Lakshmi Chennupati, Venkat Peram, Account Director, UST, this initiative aims to drive a positive impact in the community.