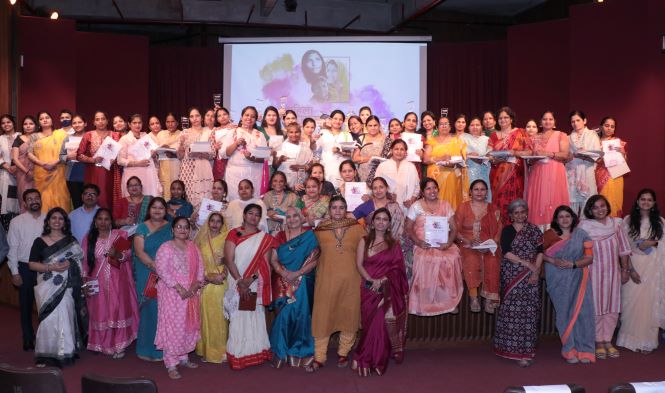 Delhi: As a part of its 'Oonchee Udaan' initiative, Vastu Housing Finance Corporation partnered with Dhriiti, an NGO, to felicitate 50 women with the Women Micropreneur Award 2023 in New Delhi recently. The awards ceremony celebrated the strength and resilience of women from low-income communities who have become entrepreneurs against all odds.
Dhriiti – The Courage Within (www.dhriiti.com), an NGO in Delhi, is the co-creator of the Women Micropreneur Award 2023 to recognise and support women in their entrepreneurial journey.
These women micropreneurs run various businesses, ranging from makeshift kirana shops, and tailoring to food carts to tuition centres with an average annual revenue in the range of INR 2-3 Lakhs. The 'Women Micropreneur Award 2023' is the culmination of a series of efforts to identify, motivate, train, guide, and support women who are striving to earn a livelihood through modest businesses.
After an intensive process of engaging with 400+ women across Delhi NCR, 50 women micropreneurs were chosen from Delhi's low-income neighbourhoods, including Sangam Vihar, Dakshin Puri, Tigri, Noida, Jaitpur, Tuglaqabad, Bindapur and Najafgarh for the programme. Held at Triveni Kala Sangam, the award ceremony was graced by Smt. Urmila Jamnadas Asher, a septuagenarian YouTuber, founder of Gujju Ben Na Nasta, and a MasterChef India 2023 finalist. She shared her experiences and stories of courage with the audience, inspiring the women entrepreneurs with her "Gir Uth Par Ruk Mat" mantra.
"The Micropreneur award honours the grit and determination of 50 women from less privileged backgrounds who have overcome challenges to embrace entrepreneurship. Our Oonchee Udaan Program provides micro-entrepreneurial women a platform to access the resources, tools, and mentorship necessary to manage their businesses successfully. It reflects our commitment to advancing financial inclusion, and increasingly empower women entrepreneurs, in the country," said  Sandeep Menon, Founder, MD and CEO, Vastu Housing Finance Corporation. 
The ceremony saw a panel discussion on "Leveraging the entrepreneurship revolution to benefit women-micropreneurs." The panel comprised of Firdos Khan, member of Delhi Commission for Women,  Vikas Goswami, CSR Leader; Kamini Prakash, Indian School of Development Management; Mamta Jaiswal, Dhriiti Alumna Entrepreneur and was moderated by Rituparna Ghosh, Entrepreneur and Storyteller.
Nidhi Gupta, Executive Director, Dhriiti – The Courage Within, said, "Our first cohort of awardees comprises a brigade of unstoppable warriors. When I met these women entrepreneurs for the first time, I realised that while their challenges are unimaginable, they personify resilience in a way many of us can never do. With no training in business and no identity as an entrepreneur, they leave no stone unturned to keep their little ventures alive. Hats off to them!"
There are innumerable challenges that restrict women from low-income communities to sustain and scale their business enterprises. Most of these women-led businesses operate in the informal sector with no access to government schemes, compliance benefits, growth finance, etc.
Vastu's 'Oonchee Udaan' initiative provides an opportunity for these women to benefit from the resources and opportunities that the current ecosystem offers entrepreneurs. It attempts to build a new narrative in the start-up ecosystem that identifies women microentrepreneurs as active and valid participants in the entrepreneurial revolution of the country.
It was the first time for the 50 women to attend an entrepreneurship support programme that shares know-how on building better businesses. Through a multi-pronged approach of skill development, perception building, community building, and in-kind support, the programme has enabled the women entrepreneurs to strengthen their financial status, break out of existing social identities, and understand their agency in life and business.